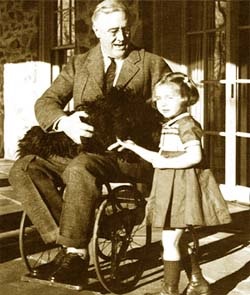 Franklin Roosevelt holds a unique position among the American Presidents. He was elected for three terms. He is considered one of the best Presidents like George Washington and Abraham Lincoln. He moved into the Whitehouse on a wheel chair.

Born in 1882 in New York, he entered the famous boarding school of Massachusetts at the age of fourteen. He went to Harvard college to spend more time on his studies. He declared himself a democrat at Harvard. He married Eleanor in New York in the year 1905.

He studied law but soon turned to politics and became Assistant Secretary in the Government of Wilson.

In 1921 Franklin Roosevelt was struck by polio which paralyzed both his legs, with support of his wife and children he followed extensive physiotherapy and rehabilitation. He spent considerable time swimming in the curative waters of Georgia. He was able to regain some use of his legs. Though polio devastated him physically, his steely will seemed to grow stronger as he fought.

He re-entered politics in 1928 and was elected the Governor of New York. He established himself as a liberal reformer and was again elected Governor in 1930.

n 1932 he was elected the president of USA in landslide victory. He reassured the dispirited Americans that they had "nothing to fear but fear it self". His new deal solved the depression on various fronts like banking, financial sectors, agriculture, industries, poverty and unemployment.

In 1936 he was again elected the President of USA. His policies helped Americans to fight during Second World War. He became leader of the allied forces fighting against Germany and Japan. However he could not survive to see the victory. In April 1945, just before Germans surrendered, Franklin Roosevelt collapsed and died of cerebral hemorrhage.

Under Roosevelt's leadership, the United States emerged from World War II as the Worlds foremost power. He gave Americans hope and confidence in their darkest hours. During his standing the power of American Presidency rose to unprecedented heights. More broadly however his substantial turning point was in the Nation's Political, Economic, Social and Cultural life.

Under very serious conditions also he maintained that the power of spirit is stronger than physical power.