Some of you may have heard the nursery rhyme:
"Mother, may I go out to swim?"
"Yes, my darling daughter.
Fold your clothes up neat and trim
But don't go near the water."
I know it sounds funny and is likely to make you laugh. But this is what any mother is likely to say if she knew that there were barracudas in the water.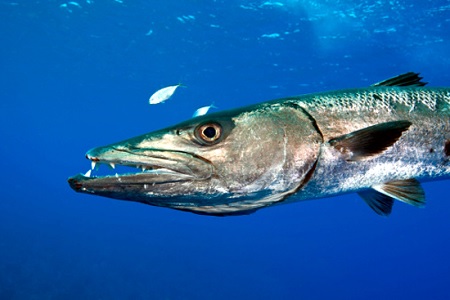 Do you know what a barracuda is? If you have guessed that it is a fish then you are right. But what you might not know is the fact that it is one of the most ferocious fish found in tropical waters. They thrive in all warm and tropical regions, particularly in the warmer parts of the Atlantic, Pacific and the Indian Ocean. It sometimes, though not always, attacks swimmers which is why it is dangerous to swim where barracudas are around. Some call it "Tiger of the sea". Others describe it as 'a monster of a fish' because of its savage look.

The barracuda has a long, strong and muscular body, with powerful jaws and a wide mouth full of knife-like teeth. It has eyes that are yellowish green - the kind you come across in fairy tales. And it has two completely separate dorsal fins.

Ordinary barracudas are around four feet long. But the great barracuda can be of double the length, which is eight feet. A barracudas is the ultimate marine predator. It is stealthy and moves as quickly as lightning. One moment you find it floating lazily by a coral reef and the very next moment you see it gobbling up an unsuspecting prey! The barracuda uses its acute eyesight to hunt, and moves quickly towards any bright light or sudden movement that might indicate the presence of prey. In murky water it attacks an object even before identifying it. Also, the barracuda is extremely curious and often follows a diver or a boat for hundreds of yards. Divers fear them because of this. Some fear them even more than sharks.

Barracudas are mainly meat-eaters and live on fish. They are especially fond of mullets, anchovies and grunts and are always on the lookout for them. When they come across a shoal of fish they scare them by going round and round them very fast until the fish huddle together in fright. Then the barracudas dive right into their midst and eat them up. They even bite through fishermen's nets to get at the fish. In fact, they attack anything which they find moving.

There are around 20 different species of barracudas. All of them belong to the family of Sphyraenidae. Smaller species swim about in shoals. In fact you can find them in huge shoals consisting of several thousands. But the larger ones often prefer to hunt alone. People who go for sport-fishing are the ones who hunt barracudas. They do it for the fun of it and not because they taste particularly good. Some people like its firm, white flesh though others find it insipid and tasteless. It is considered a "game fish" because it puts up a hard fight when hooked, making extremely fast runs and often leaping from the water. But it has little stamina and soon gets tired. The great barracuda is one of Florida's most frequently caught, offshore game fish. Barracudas are particularly at home among the coral reefs because their bodies are long and flexible. So they are easily able to move through the twists and turns of the reefs.
The largest barracuda captured weighed 85 lbs. It was caught in the Christmas Island in the Republic of Kiribati in 1992. To date that is the world record.
Image (c) gettyimages.com