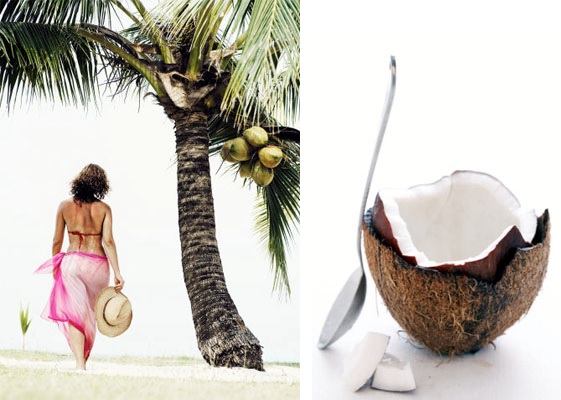 The coconut palm is rightly called a tree with a thousand uses. Perhaps no other tropical tree is put to such a variety of uses by the human race. The coconut is known as a 'wonder food'. It is a near perfect diet, as it contains almost all the essential nutrients needed by the human body. It is also considered a sacred fruit and holds a very high place in all religious ceremonies.

Throughout the world people enjoy eating the crisp, juicy chunks of fresh coconut meat. Shredded and dried coconut meat adds a distinctive flavor and texture to sweets and other foods. Coconut has played an important role in Indian culinary art. A large variety of Indian sweets use coconut meat in various forms while desiccated coconut is used in continental desserts like puddings, custards and trifles. Coconut is also used in many Indian curries, both vegetarian as well as non vegetarian, while mouth watering coconut chutneys are an all time favorite. In Bengal chana dal is cooked with coconut and prawns cooked in coconut gravy are delicacies. Grated coconut is also widely used as a garnishing in many Indian dishes.

Every part of the plant can be used in various ways. Cooking fat, shampoo, soap, detergents, candles, dynamite, fuel and animal feed can all be made from copra, or the meat of the plant. Copra contains a valuable oil that is used for cooking and to make margarine and soap. Tropical lands produce millions of tons of copra each year.

Baskets, mats, roofing, clothing and sails can be manufactured from the coconut leaves. The fibrous husks are used to produce nets, sacks, ropes, carpets, mattresses, the filling of upholstery and brooms. The coconut shell is used to make jewellery, tools, musical instruments, containers, activated carbon, buttons and lamps.

The coconut is a highly nourishing, strengthening and fattening food miracle. It has a high oil content which is easily digestible. The protein content of coconut is of high quality containing all amino acids. It is also rich in potassium, sodium, magnesium and sulphur. The energy value of the dried coconut is very high.

The coconut has several natural benefits and curative properties. As food it is most valuable before it matures. Its jelly like tender kernel contains enzymes and is easily digestible.

The coconut is an ancient and very effective remedy for intestinal worms of all kinds. The mature died coconut is valuable in the treatment of acidity. The tender kernel is highly beneficial in the treatment of digestive system disorders. Tender coconut water is useful in the treatment of cholera as well as in urinary disorders. The oil extracted from the flesh of the ripe coconut is an effective dressing for burns and scalds. It is of great value in the preparation of ointments as it penetrates the skin readily.

The water of the green coconut is a wonderful thirst quencher. It is cool, exhilarant, nutritious and diuretic. It contains sufficient sugar in an easily assimilable form. It is an excellent tonic for health. It contains vitamins C and B as well as sodium, potassium, magnesium, iron, copper, phosphorus, sulphur and chlorine.

Coconut is believed to have originated in the Indo Malaya region and to the south west of the New Guinea. It was taken to the mainland of Asia in pre historic times. There is evidence that the coconut tree was grown in India about 3000 years back and is found mention in the Vedas and other ancient texts.

Thus the coconut palm is rightly said to be a multipurpose gift of nature and the coconut touches our lives in various ways.
Images under license with Gettyimages.com