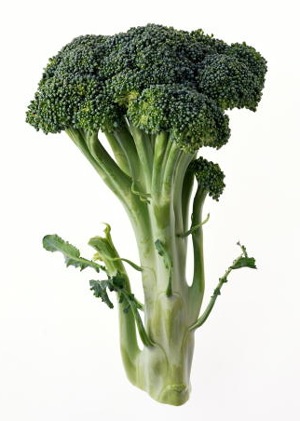 Although the growing popularity of Broccoli is fairly recent in our country, the vegetable has actually been around for nearly 2000 years. It has been widely grown in both Italy and France since the 16th century. The word "Broccoli" comes from the Italian word 'Brocco' which means 'arm' or branch. Broccoli belongs to the same family as the cabbage, cauliflower and Brussels sprouts and is sometimes referred to as the 'green cauliflower'. According to health experts, it contains more nutrients than any other single vegetable. It is rich in vitamins, high in fibre and low in calories. It contains a large quantity of vitamin C and beta carotene both of which are important antioxidants. It also contains as much calcium as milk.

Half a cup of fresh boiled/steamed Broccoli is said to contain 23 calories, 2.4 gm of fibre, 2.3 gm protein, 4.3 mg carbohydrates, 49 mg of Beta carotene and vitamin C, 53.3 mg of folic acid, 89 mg of calcium and 0.9 mg of iron. Quite an impressive collection, don't you think? By including Broccoli regularly in our diet we can reduce the chances of (and sometimes prevent) ailments like cancer, diabetes, osteoporosis and heart diseases.

There are a few things you need to remember about Broccoli. It should always be washed under cool running water. If you soak it in water, it will lose all water-soluble nutrients. Fresh Broccoli is delicious raw or cooked. The stalk should be trimmed and peeled as it is high in fibre. Also, cut the florets into uniform pieces for even cooking. Overcooked Broccoli loses its taste and also most of the vitamins. Steam Broccoli for 3-4 minutes or simmer in about one inch of boiling water for the same amount of time. Cooked Broccoli should be bright green and tender-crisp.

When buying Broccoli in the market pick up the ones with tight and compact bud clusters and an even dark colour. The stems should be a lighter green than the buds and easy to pierce with your fingernail. Never buy stalks that have turned yellow or open bud clusters and stems that feel hard and dry to the touch. Broccoli can be stored in polythene bags in the crisper of your fridge. Broccoli goes well with basil, garlic and lemon.

Broccoli is easy to cook and good to eat. You can make a simple salad by cutting the Broccoli into small uniform sized florets and an equal amount of carrots cut into thin strips. Boil or steam the two for a couple of minutes (be careful not to overcook), drain and rinse under cold, running water. Place in a big bowl. Make a curd dressing with mint, green coriander, green chilli and a dash of garlic in a thick curd base by blending all the ingredients smoothly. Toss the carrots and Broccoli in this dressing and serve immediately.

For a simple Broccoli soup break up steamed Broccoli into small pieces, add enough milk to blend into a smooth paste in the mixie. Add a mixture of milk and water until you reach the desired consistency, bring to the boil, add butter, salt, pepper and drink it hot. Goes well with toasted/fried bread croutons. Or you can mix together steamed Broccoli florets, diced chicken and mayonnaise and serve it as a sandwich spread. Whatever your choice, make it a regular part of your meal.
Image under license witth Gettyimages.com