In our Puja family tour 2018, we stayed for two nights at Srikakulam, Andhra Pradesh. Though a popular pilgrimage setting for locals, Srikakulam is offbeat in tourist map.

On 25.10.18, we hired an auto from Srikakulam (Rs. 900/-, negotiable) to take us to Salihundam, Kalingapattanam, Srikurmam temple and Arsavalli temple. A young man, Appanna, was our auto driver.

1. Salihundam

Salihundam is a village in GaraMandal of Srikakulam district in Andhra Pradesh, and our destination lies on top of a hill on the south bank of the Vamsadhara River. It is about 23 km from the hotel where we stayed at Srikakulam. Kalingapatnam beach is 5 kms from Salihundam.

Salihundam is a historic hotspot on many counts. It is an ancient site of Buddhism, site of "export" of Buddhism to South East Asia because the religion spread to Sumatra and other South-East Asian countries from here. The nearby Kalingapattanam was once a busy port that carried on maritime trade with Rome.

Indeed, Salihundam and Kalingapattanam are sites of ancient and medieval globalization. For a perspective of history, look at the map depicting ancient maritime trade routes with Rome.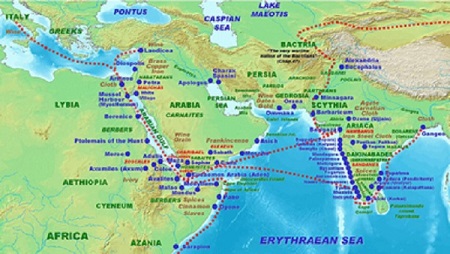 Roman trade in the subcontinent according to
the Periplus Maris Erythraei [i] 1st century CE (courtesy - Wiki)
Tiberius Caesar Divi Augusti filius Augustus (16 November 42 BC – 16 March 37 AD) was Roman emperor from 14 AD to 37 AD, succeeding the first emperor, Augustus. In 1899, eleven Roman coins (denarii) of Tiberius (A.D. 14-37) were found during excavations at Salihundam (Subramanyam 1964; Tripati 2002). This evidences maritime trade with Rome.

Clay bullae (seals) in imitation of Roman coins and icons, Rock crystal as raw materials for beads and ornaments, and Crystal relic-caskets and beads have also been found at Salihundam (Galla 1982) [other sites are Bhattiprolu, Guntupalli, Sankaram]. Galla thinks that gold ornaments found at Sankaram and Salihundam in the Srikakulam district and other parts of Andhra Pradesh were made from Roman gold. (Galla 1982)

What we went to see are the many Buddhist Stupasthat were re-discovered at Salihundaminin 1919 by Gidugu Venkata Rama Murthy (1863-1940).

Murthy was born at at Parvatalapeta, Srikakulam. He is famous as a Telugu writer and one of the earliest modern Telugu linguists and social visionaries during the British rule. He championed the cause of using a language comprehensible to the common man ('Vyavaharika Bhasha') as opposed to the scholastic language ('Grandhika Bhasha').

The British Government conferred on him the title of Rao Saheb for his service to the Savaras, to pedagogy and to Telugu, and the title of Kaisar-i-Hind Medal in 1933 for his services. The Telugu Language Day is celebrated on his birthday, 29th August. He was lovingly and admiringly referred to as pidugu (a thunderbolt) rhyming with his surname, Gidugu. European linguisticians like Jules Bloch and Daniel Jones recognized his work on Munda linguistics as pioneering and original.

Coming to Salihundam, the Andhra State authorities excavated Four Stupas, relic caskets, and architectural shrines, as well as sculptures of Buddhist deities Mareechi and Tara from this site. The remnants are dated between the 2nd century BCE and 12th century CE, reflecting the different times and phases of Buddhism: Mahayana, Theravada and Vajrayana.

There are two opinions regarding the origin of the name Salihundam. First, Salihundam derives from "Salipetaka" (literally – box of bones or relics); secondly, from "Salivatika", meaning rice emporium. In Andhra Pradesh and the neighbouring regions, three strains of paddy were grown in the past: saali, vriihi and syaamaka. There is direct evidence of the knowledge of saali in this area. So, it is more likely that Salihundam derives its name from saali, an emporium of rice.

Passing through ubiquitousgreen fields, we reached the bottom of a hill. It is now a motorable road uphill. Our auto reached a parking place. From there, a straight road with trees on either side goes up the hill.It was a pleasant walk despite the Sun God's warm welcome.

Even in this remote place, there are beggars waiting for visitors, and the tree shades offered some local couples cherished recluse. A man in saffron slept deeply as we passed by.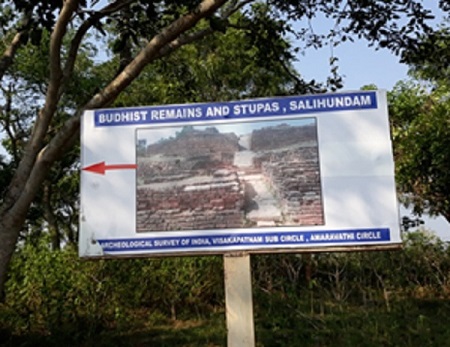 Archeological Survey of India board
We ascended along the gentle slope of a rubble paved ramp through a gateway (not extant, but comprehensible from walls on either side). Many pilgrims of past have recorded their names on stones of this ramp in ornamental shell characters.

As we ascended, we found cluster of ruined structures - sanctuaries, apsidal, circular and oblong Stupas, Viharas, pillared Mandapa etc. on either side.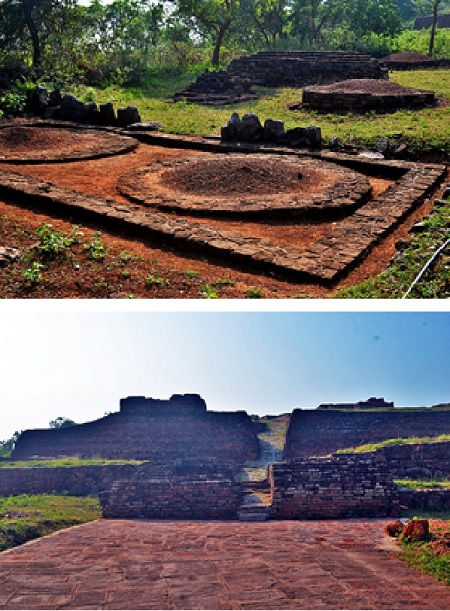 Ruins of past
Finally we reached a circular sanctuary right on the crest of hill. This is the main Stupa made of wedge shaped bricks around a central hollow shaft. This central edifice with stone faced base and fronted by oblong porch, wears remnants of limestone plaster bearing testimony that the slabs had been plastered for camouflage from fundamentalist Islamic attack during medieval times and later.

Reaching the top is a beautiful experience with spectacular viewsthat is in store here – the green all around, the blue sky melting into the sea and the meandering Vamsadhara River dancing into the Bay of Bengal.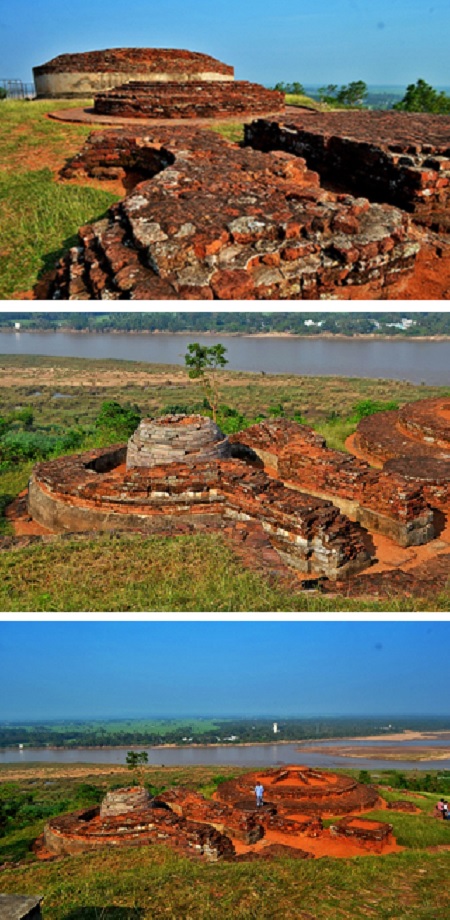 Views from the top
– Vamshadhara River merging into Bay of Bengal
2. Kalingapattanam Beach

From Salihundam, we went to the Kalingapattanam beach (5 km). Kalingapatnam was one of ancient Kalinga's harbour towns. It is the place where river Vamsadhara meets the Bay of Bengal.

Srikakulam District is part of the ancient Kalinga Kingdom that fought with Mauryan Emperor Ashoka in 3rd century BC. It is believed that deeply moved by the Carnage, Emperor Ashoka decided to shun the path of Violence, and embraced Dharma. Srikakulam thus became a site of his vow to spread the "Message of Peace" of Dharma and Buddha to the rest of the world. The Kalingapattanam Port became an anchor to the spread Dharma via the Sea Route to neighbouring countries like Srilanka, Malaysia, Vietnam, Cambodia, Laos, Thailand, China, Korea etc.

Salihundam may be considered the seed and source to Indonesian Esoteric Buddhism in Maritime Southeast Asia which emerged in the 7th century along the maritime trade routes and port cities of the Indonesian islands of Java and Sumatra as well as in Malaysia. The interesting thing is, the tradition of Esoteric Buddhism coexisted alongside Shaivism in many of the key South Asian port cities.

Under the Sailendras, Java became a major center of Buddhism in the region, with monumental architecture such as Borobudur and Candi Sukuh. The capital of the Buddhist Empire of Srivijaya was in Palembang, Sumatra was another major center. Salihundam through Kalingapattanam port had Major contribution to this.

The influence of Salihundam-Kalingapattanam was so deep that the Javans even localized Kalinga. The Chinese Buddhist monk Yi Jing reports that in the 7th century there was a Buddhist center in Java named Kalinga (Heling) where Chinese monks traveled to and studied.

Perfumes, textiles and so on were exported to other countries from the port. Kalingapattanam port was closed during British rule of India. However, the light-house, constructed by the British at Kalingapattanam port, remains.

Though Ptolemy did not refer to the ports of Kalingapattanam, Arab and Persian writers of the 9th and 10th centuries A.D. throw valuable light on the sea borne trade. Ibn Khurdah-bin, Ibn Rasta and the anonymous author of the Hadud-al-Alam, mention Kalinganagar among other ports of Orissa and Andhra (Panigrahi 1981; Tripati 2002).

Regarding the historic importance of Salihundam and Kalingapattanam and archeologically significant Rouletted ware, and both Roman and Indonesian connection, Tripati says:

"…evidence of Rouletted Ware which is datable to 2nd-lst century B.C. Moreover,

Rouletted Ware is also reported from Buni Complex in North Java, Sembiran in north coast of Bali, BuuChau Hill and Tra-Kieu in central Vietnam, Kantarodai and Jaffna in Sri Lanka and Mahastan in Bangladesh. This ware was manufactured at Salihundam, Satanikota, and Kesarapalle of Andhra Pradesh and distributed to the places located on the west and northeast of Andhra Pradesh. The presence of Rouletted Ware in Bali, Anuradhapura and Java indicates that it might have come from Arikamedu or some other sites of Andhra Pradesh. …Arikamedu was the main centre for the production of the Rouletted pottery in large quantity for trade and domestic uses. It is believed that the Rouletted ware from Sisupalgarh, Orissa Ware is the evidence of Indo-Roman trade, and was imported from the Roman Empire. The coarser varieties were made in India. The XRD diffraction analysis of Rouletted ware of South India and Southeast Asia shows that the mineralogical contents and the soil samples from coastal Bengal are the same ..." (Tripati 2002)

3. Kalingapatnam Buddhist Stupa

A large brick-built Stupa with hub and wheel pattern plan and few votive Stupas of different diameters on west side of main Stupa were excavated in Kalingapatnam. Different sizes of bricks were used in the construction of the Stupa. Historians opine that the ruin here has three levels and can be dated to three periods:

Period I - Pre-Stupa level 300 BC to AD 100
Period II - Main Stupa AD 100 to 200
Period III - Later additions including AD 200 to 400 Square enclosure wall

This Stupa is 26 m in diameter resembling the plan of Maha Stupa at Nagarjunaconda. It is in three concentric rings interconnected with intermediatory spokes which in turn issue from the central square hub in the ratio of 12.24 and 36. As an adjunct to the outer ring, i.e Vedika, a Pradakshina Patha of 3.45 m is provided. The Stupa has Aayaka platforms on all sides. On the western side to the right of the main Stupa, another Stupa of lower dimension (8 m) and devoid of spokes has been discerned. It is a departure from the wheel and hub system.The size of bricks 58x28x8 cm shows that its date is not earlier than 1st century AD. The discovery of celadon ware of China from upper layers marks the upper limit of Buddhist activities to the 7th-8th century AD. (Murthy 1987)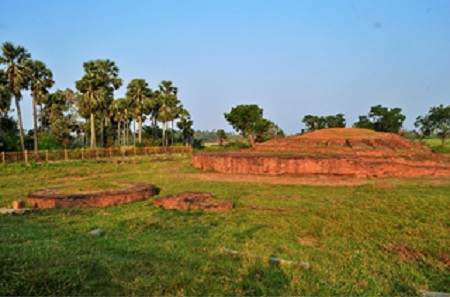 Finally, I would say, for a taste of history, archeology and nature – all in one – these off-beat places should be on itinerary …
References

Galla, Amareswar (1982). Society Against The State: Perspectives On The History Of Early Andhra Pradesh. (Doctoral Thesis)

Murthy, K. Krishna (1987). Glimpses of Art, Architecture, and Buddhist Literature in Ancient India. Abhinav Publications. P 52

Subramanyam, R. (1964). Salihundam. Hyderabad: Department of Archaeology and Museums, Government of Andhra Pradesh

Tripati, Sila. (2002). "Early Maritime Activities of Orissa on the East Coast of India: Linkages in Trade and Cultural Developments". Marine Archaeology Centre, National Institute of Oceanography, Dona Paula, Goa

Turner, Paula J. (2016). Roman Coins from India. Routledge

[i]The Periplus of the Erythraean Sea or Periplus of the Red Sea is a Greco-Roman periplus written in Koine Greek that describes navigation and trading opportunities from Roman Egyptian ports like BereniceTroglodytica along the coast of the Red Sea, and others along Horn of Africa, the Sindh region of Pakistan, along with southwestern regions of India. The text has been ascribed to different dates between the first and third centuries CE, but a mid-first century date is now the most commonly accepted.