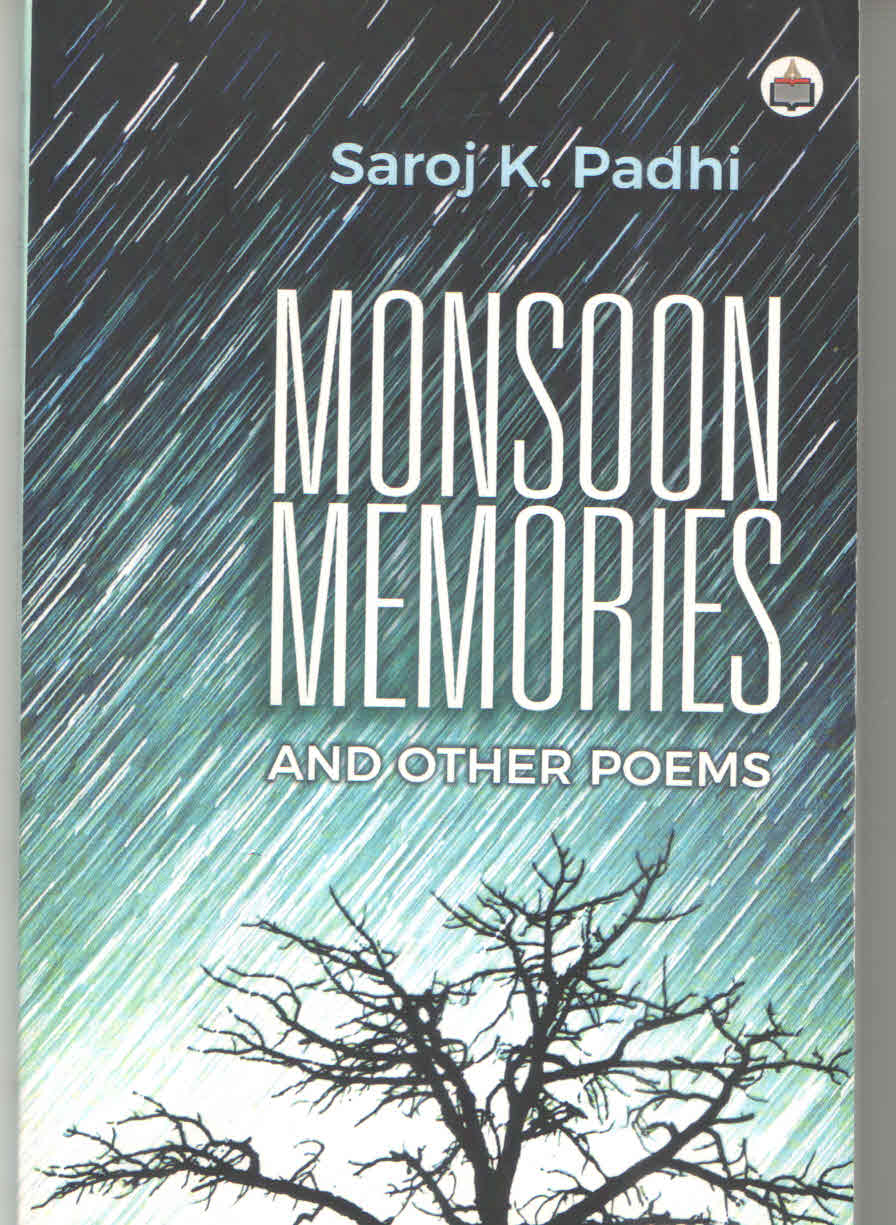 Monsoon Memories And Other Poems
Author: Saroj K Padhi
Published by Authorspress, New Delhi
Pages 110
Price Rs. 250/$12
Dr. Saroj K Padhi is an award winning bilingual poet writing in English and Odia, who has published eight books of poems besides two books of criticism and research articles. He is a nature poet and nature as we all know is a great teacher. There can't be anybody who has not at one time or other in their life got enchanted by the magnificence in nature, especially the charm of monsoon that brings songs in our hearts. Nature bedecked in green after monsoon showers has a delightful allure to explore. And when an entire book of poems are woven around the metaphors like sun, moon, monsoon, flowers and rivers to quote some, it is a pleasure for poetry lovers to delve deep into the folds of its pages for a blissful reading. The title of the book 'Monsoon Memories' in itself is captivating.

Monsoon Memories and Other Poems is the latest collection of poems of Dr. Saroj Padhi. Poem Aching Soul talks about the burden of indecisions lurking in uneasy corners in hearts urging one to rise up to dull repetitions, which has been likened to lotus retreating to deep waters and we pause to ponder over anomalies, etc. trying hard not to be logged down.

We pause to ponder over anomalies,
defeats, deaths
dreams dead and destructions,
back, sigh for a while
but to shovel forward again
trying hard not to be bogged down
by the business of living
but to reconstruct fractured selves
with the help of some new rhyme — (Page 18, Aching Soul)

A Creeper is a poem that depicts the journey of life from the innocence of childhood to the youth and its joy that slowly slides into the thorny deserts of old age. A Creeper is a realistic depiction of life which makes us look into ourselves.

in the thorny desert of age ripe
as I search for some rich moments –
a pilgrim soul homebound
trying to take off the slushy ground
and relate with the absolute,
I fall and bleed without a sound
on quicksands of life, unfirm, irresolute! — (Page 19, A Creeper)

Poem Ashen Kash Flowers is all about the sorrow of the Kash flowers burnt by sun looking like grey masses of scattered bones, brown, befuddled and bare, but they dwell with the hope of regaining their charm and waits for the charm of October days. Ashen Kash Flowers is a symbol of hope.

Now we have learnt a way of living and loving
We've matted our petals
like locks of yogi's unkempt hair,
grown indifferent to fog,
smokes and harsh rays; and to return to earth,
for a rebirth,
our soul so fervently prays! — (Page 25, Ashen Kash Flowers)


Biers Bearers shows us the reality of life, the last journey couched on kins' shoulders accompanied by flowers, incense, etc., when an emerging voice is heard 'Stop me not from my way to the pyre/where logs are ready before my birth/with the lure of a holy fire/to twist the tale of my suffering /into a happy ending.'

I'm awake to the white whispers now
in my dead ears ringing
as with each step towards the pyre
nearer to Him I'm turning
like a beloved into her lover, melting; — (Page 27, Bier Bearers)

The tint of sadness here fades into a philosophical twist and ends with a hint of holy fire and happy ending.

Burning In Sun is rich in its imagery and deals with seasons' splendours and the changing majesty in nature's make-over. The expressions overflowing honey and million springs bring before the readers the season of Spring in all its magnificence.

the butterflies love to carry the heat of the Sun on wings
before landing onto the swaying little, twittering twigs –
of sunflowers that dream of overflowing honey
at the edge of Winter, with the onset of million Springs; — (Page 32, Burning in Sun)

Call For Freedom displays the ugly face of social pathos and is a real call for remedial measures to save our motherland from unscrupulous power mongers, who erased statues of real noble souls fought for our freedom and raise statutes for imposters. Call For Freedom vouches for the patriotic spirit of the poet.

The much hyped, jinxed word sounds hollow now
As democracy is caught in a conundrum! — (Page 34, Call for Freedom)


There is a child inside each one of us. This is the subject dealt with in poem Child Inside, which will make the readers reminisce about their own childhood and its joys.

child sleeps inside us
like a winter fog in hibernation;
a submerged instinct too deep
to swim up as a clear passion! — (Page 35, Child Inside)

Death is the only reality in life. It lurks everywhere like a shadow behind us waiting for the opportune time to strike. Similar to leaves falling like virtues and trees vanishing like pack of dreams, we too have to vanish from this earth. Poem titled Death is a reminder to the mankind.

trees vanish like a pack of dreams
and the impudent dare plod on
not knowing that it's always time
this world to shun — (Page 40, Death)

Evening at the Bridge is the poet's experiences during an evening sojourn, when he witnesses the cacophony of traffic, drooping trees under the burden of clouds and he also becomes vigilant of the mating calls of the female birds getting drowned in honks and horns. In the hustle and bustle of life, men forget the harm they do to other living beings on earth who are prone to great dangers and threats. The gentle feelings of the poet towards other species are visible through the lines below:

when mating calls given out by female birds
from coves in ridges on the middle of a dry bank
get drowned by the cacophony of honks and horn? — Page 49, Evening at the Bridge)


Poem titled Garlands on Graveyard Tree is a fine poem, where the poet concludes that "the afternoon merges flowers with pyres, and desires with fires/in dance of death, as rites resolve riddles turning ashes into mires. The poetic excellence here is commendable.

Leaning Cloud, Forest Path and many other poems in this collection are on the never-ending glories in nature. Almost all the poems have metaphors of moon and sun strewn around showing their deep influence on the author's poetic sensibility.

Every Monsoon as clouds are cuddled by mountain,
my love as rain, drizzles into life's drying up fountain — (Page 54, Leaning Cloud)
The title poems Monsoon Memory I, II and III showcase the poets deep contemplation with Nature and its nuances. It seems the poet has a special appeal with monsoon times; happy and sad as well. Tears in his beloved's eyes that sparkle like rain as the speaker of the poem reads out lines from his old diary about the beautiful lie of love that holds the two captive under the cloak of guilty love may be a confession or a delicate declaration, either way touching the readers' psyche subtly. Similarly the clouds heavily hung over the wounded hills' face brings him memories of a gory rape scene, where the petals of innocence lay crushed and strewn around and the victim of the assault lying in a pool of blood gushing from Time's old wounds. The poet's ability to juxtapose or interconnect anything and everything to natural phenomenon is noteworthy.

'No More Triple Talaq' is socially relevant, while 'Waves' and many other poems in this collection are rich with pleasant imagery, similes, metaphors and personifications.

Words unuttered are always sweeter it seems
driving one crazy to decipher meaning in own favor
thro' hours wakeful, in dreams and during sleeps
without loss sounding even wee bit bitter or sour. — (Page 105, Wind and Rain)

It should be pragmatic when the poet says that words have never ending charm and those unuttered would outshine those already uttered and let's hope that this blessed poet will successively bring out more and more such collections that will enrich the repertoire of his literary voyage and I wish him all success in his journey ahead.