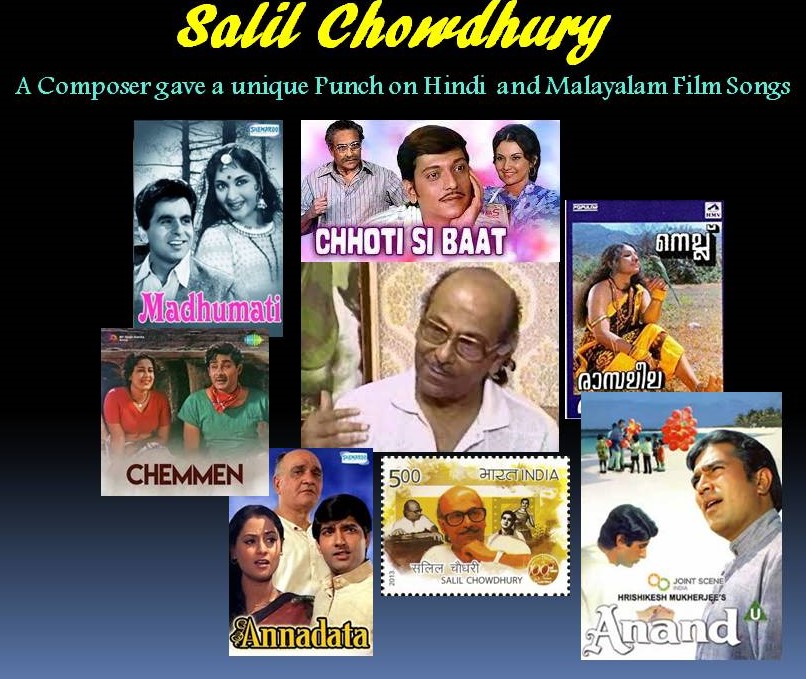 Salil Chowdhury (1922-1995) is a music director of yesteryears in a unique way; listen to his songs; many of them, one will feel the song moves on a queer rhythm and a crazy tune; songs too difficult to reproduce as they will have many tricky twists and turns. But, it will carry a charm of its own. He was popular in 1970s both in Hindi and Malayalam.

I have been totally captured by his songs in Bimal Roy's Madhumathi (1958) and every film critic and fan know that the songs are immortal. Madhumathi featuring Dilip Kumar and Vyjayanthimala received both critical and public acclaim. His music was a rare blend of western and Indian.

Later, he was composing music for many of his Bengali contemporary directors like Hrishikesh Mukharjee (Anand), for Asit Sen's Annadaata (1972), Basu Chatterjee's 'Rajinikandha' and 'Chottisi Baat' (1976). His songs will carry the Bengali flavor in some. But, surprising was his hits in Malayalam. His songs in 'Chemmeen' (1966), 'Raasaleela' (1975) and Nellu (1975) were definitely unconventional, catchy. I remember in those days AV Ramanan's Musciano's Light music orchestra was very popular in Chennai and in other south Indian cities and they include especially 'Kiliye kili kiliye' from 'Raasaleela' (a Kamal-Jayasudha movie) without fail to the great pleasure of the public. I know some of my Keralite friends are simply crazy about Salil-da's music. So are some Hindi audiences.

When I heard the song 'Guzar jaaye din' in recent 'Andhadhun' it made me go in search of his other popular numbers which were once my favorites. I have given the links to them. Just listen to the inimitable melody, odd rhythm, expert orchestration and the unusual bends and glides in the songs. I am sure you will enjoy.

*Something special: 'Nellu' song 'Kadali chengadali' was sung by Lata Mangeshkar.