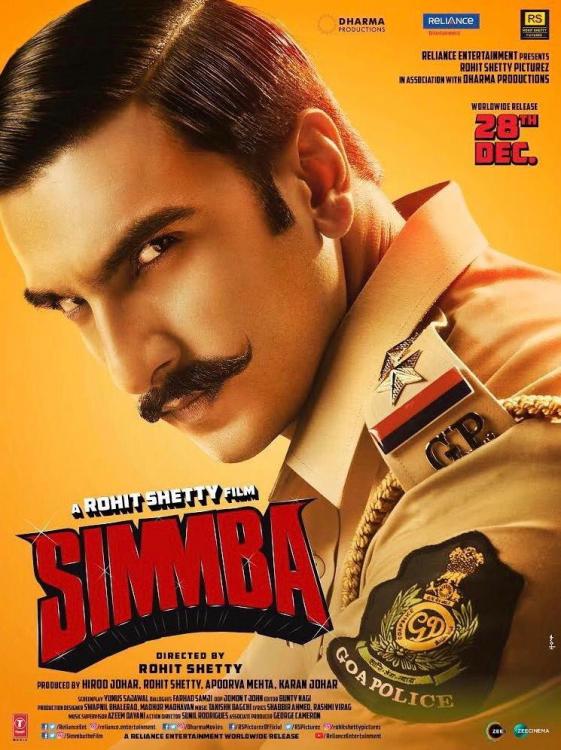 Though nowadays I don't attach any great significance to the reviews of intellectual and feminist reviewers' comments, knowing about Rohit Shetty, I thought 'Simmba' could be a mindless movie. Surprisingly, it is not. The 159 minutes movie was quite engaging, indeed, with all unabashed ingredients of a typical 'masala' film. Nevertheless, the greatest plus point of the film is Ranveer Singh, who once again set the screen aflame with his presence and acting (at times a bit of overacting also!) as ACP Sangram 'Simmba' Bhalerao.

As anticipated the film rests on the firm shoulders of Ranveer. The first part of the movie presents a Ranveer who is nothing but a selfish and greedy 'neech' police officer who is willing to support the wrong doers for a heavy bribe. But, here he is shown as mockingly silly, comical and loud with his funny wisecracks and Marathi-sh Angrezi. He shows no qualms in hobnobbing with the criminals or drinking with his disobedient Head of Constables (Ashutosh Rana) who doesn't even respect him. Though Simmba joined police to use 'vardi' for making more money, he doesn't wear it till he is made to realize that he is someone who is to support the public and not the criminals.

A brutal rape and death of a girl Simmba shows his care and attention and another one his love interest whose father was a honest police officer who got killed in an encounter with antisocial turn a new leaf in his life, vision and objective. Simmba drops his antics and changes into a serious police officer.

True, the movie is loud and tries to be preachy but it is all done in the right proportions.

The Indian populace always wants an 'orphaned honest man' as the hero (remember the n number of Amitabh's movies as the angry young man!); in the present milieu I don't think any other actor would have suited the role of Simmba than Ranveer Singh who has a track record of performing to perfection be it the character of a regal ruler or a despicable debauch. He looks (as) fit as a fiddle and handsome.

In any 'hero oriented' film, the heroine is just provided as a prop. So does Sara Ali Khan. All the supporting actors carry their roles with conviction.

It is a perfect Ranveer Singh-Rohit Shetty combo; a mass entertainer with a winning formula. If you like them you are bound to enjoy 'Simmba'. Else better stay away.

Post Script: Like elections, the people had given their verdict with the movie crossing 100 crore mark on the fifth day itself!