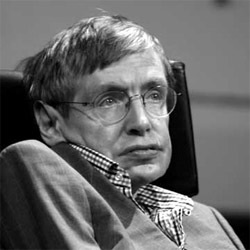 Born on 8th January 1942 in Oxford, Hawking entered Oxford University in 1959 for undergraduate classes but graduated in theoretical physics from Cambridge University, specializing in Cosmology.

He showed signs of becoming a top theoretical physicist, however during graduation itself in 1962, he suffered from motor Ramón diseases marked by the gradual disintegration of nerve cells in the spinal chord and brain that regulate voluntary muscular activities.

Stephen worked mainly in a purely cerebral area- one with virtually no emphasis on human physical powers. This disease did not affect his mind and once he knew this, his depression vanished. He started working for his doctorate.

In 1965 Jane Wilde married him. Stephen neither made any confession of his illness to his wife as he himself didn't believe he suffered from a disorder. He had a son in 1967 and a daughter three years later and after that he also received his doctorate from Cambridge.

In early 1967 Hawking was permanently confined to a Wheel Chair. However his mind was soaring. His induction into the Royal Society in 1974 was a stunning triumph for a man who, a decade earlier thought he would not live to his twenty first birthday.

Hawking's body drooped down into the wheel chair, his head sometimes falling to his chest . He almost had no head or facial control. Most of the days at work Hawking just thought. He was blessed with a prodigious memory. He was able to work out and retain pages and pages of complex equations, weaving the mathematical hieroglyphs together as an ordinary man might arrange words in a sentence. Doctors believe it was a miracle that he was still alive. Each day he lived, he set a new medical record.

Hawking could not speak. On his electronic wheel chair a laptop was installed. Through a computerized voice synthesizer he gave lectures. He moved all over the world for tours.

His main contribution to theoretical physics especially in gemmology is the theory of black hole which was proved right, the concept of singularly etc. His book "A brief History of Time" has become the first scientific bestseller of the century. His relentless thirst for the secret of the origin of the universe changed forever, the way we look at the stars today.

According to Hawkings in the Universe there are infinite number of balloons inflecting continuously. From among these infinite no. of balloons, our scientifically known Universe has some small factor on one balloons . Albert Einstein had given the limit of velocity of light. According to Hawking this limit may be true only for our Universe. For other Universes speed of light may be different.

Recently Hawking even experienced the zero gravity state himself in a space craft. He continues to be very enthusiastic about his field of work. He is ranked with Galileo, Newton and Einstein. He is the Lucasian Professor of theoretical physics in the University of Cambridge, he holds the same chain as Newton held in the past.
Image courtesy pr.caltec.edu