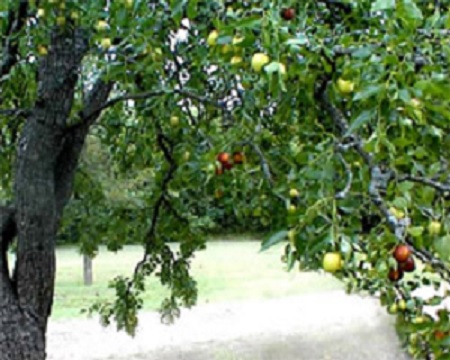 Most of you must have tasted soft, sugarcoated candies called jujubes. Did you know that jujube is also the name of a tree? And that jujube candies were originally made from the juice of jujube fruits?

There are two kinds of jujubes.

There's the common jujube that originally grew in China. In fact they have been cultivated there for the last 4,000 years. They are also called Chinese dates. The Chinese call them "Tsao".

The Chinese jujube tree grows to a height of around 30 feet. It's a very pretty and graceful tree that droops a little. It has thorny branches that grow in a zigzag pattern. The leaves are oval shaped. They are about 2 inches long and shiny, bright green in color. They turn bright yellow before falling in autumn.

It has small yellow flowers. The jujube fruit is green when it is raw. As it ripens it gets yellow-green, and finally dark brown or red when it is fully ripe. It is the size of a small plum. The fruit has a white, crisp pulp and a single, large and pointed stone inside. If you break the stone you'll find two seeds. If left on the trees they dry up like figs.

The second kind is called Indian or cottony jujube.

The Indian jujube has leaves that are woolly beneath instead of smooth like the Chinese jujube. Also, their fruits are smaller and not so sweet.

The wood of the jujube tree is very hard and strong.

You can eat the jujube fruits fresh, boiled, stewed, baked, candied, or as dry fruits.

Both kinds grow well in hot, dry climates where it's not too cold in winter. But people have successfully grown it in very cold places – parts of Washington and Pennsylvania - where the temperature goes down as low as - 28 F.

They're not easy to grow in pots unless the pot is a very large one.

Jujube fruits contain a lot of vitamin C. Many like to eat the fresh ripe fruits which are sweet and sour and have a slimy pulp. Others prefer to have them stewed or candied or make a syrupy fruit drink. In fact, it is a popular cold drink in many parts of Asia. Ripe fruits are dried in the sun like raisins.

Many people use them for making special teas for colds and sore throats.

The Chinese jujube has some special advantages. It hardly ever gets any disease or attracts insects. People growing it in the United Stated have found that it's not even necessary to spray jujube trees with medicines for either.

Another advantage is that the fruits don't all ripen together. So you can keep picking them from a single tree for several weeks. But if you pick them when they are green they won't ripen just by keeping. You can store the ripe fruits in the room for a week or so.
Image courtesy: jujubesetc.com