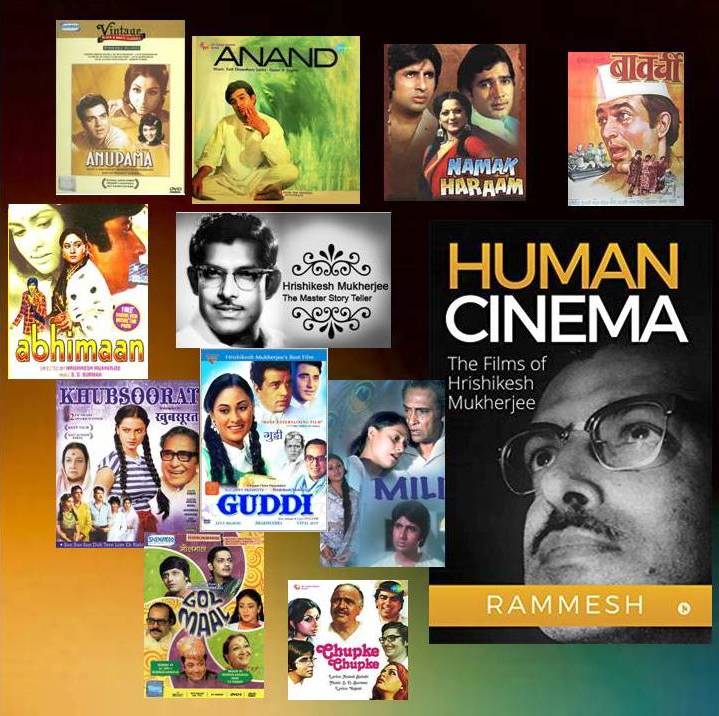 Human Cinema by Rammesh; Notion Press, pp.250, Rs.350
Most of the people consider cinema mainly as an entertainment and a shortest route to popularity; very true. The creativity part, the difficulties in execution leading ultimately to success of a movie is nothing but a greatest gamble. The testimonies are plenty. Popular directors to popular actors have tasted success as much as failures also in their career.

The Hindi movie fans of 1970s are bound to remember Hrishikesh Mukharjee, film director (1922-2006) popularly referred as Hrishida. I started watching his movies after his biggest success 'Anand' (1970). It was followed by 'Guddi' (1971), 'Bawarchi, and 'Abhimaan'. He created a niche for himself in painting the characters which are memorable still. My admiration multiplied because his movies in 1970 'Namak Haraam', 'Chupke Chupke', 'Mili', 'Golmaal' and 'Khubsoorat' are on diverse topics and definitely movies which could be enjoyed even if you view them now. Earlier, two of his films, 'Anupama (1966) and 'Satyakam' (1969) were talked about for their contents. I saw 'Anupama' recently in Youtube and no doubt it is a good one.

Author Rammesh had written and published an interesting anthology titled 'Human Cinema' completely analyzing Hrishikesh Mukharjee's movies almost threadbare. It is unquestionably an analysis of an ardent fan but at the same time without any favoritism. I feel it is one of the most balanced analytical works on a celebrated director. Understandably, a movie buff only can understand the intricacies of a movie and express the same in an unbiased manner; indeed, it is definitely another art. Hrishida had directed 42 films in his career from 1957 ('Musafir') to 1998 ('Jhoot Bole Kawa Khate').

Rammesh, year wise chronologically discussed all his movies for their merits and demerits. He mentions that the director has a tendency to make 'Male Weepie' movies like 'Satyakam', 'Anand', 'Arjun Pandit' to 'Alaap' where the male protagonists are put to lot of hardships and miseries. Hrishida is also adept in changing the image of an actor like he did for Dharmendra, Amitabh Bhachcharn, Bindu, Om Prakash, Amol Palekar and Utpal Dutt. He also appreciates the director's penchant for comedy movies like 'Golmal'' and 'Chupke Chupke'.

Even the songs in the movies and their significance are interestingly discussed in this book. Like a doctoral thesis it carries many foot notes, bibliography, appendices and a personal interview with the director. It is also true that the author while accepting the box office disasters of some his movies he tries to justify in some cases but many times he tries to find out and present the valid reasons for the same. That type of balanced approach should be lauded.

The book would be a wonderful document on a very popular and celebrated director and film buffs for those knowing about the directors of yesteryears. The major focus of Rammesh is to project Hrishikesh Mukherjee as a director who always give great importance to humanism.

There is a poignant line in his film Anand was 'Zindagi badi honi chahiye, lambi nahin' ('Life should be great and not long); how true it is!