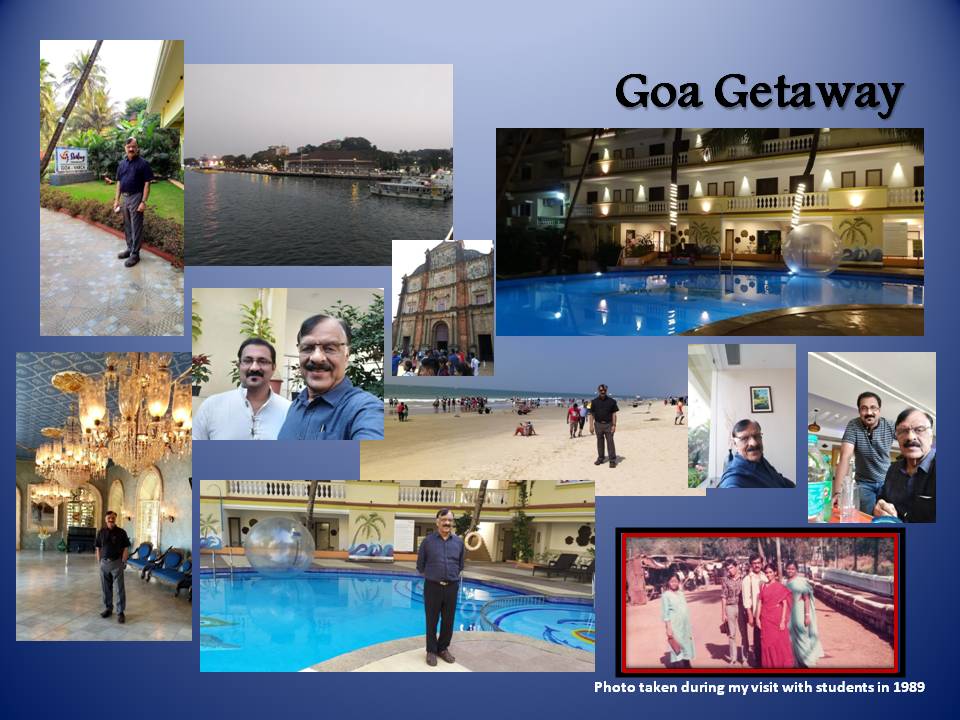 I know it is difficult to get away from din and dust in India. Yet, I ventured into a trip to Goa for a brief getaway. I had been to Goa first time in 1989 with the students and later in 1998 for official work; nearly two decades back.
Well, I know about Goa and its places with names like Dabolim, Vasco, Panaji (Panjim), Mapuasa, Margoa, Dona Paula and the place is known more for its beaches Calangute, Miramar, Colva, Baga etc. Thanks to Tamizh writer Rajam Krishnan who had written two novels and several short stories centered on Goa and its suburbs.

Luckily, I stayed in a commendably calm and quiet Sterling Resorts with my close friend Guruprasath who willingly joined me in the sojourn.

The resort was large, beautiful, and serene with very courteous staff and a wonderful kitchen and bar. One could nicely chill out in places like that. I visited a private home of some Braganza which had now been converted into a museum and another private one with some really 'Kalyalan Kadai stuff'.

One day, I shunted between North and South Goa passing through the busy, congested to calm and desolate roads and greenery of mainly coconut, plantain and many vegetation dotting my travel route. The two rivers which add charm to the place are Mandovi and Zuari. The new bridge looks nice. A boat trip in Mandovi wasn't that amazing; because of the noise and crowd.

Surprisingly, I could find even today large individual houses with no merchandise or offices nearby in the suburbs of Goa. Wondered how they could maintain those big homes clean and imposing and how they commute during monsoons.

Goa natives say that the place has changed a lot. True, must have been with changing values and time.

What memory I carried home along with me? Just chilling out with a friend for a couple of days and envying those who live in such mansion like homes surrounded by amazing greenery!

And last but not the least; one should be a sport and ready to walk a lot and scale heights without wincing!