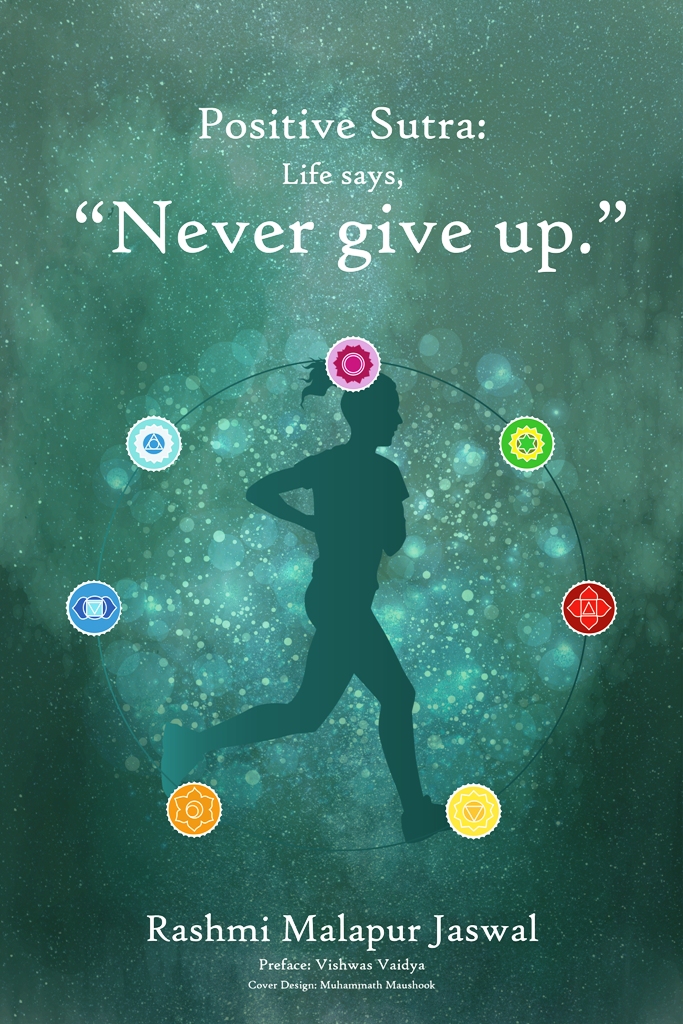 'Positive Sutra: Life says, "Never give up!!!' is the debut book of Rashmi Malapur Jaswal, an outstanding blogger turned poet and author. Dedicated to her parents who have been a constant source of inspiration for her, the book is succour to 'the people suffering from depression and negativity in life'. As the encapsulating Preface says –'The book will serve as a "travel guide" to those who are navigating through a period of depression through their life". Divided into three sections the book opens with the writer's interaction with the readers. She explains her motif and purpose of writing the book: "I took to writing this book with the aim of reaching out to people who have faced depression or immense emotional challenges. We often get hovered by spiral of negative thoughts to get pulled into depression. The force of negativity kills energy within us and replaces it with mental lethargy. Sometimes even walking a few steps to pick up a glass of water or grab a newspaper becomes a herculean task. Our will power is weak and we only see the negative aspect of life." As a matter of fact, she is subjective, introspective and reflective in her poetic expressions. Her poetry abounds in feelings, emotions, sentiments, reveries, memories, nostalgia and above all, motivational and inspiration approach to life.

In the beginning of the book, she offers some useful suggestions and tips for a better life because she holds that "Only positive thinking can pull us out of this spiral,... through moments of stark darkness and disappointment.' And this is the reason why most of her poems reflect the positive attitude towards life. Positive sutras as given by her encourage us to connect with someone, ignore problem seekers, never ditch exercising, harbour hobbies, read inspirational literature, quit smoking, drinking and substance abuse; and most importantly avoid fatalistic views. Acting on these tips one is sure to get] perfect happiness' and 'peace' as she upholds:
Yelling within, peaceful 'me' is just a sham.
Words wane the anger, disgust and fury
String of hurriedly typed words with a gush of emotion.
Now a peaceful me is a picture of perfect happiness.
This apart, the poems as showcased in this book fall into two categories: Aikya- Oneness or Unity and Smaran- Fragrance of times. The section" Aikya-Unity" comprises of some of beautiful, motivation, encouraging and inspiring poems written as a responses to critical circumstances to soothe a restless heart. It reflects the poet's reflections and musings over dreams, submission, love, journey, memories, miseries, spirituality, peace, and nature, to mention a few. The poet believes in the present moments. She encourages us to 'Embrace the moment and challenge the day' because 'Today is your day,/Tomorrow is elusive,'. She exhorts her readers to
Grasp the moment and ride it with your confidence.
A small ripple spurts enthusiasm,
Carry it through,
Like a flower that blossoms and spreads its fragrance till it withers,
Spreading joy for the beholder and for each glancing soul,
Be a flower in the beautiful garden of this universe.
Her 'Sharing "is a beautiful poem pleading to surrender oneself in order to 'selflessly immerse in you". Symbolically, here "you" stands for the ocean of divine love. In another poem "Today's share" She expresses her wish to "dance in the joy of trying to fathom the depth of desires. "Dreams" creates a dreamy atmosphere where she compares heart as a 'blossomed flower' and her love as 'a constant source of power.' In fact, her love is a physical reflection of eternal entity that she carries on in her life. "Surrender" is a fine poem soaked in Sufism. Her love comforts her, thus making her strong to sail across as she is so submissive in love that she has made it the captain of her ship.

The poet celebrates eternal camaraderie in the poem "Our Journey". With a beautiful and apt use of hyperbole and paradoxes she expresses:
We were together long before we met.
We met where the minds are free from the shackles of rules,
Where the words fail, silence speaks and
We traverse together beyond time,
This is and will be our journey forever
Smile is very essential to love. It fetches joy, peace and bliss. She observes loving pairs hand in hand on the roadside and their intense love for each other and her feelings take a shape. She thus reveals hidden power of love in the poem "LOVE - by the roadside"
When a small lithe hand touches him,
Smile that rekindles his desires,
Felt after a chasm of emptiness.
A fresh air, despair vanished now,
Rejuvenated with a colossal hurricane of emotion LOVE.
She wants to contribute to the cosmic painting of God. She yearns, in her poem, to paint 'an unexplored landscape' of life. Loneliness is very painful. Devoid of any soothing, comforting company, a person feels the pangs of despondency. It becomes hard to forget the intriguing moments'. She affirms it her poem "Departed":
They don't let me rest,
They don't let me breath,
They don't let me think,
They encapsulate my mind,
In the absence of her love she feels let down, downcast 'in this boundless sky of loneliness. "Goodbye" gives a befitting response to her in solitude. She musters courage and marches on, undeterred. She says:
Now in solitude, serenity and strength,
With a multitude of dreams,
And unwavering focus,
I am back not with vengeance but, everlasting love
That will lift me every time I fall in the ravines of misfortune,

Because

I stand with belief, dreams and hope.
I stand with will and confidence unshakable.
"Destination" is a powerful poem reflecting her killer instincts to fight both the aspects of existence- internal and externals. She is optimistic bent of mind and hence she makes reconciliation to transcend the fetters of grief. Using a wonderful metaphor he proclaims:
I'm free like a bird that crosses boundaries
Flies miles to cover its next destination.
Love is the only destination she seeks because she says- 'every time you leave, it is nothing but a departure destined to end in each other's arms.

The poet is a peace loving person. For her silence is the best way to bring for the ecstatic moments of peace and serenity. As a matter of fact, silence and smile are the two powerful tools that either solve or avoid many problems. She holds that 'Being silent is a bliss,/For it calms all the rush of emotions and thoughts, /That crowds out the peace,'. In the poem "Peace Within" she offers her poetic key to unlock the secrets of her positivity and feeling of peace:
I am rather scared of it getting disturbed,
By worldly worries, entanglements,
The day I don't sit with eyes closed,
And peep within I feel incomplete,
Disturbed I worry about all that I don't have,
All that I have left behind.
Peace is when I stop fearing,
And start accepting the world as it is,
Don't get hurt by people,
Just stay calm and love not only myself but,
All that is made to be just the way it is.
'He lives in me" is one of the best poems of Rashmi who expresses the most in the least words. Her love is source of everything, be it happiness, faith and life. She declares:
He left a world of happiness.
He filled me with a brook of love.
A feather like touch.

He instils faith,
He lives in me.
He breathes in me.

He lives in me.
In this way we see the poet helps us out of the thorny situations of life with positive approach, rejecting negative aspects. Many of her poems are filled with unbridled optimism and positive attitude.

'Smaran-The fragrance of times' is the concluding segment which takes us through the 'fragrant lanes and by lanes of life filled with nostalgic moments.' In the section "Smaran", the poet takes us to the fragrant realm of existence where memories and nostalgia matter much more. The poet is in search of the understanding of some of existential quests. She begins her poem "Caged" with an existential question;
Why does the mind linger on moments that are fleeting?
Why does the heart crave for physical yearnings?
...........................................
Why do I flutter like a caged bird?
While you wait tirelessly that I open my mind and embrace you completely.
She is a lover of nature. The world of nature fascinates her to the extent of gazing at the beauty of the sky and the lush green grass. "Solitude' captures this thought and mood of hers. She writes:
I open my eyes and surrender myself to the beautiful clouds, that form a different world,
Away, away, away from you,
From everyone,
Perfect solitude.
"My being" is one of the most powerful and emotive poems. It probes into her mind, her feeling. Like a common being, she is also swayed away emotionally by the turbulent times but with a strong conviction she comes to terms with the stern reality and successfully breaks free the shackles of grief, and depression. She boldly proclaims:
A feeling encapsulates my mind
Fear, love, hate or discomfort, takes me to a distant land.
It shakes my identity, it breaks my dreams,
But, a sudden belief springs that I exist for a reason,
I realize that I cannot surround my mind with these weak feelings.
I get up and live each moment breaking these shackles
And love myself for my being…
Surrender - devotional and spiritual - is a spiritual and devotional way that leads one to salvation- redemption of soul. She is suggestive in the poem "Salvation" as she echoes the divine words:
Surrender to me without pride and when I embrace you,
You will saunter your way through solitude and salvation.
Her perspective on life is brilliant. On the one hand, she wants to live the life with all its sweet and bitter moments; she has also the realization that whatever pertains to life is temporal, transient and futile as it has no realistic permanence. "Illusion- part 2" is a metaphoric poem in which she makes it evident:
Life is but an illusion,
I run after everything temporal that doesn't exist in reality,
......................
So then is life about running after the distant dream?
That I am never going to achieve,
A mirage, life is an illusion,
When it has to end it will reach a sense of completeness.
Why should I care how much wealth, fame or respect I receive in this world?
For the people who remember me today, will have another name to play with,
Heroes do fall,
And the pit is a grave self dug.
She believes in precious value of each and every moment, hence she wishes to live her life, come what may- 'A flame that kindled a desire,/To live a life without fear'. "My Path" is a suggestive poem that she seems to have composed just to make herself realise the value of life. The poet addresses her own self to take a lesson:
...life is where heart carries you, may it be duty, love, ambition, vision or may
it be a simple life with not much struggle.
Pave your path, because that will be your own chosen one,
With success and failures of your own.
When your heart guides you it is simply the best for you.
In the poem "Presence" she validates the existence of divine being in the core of human being. She says: "Your existence is undeniable,/The fact that I breathe, is a proof that you dwell within me./My existence is temporal, but you are the eternal truth, who makes my living meaningful." "Coming back" is a heart wrenching description of a beloved who is critical yet seeks love. The description is full of pathos. She gives a vivid account:
She whispered, "I want to live, will you save me again."
He held her hand and the moment he said "Yes",
She closed her eyes and never smiled again.
As is evident in the foregoing analysis of her poems, the poet gives preponderance over the power of silence which is essential to deep introspection. She is of the opinion that silence creates a very conducive inner atmosphere wherein one can get connected with one's true Self. In the poem "Silence" she says:
In the quiet moments of life,
You are a soothing rhythm,
Which inspires me to transcend all boundaries,
Travel within and drown in silence.
Metaphysical search she carries on in some of her poems. She says-An eternal existence that abodes me with happiness./Now I search for him in the moment that slipped but yet stays eternally.' In the poem "Immersed in oneness", she says:
Starting a life that has no boundaries
Now immersing with each moment of life
This journey where I disperse my happiness
Which returns back to me in abundance.
The poet tends to explore the source of peace in the beauty and serenity of nature. Supreme beauty, in particular, is fascinates her poetic soul. She expresses her perpetual longing for the ultimate peace as well. The poem "Peace" is an expression of this yearning of hers:
There is something that is beyond what the eyes meet
And I cannot fathom it
And I try hard to
Perhaps this desperation should stop
And be transitioned to the natural gaze
Perhaps peace lies just there
Just there and you too.
In another poem "Circle of life" she also makes it clear that she is in search of peace that enables a soul for divine communion and union:
Peace that rests within the unfathomable depths of my heart.
I immerse, dissolve and you remain the focus,
A complete thought that leads to an unwavering mind,
A distinct knock is a call of the divine.
She explores certain metaphysical questions in her poems such as philosophical issues of life, death and suffering, of self and the Supreme. Her creative mind turns inward to introspect, to understand the meaning of the reality- the divine union:
To the two disparate parts,
When they come together,
They create something beyond imagination,
The soul and the mind unite,
A divine union.
To sum up, Rashmi Malapur presents in her poems a melody of romance, spiritual, metaphysical and familial, tender love - romantic and divine. Her poetry also offers a totally new and fresh perspective on life. Celebration of togetherness, memories, dreams, dejection, reconciling of dichotomy between positive and negative aspects of life, mundane and divine, attraction and repulsion followed by reflection on the way of the world are some of most important and recurring themes of her poetry. Some poems are terse and pithy and express more in a few words, while some are suggestive and didactic in tone. Indeed, her collage of lofty ideas and uplifting thoughts is brilliant with sublime, purifying flow of love and romantic sentiments. She, through her poetry, tells us to both banish negative thoughts and develop perpetual positivity to live a better life. In this way we see that the book under review is remarkable for presenting the poems of hope and resilience, of positivity and vitality, and inspiration and motivation.