A Celebration of Life, by K Bhaskaran, FOLIO, Pp312 Rs 300
Faced with a volume of memoirs a reader may brace himself up for a series of self-glorifying anecdotes, but he would be in for quite a pleasant surprise with K Bhaskaran's A Celebration of Life, a book that bears full testimony to Carlyle's dictum 'A well written life is almost as rare as a well-spent one.'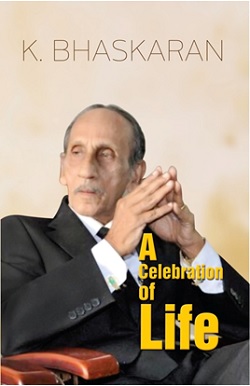 Reading this 96-year old's memoirs is an invigorating, delightful experience, fully justifying its title, providing insights into a life lived to the full with glimpses of eminent personalities scattered all over.

Sometimes one may tend to look askance at the author's chance encounters with great souls like Sree Narayana Guru (almost a family deity), Mahatma Gandhi and Mahakavi Kumaran Asan, right from the days of childhood, and later accidental meetings with Rajaji, JRD Tata, Field Marshal Sir Auchinleck, Captain Lakshmi and even Somerset Maugham.

But then 'What is history but a fable agreed upon,' as Napoleon Bonaparte remarked. In fact the author himself quotes a friend: 'History is what one makes of it.'

The author is able to make us partake of his nostalgia when he fondly narrates his close association with great men like C V Kunjuraman, C Kesavan, Kainikkara Kumara Pillai, C P Ramaswamy Iyer, T K Divakaran, K Balakrishnan and a host of other luminaries.

It is when he dwells on his romantic escapades that the poet in him comes to the fore. His reminiscences of his first romance with a North Indian girl, his short-lived affair with an orthodox Tamil Brahmin lass and his affair with the girl whose love letter led to his flight to Bombay all read like excerpts from some Victorian Romantic novel. But to the credit of the author it should be said that it was always the young ladies who seemed to be making the advances.

The way he writes of the turbulent times of the Second World War and its unexpected and welcome aftermath — his marriage — warms the cockles of one's heart. His first experience of communal violence in an Iranian restaurant in Bombay, how deep devotion to Lord Muruga and to Sree Narayana Guru helped his father overcome his serious arthritic problem, how he became an innocent accomplice in making his uncle unwittingly eat tiger meat, how the 'Bengali swami' (one Raman Pillai who was a close associate of Sri Aurobindo) claimed to have translated for the Germans some old palm-leaf manuscripts which according to him vividly described the atom bomb, how Sir C P Ramaswamy Iyer confided to the author the impending action he was going to take against the Quilon Bank, how the treatment of the wife of Arthur Hope, the then governor of Madras, by his father paved the way for his becoming a military contractor under the British all lead to delightful reading. His accounts of the magical feats of Kunnikkot Thangal and how a charging wild boar shot dead by an inspector could have been a sorcerer in the disguise of an animal would be the stuff of Stephen King.

All said and done, for sheer readability this book would do Robert Ludlum proud. Once you start reading it, it is un-put-down-able, as they say.