Can you imagine a paralytic woman becoming the fastest woman on Planet Earth?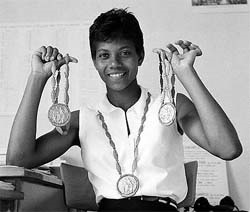 Wilma Rudolph was born at Tennessee. Her parents were very poor. She suffered from double pneumonia with scarlet fever at the age of four. She was left paralyzed with polio. She had to wear a brace and was told by the doctor that she would never be able to walk again. However, her mother encouraged her. She told that with God given ability, faith and persistent effort Wilma could break all the barriers. She could do whatever she wanted. Wilma was determined to be the fastest woman on the tracks.

Defying doctor's advice Wilma removed her brace and took the first step at the age of nine. At the age of thirteen she took part in her first race coming out last. During her second, third and fourth races too she brought up the end. She went on practicing till she came first.

At the age of fifteen she went to Tennessee State University. She met a Coach "Ed Temple". Seeing her indomitable spirit the coach reassured Wilma that he would support and encourage her. He told her that nobody can stop her being the fastest Woman on tracks on the earth.

Finally one day Wilma was at the Olympics competing with "Gutta Heine" who had never been beaten. Wilma first beat her in 100 meter race and won the first Gold Medal. The second event was 200 meters race . Wilma beat "Gutta" again and won the second Gold Medal. The third event was 400 meters relay race. In the last lap of the relay Wilma was again pitted against "Gutta". Wilma dropped the baton first. However, she picked up the baton and ran like a machine. Wilma won the third Gold medal.

A paralytic woman had become the fastest woman on the earth at the 1960 Olympics and history had been created.

Wilma has taught us that successful people succeed in spite of problems and not in the absence of problems.