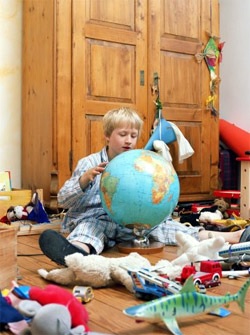 More often than not we seem to find ourselves invaded by clutter. Old letters, used refills, old note books, expired medicines, worn out clothes, broken toys, mis-matched socks – the list is endless. Slowly and steadily clutter seems to creep up on us and we often don't even realize the amount of useless things we have around us.

With living space at a premium, specially in big cities, it is imperative that we make a conscious effort to eliminate clutter around us. A neat and tidy environment is every person's dream. Who does not like to have his papers neatly filed, books stacked properly, clothes nicely arranged and stationery and miscellaneous items kept in an orderly way? To achieve this perfect scenario is not difficult, one has only to get oneself organized. Declare a war against clutter and see how easy life becomes. Here are a few tips for you.

Organize your study table
Your study table at home should look neat and tidy. Keep your pens, pencils etc in an attractive pen-stand and other stationery items in a pencil box or any other decorative box. Keep a rough notebook or scribbling pad at hand, as well as your diary. Stack your books and notebooks neatly. If you have a bookshelf, keep your books there and your study table will look neater. If your table has drawers, store the extra stationery items there, rather than piling them all on the table. Keep only the necessary things, including your dictionary, handy.

Keep files
It is never too early to start the habit of neatly filing away your papers. Ask your parents to give you a couple of files. Keep your school papers (report cards, mark sheets, circulars, fee receipts etc) in one file, so that you can retrieve them at a moment's notice. You can keep another file for your question papers and still another for other important papers and so on. This will reduce clutter to a considerable extent and save your time as well.

Spring clean regularly
Once a week go through your papers and throw away all the useless papers; file the rest. Also do not hoard old, used notebooks, broken pens, sharpeners etc. Tear out the unused pages from old notebooks and use for rough work.

Your clothes
With the help of your mother, go through your clothes once in two months or so. Separate the old, worn out or faded ones which you no longer wear or those you have outgrown. Ask your Mum to give them away to the local orphanage. Discard all worn out and old shoes in the same way.

Everything in its place
Make a habit of putting back everything in its proper place. When you come back from school, don't leave your bag, socks, shoes and uniform lying all over the house. Train yourself to put each thing in its proper place – the shoes on the shoe rack, shirt and socks for washing, uniform on the ironing table, bag on the shelf, books on the table, tiffin box in the kitchen and so on. Have a separate place for your cycle keys, money purse etc so that you don't have to look for them all over the place.

Organize your toys
Keep your toys properly. Ask your parents to give you some big cartons where you can put away your toys when you are not playing with them. Board games like scrabble, Ludo or chess can be stacked on one of the shelves of your book case. Arrange your stuffed toys attractively around the room.

Comics, story books and magazines
After reading the comics and magazines keep them neatly stacked. Periodically you can give them away to the local orphanage; it will bring hours of pleasure to the children there. Arrange your story books in a separate place on your book shelf.

Hair clips and accessories
If you are a girl you are sure to have a collection of earrings, chains, bracelets, hair bands, hair clips and accessories. Keep them neatly in an attractive box, don't strew them all over the dressing table along with Mummy's cosmetics.

Avoid dumping
Dumping things 'temporarily' is a dangerous habit. The umbrella may be lying on the sofa for days. Often a corner becomes a dumping ground. Guard against this. Clutter, apart from being unsightly occupies precious space which can be better utilized for other useful things. Also clutter is the breeding ground for pests – cockroaches, white ants, mice and other insects breed in the mess, and cause a lot of damage.

Untidiness also eats into our precious time, as we waste a lot to time looking for a particular thing. Further dust accumulates on the unwanted things and cleaning it is time-consuming.

Thus a little bit of determination and organization will go a long way in declaring a war against clutter and you can live in a neat and tidy ambience. Try it – your efforts are bound to succeed.
Image under license with Gettyimages.com