Just as fast food – pizza, burger, sandwich et al - has become an integral part of today's life, similarly another prime favorite that has really made its importance felt is the salad. Whether you are a total vegetarian or a non-vegetarian with a vengeance, there are salads to delight every palate. The popularity of salad is obvious from the number of salad bars in the city which remain packed throughout the day.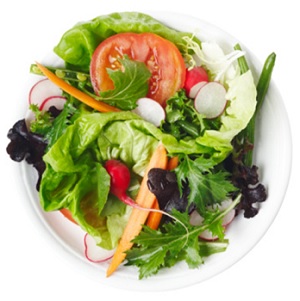 The word "salad" comes from the French word "salade" and the Latin word "salata" which means "salty". It is usually made with a mixture of uncooked vegetables with a green leafy vegetable (such as lettuce, cabbage or spinach) as its base. Other common vegetables included in the salad are tomato, cucumber, capsicum. Mushroom, onion, spring onion, carrot and radish. A salad usually accompanies the main dish. But with the addition of pasta, cooked potatoes and beans; noodles; boiled, shredded chicken and cheese, it often becomes the main dish.

A salad, however, is incomplete without salad dressing which adds zest and tang to the salad making it delicious. A dressing is basically a sauce which has either mayonnaise, curd, vinegar or something similar as its base to which different herbs and condiments are added. Salad dressings have a long history dating back to ancient times.

The Chinese have been taking soya sauce for more than 2,000 years.

The Babylonians used oil and vinegar for dressing their salads around the same time.

Romans are said to have used the popular Worcestershire sauce from the time of Julius Caesar.

The Mayonnaise made its appearance in France more than two centuries ago.

We read about many other dressings popular in the courts of European monarchs.

Another dressing which continues to be popular even today is the Thousand Island dressing.

For the health-conscious it is yoghurt dressings all the way!

One word of caution, however! Do not overdress your salads. Remember, too much of salad dressing will mask the flavor of the main ingredients. Toss in just adequate dressing to give it an added flavor and serve immediately.

You can easily make very good mayonnaise at home if you have a mixer or blender. Take 1-2 tsp of salt, 1 tsp of pepper, 1 tsp. of dry mustard powder and a big pinch of sugar and blend for a few seconds. Add one raw egg and the juice of 1 lemon and blend again. Take 1 cup full of groundnut / sunflower / olive oil and pour slowly in a thin stream while running the mixer at the slowest speed. The whole thing will emulsify instantly as thick mayonnaise sauce. This is the basic sauce to which you can add other things of your choice, such as grated cheese, hard boiled eggs, fresh green coriander, mint, celery and anything else you particularly like. This will keep in the fridge for up to a week but the sooner you use it the nicer it will taste.

Here are some salads which you could make with mayonnaise as its base. You could make Waldorf Salad by mixing diced apples, celery, and walnuts with mayonnaise sauce.

Or you could make a yummy potato salad by mixing boiled baby potatoes with finely shredded tomatoes, chopped onion, fresh boiled corn and mayonnaise.

You can make cauliflower salad by mixing boiled cauliflower pieces and green peas; diced tomatoes and onion in mayonnaise. You could add a handful of nuts if you want to make it crunchy. Or go for a chicken salad with boiled shredded chicken, tomatoes, hard boiled eggs and onion rings and pour a generous quantity of mayonnaise over it. This also tastes great as a spread for open sandwiches.

For a refreshing fruit salad take two cups of fruits of your choice – bananas peeled and sliced, grapes, kiwi peeled and sliced, pears peeled and sliced, mangoes or pineapples cut into thin slices. Put them in a big bowl. Pour a dressing made with 2 tbsp of honey, 2 tbsp of lemon juice and 2 tbsp of condensed milk over the fruits. Mix and chill in the fridge for 2-3 hours. Serve as a refreshing dessert. There are many salad dressings you can make yourself. Be adventurous and see how many you can create!
Image under license witth Gettyimages.com