The Bharata Outside India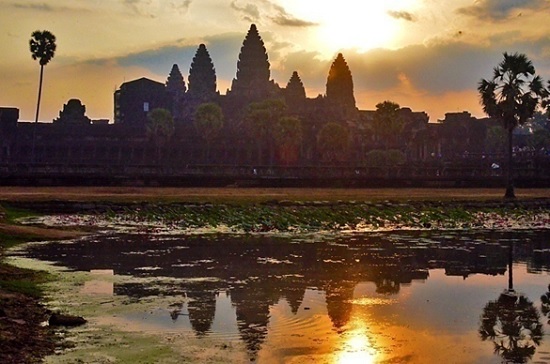 Visiting Angkor Wat had been a dream to be fulfilled in 2019. In 2018, we had visited Prambanan and Borobudur in Yogyakarta, Indonesia. If Prambanan comes, can Angkor be far behind?

We -my wife Jana, daughter Anisha and I, planned 3 months earlier, and since then I had been feeding myself voraciously with various available information on the place and temples, their history and geography on the net and from books. Google map is no doubt a boon for traveling in unknown foreign country, so that no place seemed unfamiliar when we actually stepped on Siem Reap. This being my daughter's first foreign trip, her excitement further added to ours.

There are more than 50 temples in the Angkor Archaeological Parkwhich stretches across some 400 square kilometers in Siem Reap Province. Angkor Wat is one of them, and the largest, mightiest and most majestic.

The Khmer Empire sprawled over much of Southeast Asia from the 9th to 15th centuries and Angkor was the vast capital city. Scholars opine that at the zenith of the Khmer period, at least 1 million people dwelt in the city. All that remains today are the ruined temples. The common people lived in the city in wooden structures, so nothing remains. Even most parts of the king's palace are gone.

We were to stay for 3 days in Siem Reap and then move on to Thailand. We prepared our itinerary accordingly. And this time we had to leave out the temples outside Angkor Archaeological Park to see more of Angkor Wat.

We had chosen a Homestay through an online booking site, and opted for paying at site. Before one week we had contacted our hostess Sarah over whatsapp, and requested a pickup from airport.

Our flight Air Asia AK62 departed Kolkata airport at 1.05 am, and after a long and boring layover of 6 hours at Kualampur, we reached Siem Reap at 2.35 pm. For getting the VISA on Arrival, it took 30 minutes. When we stepped outside the airport we found our Tuktuk driver waiting for us with a placard with my name uncannily drafted on it. The good thing is, I could recognize my good name, and as I waved my hand to him, he greeted us with a simple and warm grin. Khun, that's his name I came to know.

Soon I found that his English vocabulary was limited to 10-12 words. That did not matter. I had the same experience in Indonesia. When language communication fails, it is a good chance to explore the more powerful language – Body Language, gesture and dramatic signs, and to make a self-discovery thus of one's own dramatic skills. Nowadays, of course, we have the ready google translate for emergency.

I asked Khun about ATM, and he took me to the North-eastern side of the airport where there are rows of machines of different banks. After collecting required dollars, we started for our Homestay. It took about 20 minutes to cover the 9.2 km distance. As we expected (and we had already seen images on net and formed idea), the Homestay was a very cozy one.

Sarah's partner greeted us and showed us our room. It was clean, spacious, complete with amenities, and sufficient for us three. Well, Krouser Khmer's Homestay would be our home for the next three days.

After some rest and food, I went for a stroll to the Siem Reap riverside that was about half kilometer away.The river, like most small ones in India, is overwhelmed by houses encroaching the bank, and it appeared to me to be a neglected one, at least at this part of Siem Reap.

At evening, Sarah contacted our Tuktuk driver. Now, with Khun, and taking Sarah's advice, we planned our itinerary of 3 days for Angkor Archaeological Park.

We did not hurry for the sunrise view on the first day. We needed a good night's sleep, and indeed had one. Khun arrived at 8 am sharp as planned. We started immediately with some packed foods that included raisin, cashews, almond, date-palm, boiled eggs, and bottled water.

Our pilot first took us to the ticket office near Apsara Circle Garden at the junction of Apsara Road and Street 60. It is about 8 km from Angkor Wat. There are separate counters for 1 day, 3 days and 7 days tickets. After formalities, we received the tickets with our images printed on them. Then we headed straight towards Angkor Wat. We had our tickets checked at Angkor Wat Ticket Checkpoint on the East of the temple at the juncture of Apsara Road, 2.8 km from the temple.

Day-1: 21 January 2019 (Monday)

1. Angkor Wat

Angkor Wat means "Temple City" or "City of Temples" in Khmer; Angkor means "city" or "capital city", and is a vernacular form of the word nokor, which comes from the Sanskrit word nagara. Wat derives from Sanskrit Vaat meaning "enclosure" and is the Khmer word for "temple grounds".The original name of the temple was Vrah Vishnuloka or Parama Vishnuloka which means the sacred dwelling of Vishnu.

Legend:

The legend goes that Indra ordered the construction of Angkor Wat to serve as a palace for his son Precha Ket Mealea. The 13th-century Chinese traveller Zhou Daguan mentions a local belief that a divine architect constructed the temple in a single night. The 'single-night construction' myth is also behind the Prambanan Roro Jangrang temple of Yogyakarta, Indonesia.

History:

Built in Early 12th century by Khmer King Suryavarman II, Angkor Wat stands tall as the largest Hindu temple complex in the world on a site measuring 162.6 hectares (1,626,000 m2; 402 acres). The then name of Angkor was Yasodharapura.

Suryavarman originally constructed it as a Hindu temple dedicated to the god Vishnu, breaking from the Shaiva tradition of previous kings. Towards the end of the 12th century, the royal patronage shifted towards Buddhism, and it was gradually transformed into a Buddhist temple. And what remains today is a unique synthesis of Hinduism and Buddhism that bolsters the point that the Khmers realized better that Buddhism is child of Hinduism and never beyond the umbrella of Hinduism.

Structure:

The Angkor Wat temple complex is surrounded by a moat more than 5 kilometres (3 mi) long. The temple has 5 distinctive towers. Viewed from front, the central and two towers are visible, and this is the iconic image that features on the Cambodian national flag.

Two basic plans of Khmer temple architecture, the temple-mountain and the gallery, combine to give us Angkor Wat. The central tower represents Mount Meru. The outer wall is 3.6 kilometres (2.2 mi) long. Another interesting thing is, Angkor Wat faces the west.

Time to explore:

One can see the temple in 2 hours to 4 hours. Angkor Wat took 8 hours for me in two days.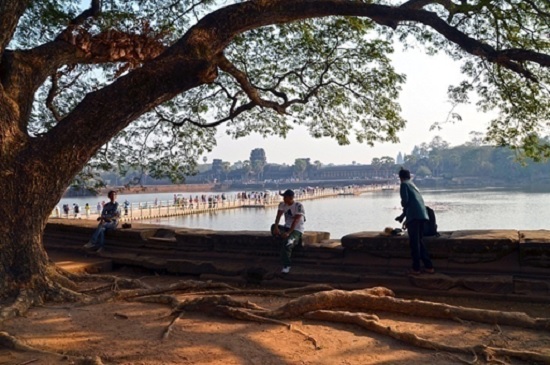 Angkor Wat beyond the moat
Khun parked our Tuktuk at the parking zone, from where we walked a short distance to reach the moat. After ticket-check, we crossed the moat on a floating bridge to reach the complex.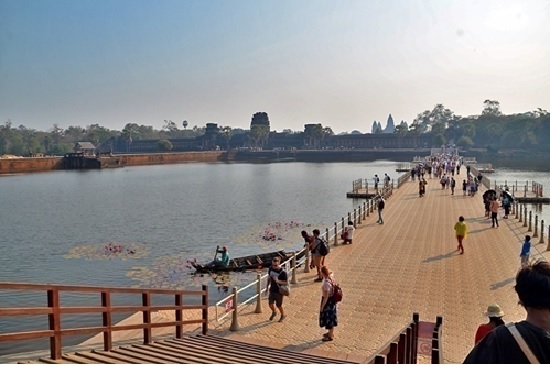 The bridge across the moat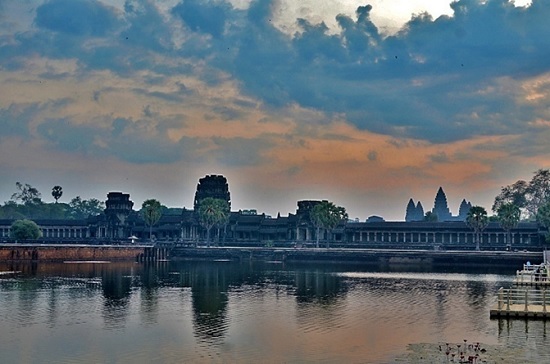 Angkor Wat – while crossing the moat
Savoring the architecture remnants on the left and right, it was another long and pleasing walk on an elevated ramp to the actual West gate of the temple.

On the first day, since the sun was already high, we did not stop to take shots of reflection of Angkor Wat in the two tanks on either side of the western face. It is difficult to find this place free as it is always crowded with tourists. There are two structures known as Library, and we left them too to explore on the third day. Stairways from the elevated ramp, and then a short walk leads to the libraries on either side. Huge stone hoods of snakes mark the intermittent break of the stairways.

On the third day, however, we started before sunrise, and though the exact sunrise time was foggy, we got desired shots of reflection within an hour.

From the ramp, there is stair again with giant statues of snakes and lion, leading to a platform and at its end the actual gate to the temple.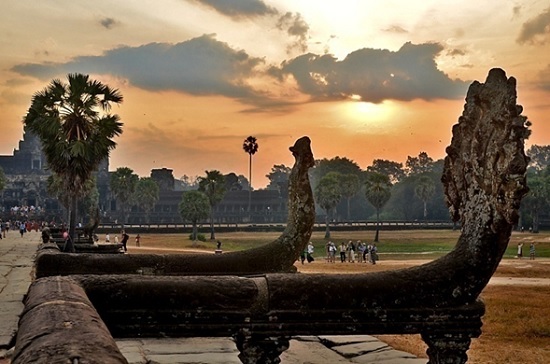 Snake hoods
Entering through the West gate of the outer wall, known as Elephant Gate, we find a unique eight-handed Vishnu with Buddha face in the right wing sanctorum. Some scholars argue that originally it was Vishnu and the head was later replaced by Buddha face; however, from rest of the structure, it appeared to me to be Vishnu in Buddha Avatara. The sculpture is the best example of Hinduism-Buddhism synthesis. On the left wing, there is another Buddha statue.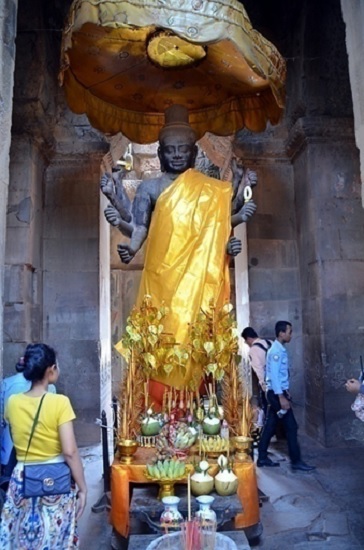 Vishnu-Buddha with eight arms
The first day, the next hours flew off as we explored the gigantic monument. We started circumambulating along the corridors of the outer galleries of the temple. Starting on the right wing of the western face, we found Mahabharata gallery with bas-reliefs of Kurukshetra War. Since this gallery was of particular interest to me, I decided to explore it minutely on the third day instead of stressing my wife and daughter on that day.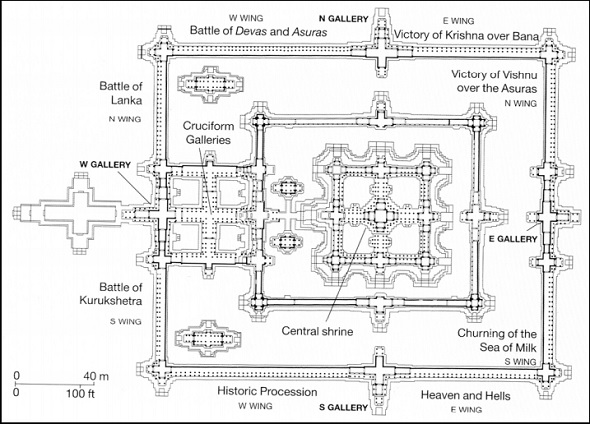 Angkor Wat (aerial view plan)
Photo courtesy – World-mysteries.com
At the corner of the West and South galleries, we found bas-reliefs of Brahma, Vishnu, Shiva and Ravana. There was also Rama killing Bali, and sages. There was Arjuna too aiming the fish target in Draupadi Svayamvara as another failed hero lay on the ground.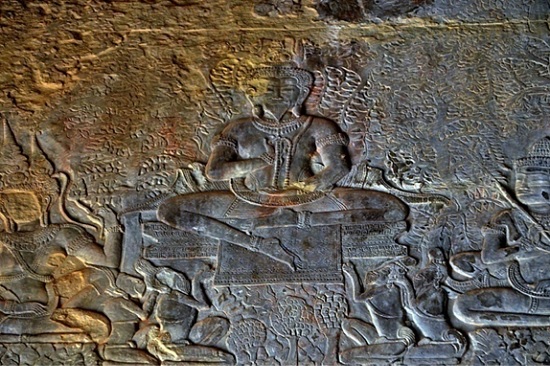 Brahma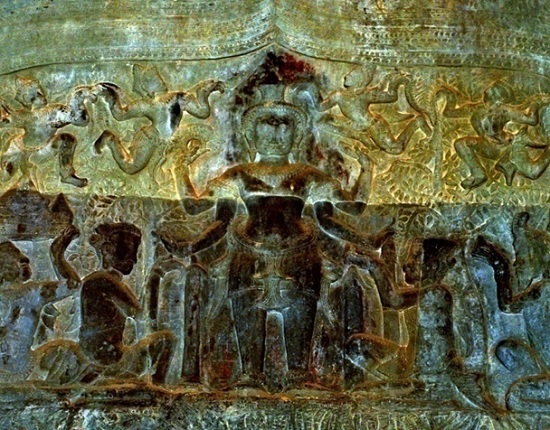 Vishnu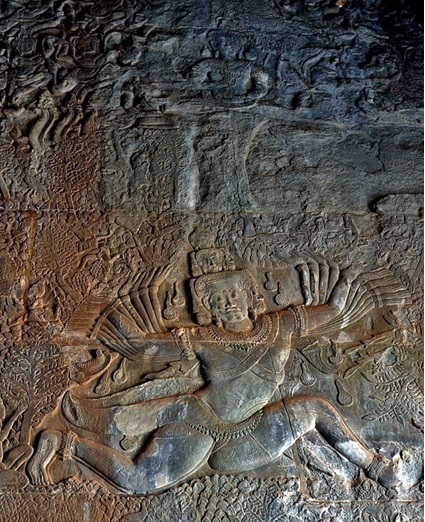 Ravana holding Kailas – Shiva on top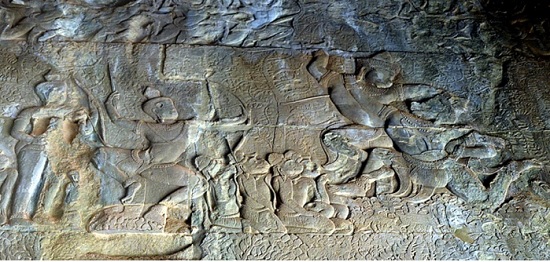 Rama killing Bali
The left wing of the South gallery consists of King Suryavarman's feats, and the right wing is the Heaven and Hell gallery with a unique relief of Yama with eighteen hands.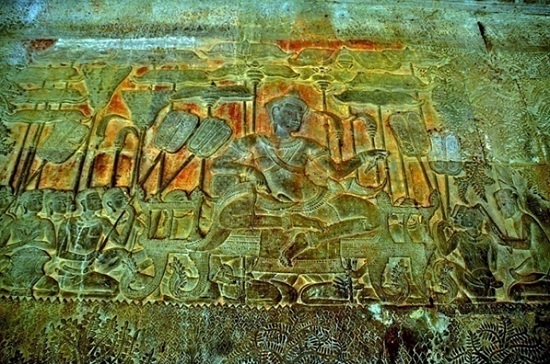 King Suryavarman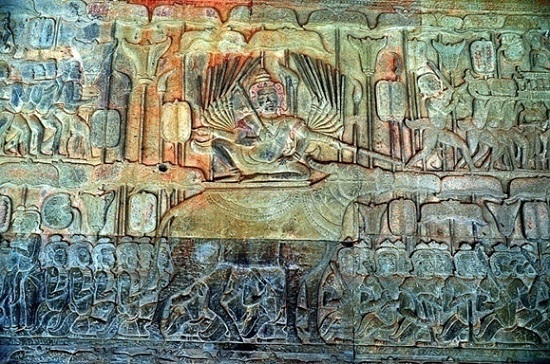 Yama with eighteen arms
The left wing of the eastern gallery depicts the Samudramanthana (churning of the sea ocean for Amrita by Deva-Asuras) with Vishnu on tortoise at the middle.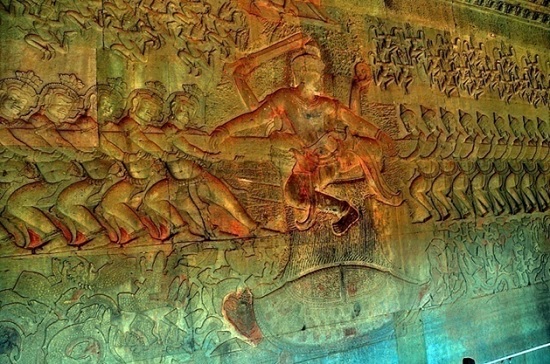 Vishnu as Kurma
The uniqueness of the Cambodian version is that, here we have Hanuman holding Ananta Naga (the 'rope' for churning) along with the Devas.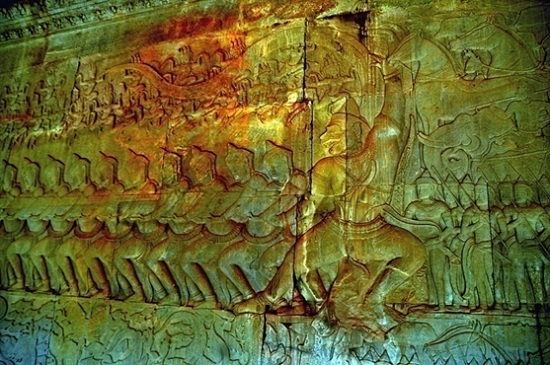 Hanuman in Samudramanthana
The right wing depicts Vishnu's victory over Asuras.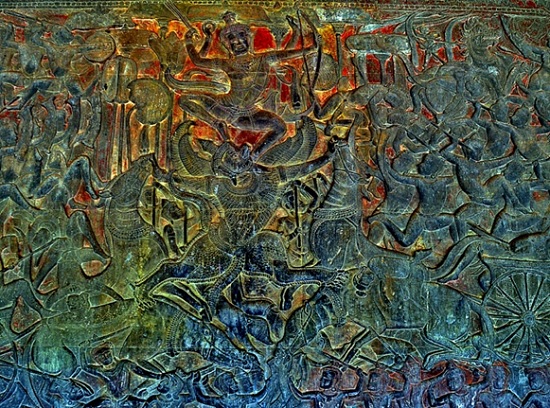 Vishnu on Garuda
The left wing of the northern gallery depicts Krishna's victory over Vana, and the right wing, battle of Deva-Asuras.

Finally, we reached the left wing of the West gallery, and here we found Ramayana.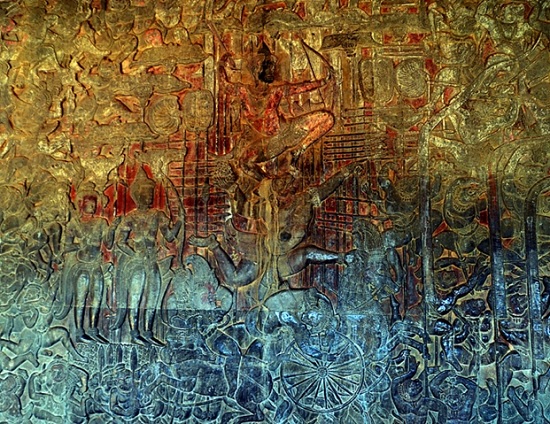 Rama fighting on Hanuman's back
It was a long walk, coming back to the point from where we started, and we had to take several breaks to drink water and for occasional dry food puja to the appetite God.

Now we passed the gate to enter the cruciform galleries. It was time to wonder how the engineers built the structure. It could be guessed that water was stored on the four sides of the cruciform.

There are Buddha statues which are still worshipped. We found a monk spelling Buddha's messages to two youngsters after they had made a blind chance-draw of a page in a manuscript.

Monk and youth
Ascending stairs, we reached the central premise around the central tower. All along the passage we saw beautiful depictions of Apsaras and floral motifs.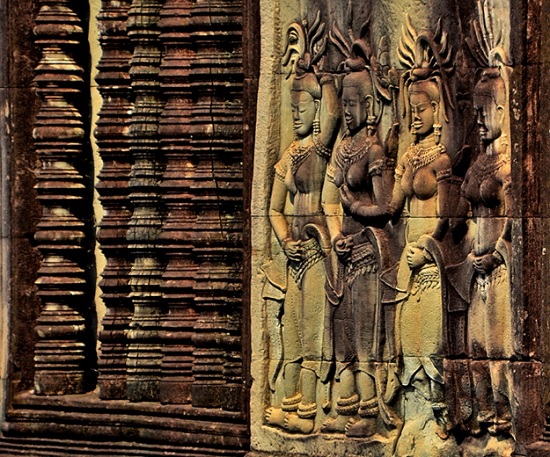 Apsaras and blind windows
We stood in queue waiting for our chance to ascend to the permissible top. But the serpentine queue was too long, and the way it was moving, we guessed it would take another hour if not two. We gave up after fifteen minutes to return on the third day, and this time after basking in the sun in a queue for about an hour.

There are strict rules to reach the top: child below 12 years are not allowed, one has to wear conservative clothes that cover shoulders and knee, and only fifteen minutes allowed staying at the top premise and Sanctum Sanctorum. This last rule is of course flouted with ease, as those who go up busily taking selfies would not come down so easily despite constant reminder and gentle poking of guards, and the security guards down there would let only that many persons to ascend as would descend. This is the reason for the long queue.

However, the queue and the ascend along steep steps is rewarding at the end. At the top, one can be closer to the 'Meru' Central tower, and the view around is spell bounding, additionally providing a perspective of what Angkor Wat is.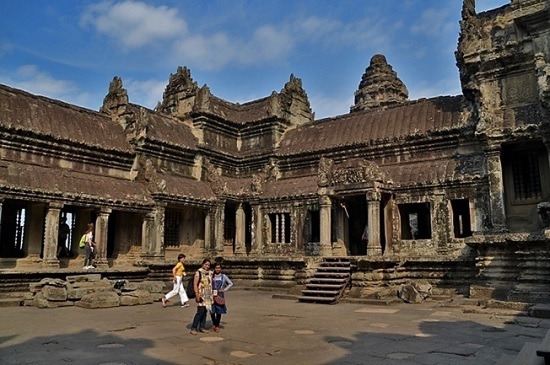 Premise around central tower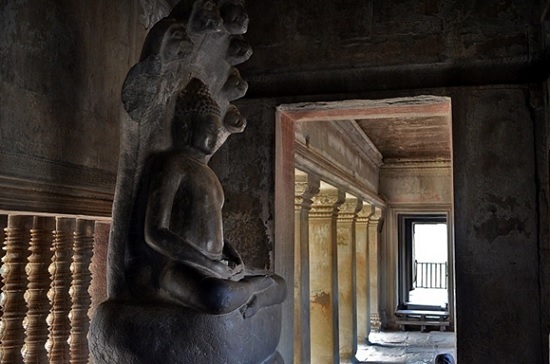 Passage ways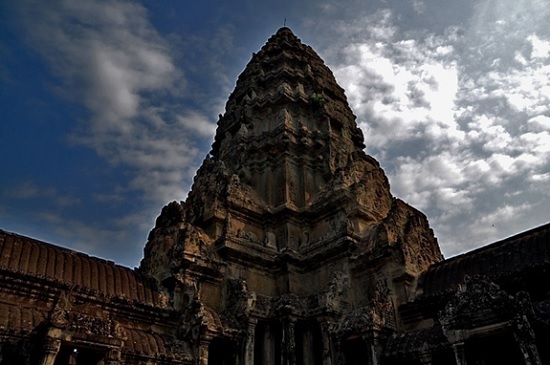 Central tower - Meru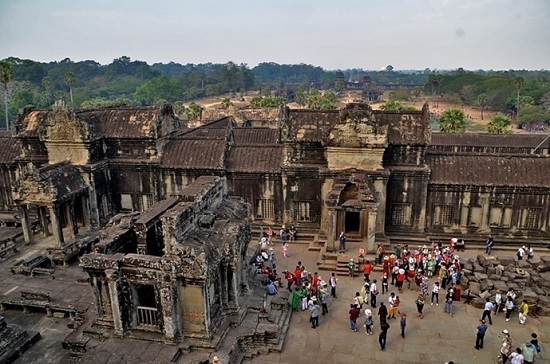 Views from the top
To be continued …
Some Information:
Best time to visit – Indian winter months, October to February. Though of course, any time, barring heavy monsoon months, is good time for the adventurous.

Flights from India generally reach Siem Reap via Kualalampur (Malayasia) or Bangkok (Thailand). Air Asia is the cheapest. So far my experience is concerned; it is value for money service. So, plan your tour well in advance, and be prepared for a general 5-6 hours layover.

For staying, I would suggest Homestay. There are many booking sites on net. Though I am not recommending, booking.com, agoda, hotels.com are reliable ones. I would suggest to book your place with the option 'book now pay at site.'

For Indian citizens, VISA on Arrival is available in Siem Reap, Cambodia. Present VISA Fee is USD ($) 30 per head. Deboarding flight, follow signboard above and head straight to the VISA on Arrival counter on your right side.Fill up a form with photograph. Carry photograph with white background to avoid unnecessary hassle. It usually takes 10-15 minutes to get the VISA. Arrival-Departure card and Custom declaration card are given in flight. Fill those in flight. The officials stamp the VISA on the passport along with the Departure Card. One needs to keep those carefully. Visit Cambodian website and also Indian embassy in Cambodia website for updates on requirements for VISA on Arrival. These requirements are to be provided but most often the officials do not even check them. Your passport and the fee are all that matter most. Do not be misguided by other websites of agents, or fraud websites posing as authentic ones.

USD ($) is the common mode of transaction in Siem Reap. RIEL is also accepted. $ 1 change is given in RIEL. Present exchange rate is 4000 RIEL for 1 $.

ATMs are aplenty just outside airport. You can get both USD and RIEL.

Taxi and Tuktuk are available outside airport. But it is better to contact your hotel or homestay or hostel beforehand and request pickup. That saves hassle of bargaining. Usual rate of Tuktuk to take you to your place is maximum $ 6 within radius of 12 km and less according to less distance.

Present cost of ticket to visit Angkor Archaeological Park is $ 37 for 1 day, and $ 62 for 3 days and $ 72 for 7 days per head. The ticketing office is about 6 km from the temple gate. Your Tuktuk will take you to the office first. Ticket is issued with your photo on it. Photo is shot at the counter by the official. Do not forget to take your passport which is essential for purchasing ticket. You can use the 3 days ticket within 7 days from date of purchase (that is, you can plan your 3 days on any of next 7 days). This admission ticket or 'Angkor Pass' includes exploration of all the temples in the Angkor Archaeological Park. You have to show the ticket or pass at the gate of each temple while entering. So, keep the ticket/pass and your passport safely with you.

Tuktuk is the best mode of visiting the temples. For Short Circuit Tour, current rate is $ 15, and for Grand Circuit, the rate is $ 18. The rate of course, might vary, and the rest is your negotiating skill. Better to book one Tuktuk for two days which will cover both circuits. One can then customize the tour. For example, for a two days' tour, Preah Khan temple is on Grand Circuit for second day, and Bayon of Angkor Thom is on first day; however, we did Preah Khan on first day, and Angkor Thom on second day. This is my suggestion too. After Angkor Wat, it would be exhausting to do Angkor Thom on same day. So, better to do Angkor Thom on second day. Ask your property proprietor to arrange for Tuktuk. That way, you can avoid scam and get reliable driver. Do not forget to keep a mobile shot of your driver and Tuktuk lest you find difficult to find him after a temple visit. Arrange that he waits at a particular place outside the temple. Since the temples have other gates, do not forget which gate you enter through. Watch with compass works fine, otherwise just remember the gate – East gate or West gate etc.

Bike, motorbike, and car are available on rent, and usually your hotel/homestay has such arrangements or can arrange that for you.

Plenty of food stalls serving various menus outside Angkor Wat and other temples. Usual charge is $ 4-6 for a meal. You can save a few dollars by carrying food and water from outside the complex. For fruit juice and drinks, usual price is $ 1. All pricesare negotiable.They will ask $ 1 for 1 glass of drink; and you can negotiate that to 3 glasses for $ 1. Your Tuktuk driver knows better where to eat and drink, but the choice is yours depending on your budget. Your driver might have a particular restaurant of choice for some interest. Deny that politely if he insists.

Your backpack must include suncream. The sun is not merciful. Carrying cap, sunglass and umbrella are must. Temple hopping is quite exhausting. Carrying water is therefore a must must. Do not forget to carry dry food too to replenish calorie loss.

There is dress code, though it is not often strictly enforced. Your dress must cover shoulders and knees when visiting Angkor. It is a simple sign of respect in a very sacred place.

Wear durable shoe because exploration of temples would require walking over uneven surface, and places either dusty or strewn with rock-bricks.

Prepare a checklist: Passport, Debit/Credit Card, some cash, Camera,.