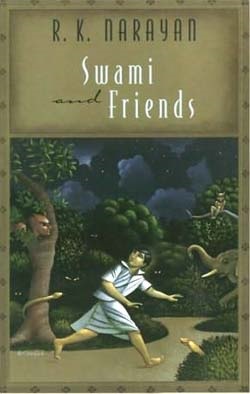 Swami and Friends is the simple and charming story set in the 1930s of ten-year old Swaminathan and his experience of growing up in Malgudi, a town created by R.K. Narayan. Swami lives in a world of "bossy adults" – parents and teachers – as well as his friends in school. Pleasing his demanding peers as well as the adults is a tough job indeed. But Swami tries to manage it to the best of his ability. Swami is impulsive, mischievous and innocent. And he has a very warm heart. Through his eyes we get to see a complete picture of South India during the pre-Independent era. We get to know how simple folk lived in the colonial days and about the uprisings, the rebellions and the strange mixture of resentment and reverence which ordinary people felt for the British.

Swami is a student of the Albert Mission School established by the British. So the main focus of the school is on "English education" and Christianity. Swami has four friends – Somu, the monitor who carries himself with an easy air; Mani, the good-for nothing; Sankar, the most brilliant boy in the class and Samuel, known as the "Pea". All four share a common trait – their ability to laugh at everything! Swami's relationship with each is one is different but they share a genuine common friendship.

Swami's happy-go-lucky life changes drastically with the arrival of Rajam, a symbol of colonial power. This is how Narayan describes him: "He (Rajam) was a newcomer; he dressed very well – he was the only boy in class who wore socks and shoes, fur cap and tie, and a wonderful coat and knickers. He spoke very good English, exactly like a European; which meant that few in the school could make out what he said."

But despite the difference Swami and Rajam become friends. Unlike Swami, Rajam wants to impress everyone and become a leader. He is neither affectionate nor particularly loyal to his friends. But he never loses his cool and has the proverbial 'stiff upper lip'. But Swami is really impressed by him and is both loving and loyal to him although this causes misunderstanding with his other friends. Rajam is crazy about cricket and forms a cricket club. Swami comes for cricket practice to please Rajam even if it means missing his drill class and he gets into trouble for playing truant.

Swami runs away from home in a moment of desperation and gets lost on the way, thereby missing the cricket match for which he had been practicing all these days. Rajam is very angry and refuses to see Swami. Shortly afterwards Rajam's father is transferred. Swami gets to hear that Rajam would be leaving the very next day. Swami is shattered by the knowledge. The parting of the erstwhile friends is the most poignant scene in the book: "At the sight of the familiar face Swaminathan lost control of himself and cried: 'Oh Rajam, Rajam you are going away. When will you come back? Rajam kept looking at him without a word and then (as it seems to Swaminathan) opened his mouth to say something, when everything was disturbed by the guard's blast and the hoarse whistle of the engine.……Rajam's face with the words still unuttered on his lips, receded."

Many consider Swami and Friends to be the best among his novels.