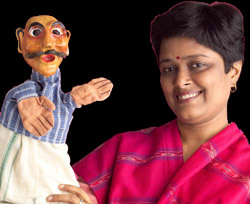 Amidst a gathering of colorful puppets squats a petite woman. She introduces each of these figures by its moniker to a gaggle of shiny-eyed kids. "This is Mela Ram, the farmer," she says, propping up a turbaned, dhoti-clad figure with a wizened face. "He tills the earth, gives us rice, wheat, maize, potatoes...Say hello to Mela, friends!"
As the kids chime their 'hellos' - and break into spontaneous applause - along comes Shoe Sha the cobbler, with his grime-caked hands.
The interesting parade continues onstage with Khan Chacha, Rukku Aunty, Poochi the Frog...each character providing the kids an insight into human nature, assorted professions and the importance of the dignity of labor. A ripple of excitement runs through the kids as some are invited onstage after the workshop to manipulate the puppets and invent impromptu monologues for them.
Welcome to the world of R Bhanumathi, 48, a woman puppeteer who runs the Pavai Centre for Puppetry in Chennai and has been using puppets as a medium of education, entertainment and therapy for kids since 1983. "Most children relate very well to puppets," she says, "They see them as responsive, non-threatening and empowering." Interacting with puppets can also be cathartic, Bhanumathi says, drawing from her experience with conducting puppetry workshops all over India. She feels kids look upon puppets as figures they can establish a quick rapport with - befriend, get angry with, whisper secrets to or give commands to.
In a unique attempt at inventiveness, the artist has also been synergizing her puppetry skills with drama, story telling, ventriloquism, classical and contemporary dance, folk forms and language teaching. As therapy too, Bhanumathi says, puppetry sessions work well with introverted and shy kids, kids affected by cerebral palsy, those suffering from speech disorders or mental depression.
Bhanumathi says puppetry helps the kids holistically through a combination of factors. Psychologically, it helps draw them out of their shells. They learn to speak better while they practice ad-libbing puppet dialogues. The kids also face an audience, which helps in confidence-building. The high level of peer interaction during the classes, which are conducted in groups, also helps develop a healthy spirit of competition.
Relationship building is another area where Bhanumathi has effectively employed her craft. "Since puppetry is a highly interactive medium, I use it to teach children about social norms, good manners, the need to nurture relationships and build lasting friendships," says the lady who has done her Ph.D. in puppetry from the Gandhigram Rural University, Madurai.
Surely, an unusual choice of subject for research? "Well, yes and no," laughs Bhanumathi. "While I was conducting my workshops in Chennai, a parent suggested this idea to me and I thought, 'Why not?'" But while she decided in a trice, the search for a university that actually offered such specialization proved difficult. Finally, after four years of enquiries, and some frenetic Googling, Bhanumathi unearthed Gandhigram.
Persistence and a knack for innovation is what impelled Bhanumathi to try her hand at puppetry. When she moved to Chennai with her family in 1980, she "never had any formal training in puppetry. I just modified my skill of soft toy-making into glove puppets." When she showed the photographs of her soft toys around, an art centre in Chennai asked her to teach puppet-making to kids at its summer camp. The kids so loved Bhanu's workshops that she was made a permanent feature of the centre's repertoire. Soon after, offers for workshops started trickling in from across Chennai. And there was no looking back.
In the meantime, an assignment with the World Wildlife Fund (WWF) offered Bhanumathi a chance to employ her puppetry skills to create awareness amongst the Fund's clients about wildlife conservation, ecology, animal welfare, air/soil/water conservation, appreciation of nature, endangered animals and biodiversity.
Gradually, Bhanumathi started customizing her programs for various target groups to create puppet workshops, film shows on puppetry, fuse ventriloquism with puppetry, do demo sessions, teach English comprehension through puppets, hold story telling sessions and conduct puppet therapy classes. Last year, during Dussehra, an art gallery in Chennai came up to Bhanumathi with an unusual request - to put up a puppet exhibition. The show - the first of its kind to showcase handcrafted puppets made from papier-m�ch� cloth, fur, paper, plastic, wood, rubber, wood, leather and even pith - was a huge hit.
The Pavai Centre - which Bhanumathi registered as a trust in 2005 - too has been taking up projects with schools, colleges, NGOs and corporate companies (like Club Mahindra, for instance) that want to use puppetry for their sales projects or awareness generation activities. Meanwhile, a local environmental organization in Chennai sponsored ecology awareness programs in schools using puppetry as a medium. More than 15 schools across the city were covered under this project.
What makes puppetry truly unique, Bhanumathi believes, is that this is a performing art form that fuses several types of art and crafts - drawing, painting, coloring, needlework, costume designing, carpentry, story writing, music, dance, sound, stage craft, lighting - to great effect. "The possibilities are mind-boggling."
Bhanumathi feels puppetry can also be creatively employed to wean kids away from the pervasive onslaught of the electronic medium and teach them craft-making. Perhaps it should even be made a compulsory subject in schools. That will also help considering this dying craft - of which India possesses a rich and varied heritage - especially in Andhra Pradesh, Karnataka, Kerala and Tamil Nadu, where it faces severe neglect. Even in north India, though families have followed puppetry as a vocation for generations, it is fast lost its constituency of viewers. "Fewer puppetry performances also lower standards of living for puppeteers. In fact, most puppeteers who were performing regularly earlier are now facing a severe cash crunch," says Bhanumathi.
This was also why Bhanumathi established the Pavai Centre - to help revive this craft. In fact, her Ph.D. thesis highlights the unrelenting impact of the electronic media, cinema and other modes of visual entertainment has on puppetry. It demonstrates how the growth of these media, and the consequent decline of patronage to puppetry, has dislocated traditional puppeteers, forcing them to seek alternate sources of livelihood. Hence, the Pavai Centre has made suggestions to NGOs and governmental bodies to urgently resuscitate puppetry.
"Our aim," sums up Bhanumathi, "is to focus public and government attention on puppetry. We're also bringing in innovation, a whiff of freshness into the medium, so that this truly unique craft can be given a contemporary spin."
Well, she sure knows how to pull the right strings!