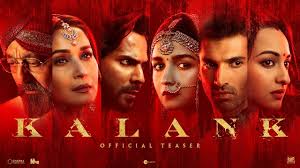 If the extraordinary star ensemble with grandeur is the favorable factor of 'Kalank', the protracted length is its biggest downside.

The story is set in an imaginary city Husnabad near Lahore before partition in 1946 where Hindus and Muslims supposedly lived in peace and in grandiose. The entry of Roop (Alia Bhatt) as a second wife to Dev (Aditya Roy Kapoor), son of Balraj Choudhry (Sanjay Dutt) a business tycoon at the behest of Dev's devoted wife Satya (Sonakshi Sinha) whose days are numbered completely changes the scenario. But, when Roop enters the haveli, she purposely takes a visit to the bustling Heera Mandi in the pretext of honing her musical skills with Bahaar Begum (Madhuri Dixit). An electrifying meeting between Roop and Zafar (Varun Dhawan), a young muslim blacksmith changes the lives of everyone in the story. The storyline underlines love, revenge, betrayal, community divide, partition riots and deaths.

Shibani Bhathija's screenplay has been ornamented by pompous, razor sharp, metaphorical to straight forward and at times absolutely plain dialogues by Hussein Dalal. Director Abhishek Varman and cinematographer Binod Pradhan have captured every frame with a lyrical beauty and ostensible magnificence.

There are about ten songs in the film of which some have already made it big because of the tune and picturization. Even the forlorn Sonakshi to the treacherous Kunal Khemu (as Abdul) stand out because their parts are well written and executed.

A careful and taut editing and elimination of some unwanted show off scenes, 'Kalank' which questions the human psyche's foibles on love and social values would have stood out for its aesthetics and arresting performances by its leading stars.