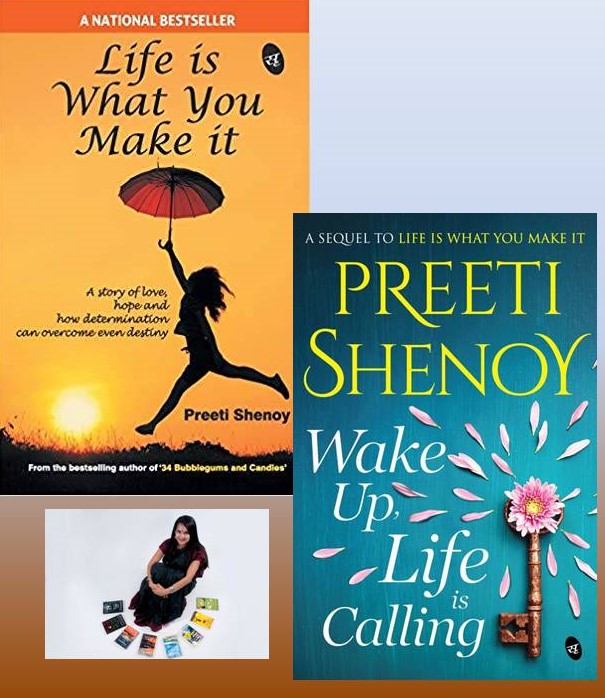 Preety Shenoy, Srishti, pp.242. Rs.199
Preety Shenoy is a good story teller. She is capable of bridging the changing culture and the ethics in life at the same time not sacrificing the importance of human values. Her recent novel 'Wake up, Life is Calling', is a sequel to her earlier book 'Life is what you make'. The protagonist Ankita Sharma is a victim of Bipolar disorder. She gets cured at NIMH and starts her new life at Mumbai with the support of her doting parents. She takes up journalism and tries to concentrate more on her studies. But, destiny decides differently; her not fully cured mental problem surfaces again aggravated by a book she accidentally sees in the library and the following episodes turn her life upside down. She is again pushed into the self destruction spree. Whether Ankita able to come out of her mental sickness and start a new life? How and who makes her accept life as it is and cross the bridge?

'Wake up, Life is Calling' goes through a roller coaster ride of Ankita's life. However, one cannot but feel after a point and Ankita's activities make the reader feel a sense of déjà vu; a sort of repetition of her earlier one. Further, after such long treatment and advice Ankita's adamancy not to listen to her parents and against medication sound illogical. I couldn't sympathize her.

Life is not the same for everyone; and no two lives are comparable. The so called sense of positivity is something individual, subjective and personal. And it is impossible for any human being not to compare his/her life with those of lucky ones or those with least problems. Coming to terms is nothing but a compromise.

One cannot expect every human to be thoughtful, positive and receptive.

Surprisingly, in an absolute Indian story of 1990s, the author presents the heroine as someone who is a strong western pop lover. Are we so devoid of arts and music of our own? Perhaps, my familiarity to western pop is next to nothing.

Well, I expected a better novel from Preeti Shenoy.