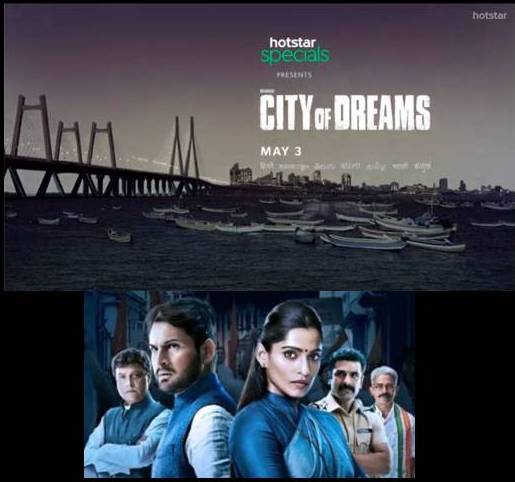 Is Mumbai really a 'City of Dreams' or 'Crimes'? The title song refers it as Mayanagari! Well known and critically acclaimed writer director Nagesh Kukunoor's Hot Star special 'City of Dreams' brings out yet another interesting and morbid tale of Indian politics.

The opening episode triggers the interest of the viewer. Several unconnected events like the daring open shoot out at a powerful political leader Ameya Rao Gaekwad, the scenes shifting to a happy family of a young lady with her son and husband, a bulky arrogant youth in the most titillating and compromising posture with a woman in scented bathtub, a low level brothel where some ugly man heaves over a helpless call girl now and then viciously slapping her and a nonchalant encounter police officer in an idle police station, a passive looking middle aged man working in a fish packing company surreptitiously using women to separate and pack currency notes carefully in bundles on which chilled fish bags are laid, an innocent young man making some useless telemarketing getting shocks by the abusive litany from customers, the ever bustling crowds and market places of Mumbai…

How all these are connected into the web of crime, power, polity, money laundering, brothel, sex and a lot of blood and gore?

There are enough scenes which are terrifying, outrageous, scandalizing, smirky instances in this ten part web series.

Except Atul Kulkarni and Sachin Pilgaonkar (The sweet and chubby Sachin of 'Geet Gata Chal' and 'Balika Badhu!' of 1975) the other faces are new to me. Priya Bapat as the simple, strong and savvy Poonima Gaekwad, Siddharth Chandekar as Ashish Gaekwad with his menacing looks as the siblings, Eijaz Khan with a dour face and robust looks as Wasim Khan, the police man who performs all dare devil acts give very impressive performances. Sachin and Atul play their parts with dignity in the roles of undignified politicians.

Can a woman be as good a politician as a man? Kukunoor through Gaekwad feels that men fit in politics (perhaps in India!) than women because women cannot be as 'ruthless' as men! Is that so Mr. Kukunoor, in India? When I watched the series in entirety, I felt it is just like watching the several events taking place in the holy India!

A better editing and eschewing of the insipid romance parts would have kept the narration more taut. Crispy dialogues are another plus point of 'City of Dreams'. We also hear a savvy call woman mouthing dialogues like 'evolutionary instinct to misogynistic and sexual attacks', and the protagonist referring the book 'The Art of War' by Sun Tzu. Interesting!

If you aren't averse to morbidity, blood, violence, unsavory ways of politics happening around us and the gangster genre clichés, you may like this one also as it serves them in plenty.