As the film-goers celebrate the birth centenary year of the iconic Manna Dey, here is a tribute to his colossal contribution to the world of art and music that outlives him.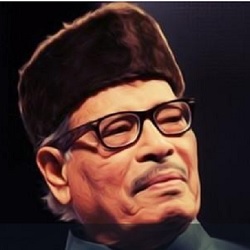 Pyar hua iqrar hua hai / pyar se phir kyun darta hai dil; Kehta hai dil rasta mushkil / maaloom nahin hai kahan manzil…and follows the music—kekik kekkik ki … kekik kekkik ki … kekik kekkik ki … and then the pretty humming—Aa ha ha, aa ha ha / Aa aa aa aa aa aa i… is the first song of Manna Dey that I heard way back in the late '50s while returning from school as it was blared out from a loudspeaker fixed on a rickshaw that was advertising the release of a new film. Instantly I fell in love with it, though I didn't understand anything of it. I followed the slow moving rickshaw hoping he would play it again … but no—he played many other records but not this song.

Subsequently, as I advanced to college studies I started reading Screen, Cine advance, Filmfare, etc. and came to know more about Hindi films, singers, songs and what not… and in between I had been listening to Hindi songs from such loudspeakers on the roads, radios in friends' houses, and of them I remember listening with enthusiasm Manna Dey's songs—Tu pyaar ka Saagar hai (Seema); Yeh raat bheegi bheegi yeh mast fizaayein / utha dheere dheere voh chaand pyaara pyaara (Chori Chori); that beautiful duet with Asha in which Manna Dey yearning for wife so well reflected in his tone—Tu chhupi hain kahan mai tadapta yahaan / Tera bin fika hai dil kaa jahaan (Navrang); and that Papi bichhua song from Madhumati—Chaddh gayo papi bichhua and the haunting lilt that Manna Dey gave it … and oh! How I enjoyed them without, of course, knowing much of what they mean ... Sounds funny?

But my pleasure to watch Manna Dey's song on the screen however had to wait till I came to the third year of my graduate studies. There was a cinema hall in the outskirts of Bapatla, which used to play old Telugu and Hindi movies for a couple of days each. It used to allow us to walk in even in the middle of the first show and remain in the hall for the second show till you saw the missed part or however long you liked to be in and this suited us, the hostellers, well. On one night, I along with my roommate went to watch Chori Chori. And Lo! My pet song was right on the screen ... Aaja sanam madhur chaandini mei / hum tum mile toh wirane me bhee aa jayegee bahar… and obviously, all of us jhumne la…ga with excitement and as Nargis continued … kehta hai dil aur machalta hai dil / more sajan ley chal mujhe taro key par / lagta nahee hai dil yaha … our dil got fixed to the soothing sound bytes off the screen. As we finally settled in our chairs, there came that other evergreen melody, indeed an ode to love: Yeh raat bheegi bheegi yeh mast fizaayein / utha dheere dheere voh chaand pyaara pyaara. Then came that doll show, and when the female doll asks jahan main jaati hoon vahin chale aate ho… Manna Dey pours out his heart into the answer: Dil se dil ki lagan ki ye baat hai / Pyaar ki raah jatan ki ye baat hai / Mujhase na puchoo ki tum mere kaun ho… And any wonder if Dil dhoonde aise sapne ko and we just stayed back in the hall till these songs were played back again in the second show, of course, at no extra cost… then walked back to the hostel in that silent darkness humming those sweet melodies.

Later, when we were on educational tour to South India in the final year, I had the chance of watching Waqt along with my friend, Hussaini, in one of the theatres in Mangalore. And what a thrill it was watching Balraj Sahani living out that lilting melody which Manna Dey sang with a playful touch of romance … reflecting the joys of a happy married life that withstood the test of time … under the baton of Ravi's music—Ae meri Zohra Jabeen (O, my beautiful beloved) / tujhe maloom nahi / tu abhi tak hai haseen aur main jawaan (You are still lovely and I am still young) in a mesmerizing style of his own … quite in a youthful passion… all, through rolling eyes and swinging hands…that too, be-seated on a darji (bed) before his screen wife, Achala Sachdev—the woman that was just true to the poetry that Dey was singing. Indeed the mischievous blend of seasoned love with innocent pranks that Dey breathed into lyrics—Yeh shokhiya yeh baankpan jo tujh mei hei kahi nahi; Dilo ko jeetney ka phan jo tujh mei hei kahi nahin (This sauciness , this jauntiness that you have , nowhere else can be found; the charisma of winning hearts that you have nowhere else can be found)—was so well displayed by both Balraj Sahani and Achala Sachdev that it is still alive in my memory though almost five decades have since elapsed.

Moving to Kalyani University for PG, I became a tad better in understanding the Hindi lyrics and obviously, this paved the way for my better appreciation of Manna Dey's soul stirring immortal melodies sung in the classical style, which incidentally no Mukesh or Kishore could do: Laaga chunri mei daag chupaoon kaise (Dil Hi to Hai); that soul stirring melody puchhona kaise maine rain bitayi (Meri Surat Teri Aankhen) and that Madanmohan's signature tune—kaun aaya mann ke dware in film Dekh Kabira Roya. And how can I fail to mention that soulful melancholic rendition—Ae mere pyare watan, ae mere bichhdey chaman, Tujhpe dil qurban—from the film, Kabuliwala that Manna Dey sung under another great Bengali music director, Salil Chowdhury, every note of which echoed my own dard and kasak (pain and intense craving) for Tenali, my native town (while it was the Pathons who were saluting their motherland, Afghanistan, in the film). Even today, whenever I listen to this song my heartstrings tweak under an indefinable heaviness.

One evening, as I was humming a Bengali song in the lab Nijhumo shondhay pantho pakhira while making a few earthen pots filled with soil ready for sterilization in the autoclave, listening which, a senior of mine walked in and it so happened we landed in a dialogue around film music for a long that ended up in his suggesting me to watch the movie Antony Firingee or at least to listen one of its songs that took Bengal under its sway—Ami jamini tumi sashi hey / bhaatichho gogon maajhe. I don't know how it happened but I could not see that film but, of course, heard the song from a Pooja Pandal. I am afraid, it didn't thrill me as much as his ever soothing Hindi song—Tu Pyaar ka saagar hai / teri ek boond ke pyaase hum / Lauta jo diya tune / Chale jaayenge jahaan se hum … Ab tu hi samjha / Raah bhoole the kahan se hum / mmm mmm mmm mmm … from Seema, sung under the orchestration of that great pair Shankar Jaikishan. I don't know if this song overtook me so much because of my listening it right from my school days… or the pathos in the Bengali song yet not sunk into my mind… But in any case to me Tu pyar ka saagar is an ethereal rendition ….Whenever I listen to it … its soft highs, mellowing lows… with a tinge of melancholic evenness … ever soothing … never failing to delight.

Having talked about listening songs from Pooja pandalas, how could I fail mentioning the song, the groovy superhit, that shook Pandals with the youth dancing right in front of Ma Durga in full zest… Aao twist karein … jindagi hain yahin (Bhoot Bungla)—that showcases Manna Dey's range—particularly, the ability to transcend the training he underwent in Hindustani classical music under such stalwarts Ustad Aman Ali Khan and Ustad Abdul Rahman Khan—from classical to modern rock 'n'roll songs with incredulous ease. That was his versatility.

Before I leave my Calcutta experiences, let me share how I enjoyed listening to Manna Dey's— Chalat musafir moh liyo re pinjrewali muniya / Udd udd baithi halvaiya dukaniya he rama …—in Teesri Kasam, watching it in a cinema hall in Kanchrapara with my classmate Amar, on the day our first year results were out. Oh My God! What an infusion of earthiness into that fast beat folk song!… And what an ease … in traversing highs and lows of the octave with greasy ease … only Manna Dey could do that. An apt song to beat out the winter chill of North Bihar.

As I advanced into a job, my rendezvous with Manna Dey's songs continued, rather with more gusto. Thanks to my sister-in-law, I could, sitting under the lemon tree in the backyard of the quarters of the Regional Agricultural Research Station, listen to Manna Dey from a Sony stereophonic deck on many moon-lit nights enjoying the pathos, streaks of melancholy, and the melody dolled out by him in song after song. Listening to the song—Koyi kisi ka nahi ye jhoothhe / Naate hain naato ka kya / kasme wade pyaar wafaa sab, / baatein hain baato ka kya …—from the stereophonic system my heart quivered as his voice was soaring in between to aasman and then falling back to mitti pe yet never jarring to the ear. In that trance I could at once realize how true Lata Mangeshkar was when she called him on phone and said: "Manna da, your Kasme wade has enchanted me. How did you manage to emote so well? The melody haunts me so relentlessly that I am often tempted to cancel my own recording sessions."

In one such moon-lit nights as me and my wife were climbing the hillock behind our quarters with her transistor in hand, this unmatchable soar—Zindagi kaisi hai paheli, haae / kabhi to hasaaye kabhi ye rulaaye / zindagi—what is life, life is a puzzle; sometimes makes us smile, sometimes makes us cry (Anand)—of Manna Dey made us squat on the rock then and there and listen to it with rapt attention—the pathos … the very paradox of the life … the paheli of life and death … the silent going away of us to unknown abodes … Yun chale jaaye akele kahan …all these complexities echoing in his melancholic voice transported us to a distant world … lost in intense silence quite for sometime …Ha! What an emotional experience!

It would of course be unfair not to talk about that matchless classic piece—though Manna Dey was known for turning out such classy songs with élan since his early days of career—set to tune by none other than Shankar Jaikishan—Jhanak jhanak torii baaje paayaliyya / Priit ke geet sunaaye paayaliyaa…(Mere Huzoor) in which Manna Dey and Sitar are at their best and deservedly it fetched him the National Film Award for Best Male Playback Singer. And again in 1971, he won the Best Male Playback Singer for the song Aye bhai zara dekh k chalo / Aage hi nahi peeche bhi / … from Mera Naam Joker, which was again set to tune by Shankar Jaikishan. Interestingly, Manna Dey, the singer, "mostly chosen to sing songs others didn't sing" having won the hearts of filmgoers in his early phase with songs sung under Shankar Jaikishan in Chori Chori and Shri 420, finally as he aged he got his National Awards again for the songs sung under the baton of the same duo—Shankar Jaikishan—coincidence… accidental, providence… whatever it was, he richly deserved those awards, though delayed.

Thereafter such exclusive listening sessions had however waned, but one evening in the late '90s as I came out of the lift in Andheri flats, a Bengali song wafted out from a flat abetting the lift—Coffee Houser shei adda ta aaj aar nei aaj aar nei / kothaye hariye gelo shonali bikel gulo shei aaj aar nei / La la la la / … / ekta table a shei teen char ghonta charminar thoey cholto …(The chat sessions at the Coffee House have faded away… where Hari had gone…. Around a table for hours together with Charminar cigarettes) and listening to Manna Dey's voice, particularly, the way Mannada modulates the word, 'Kothaye' so wistfully, that my legs stuck there … my mind at once went on its own nostalgic voyage … the dim images came back to life—kothaye aachean (where are my) classmates: Manojda, Amar; my room mate Kanti Pradhan; juniors Mahammod, Ajay; that arch educator of mine from Haringhata dormitory, Neemai Banerji; that young Roy who could lend money to me, a stranger hardly known for two days; my Professors Dutta, Amul Mukharji, Pranoy Roy, Statistics Mukharji; our Dean Dr. Bandhopaddhya, who advised us in the induction party to cultivate the art of choker bisleshan (analytical eye); those 'Inquilab Jindabad' processions to the College Street, all the way from Seldah station through Harington Street; Shei (that) Lake hall in Kalyani … those late night sittings in Deepak Ghosh's room with coffee mug listening to his endless singing while the rest of the hall was fast asleep; that room No.144, standing before which heard many nights the drone of crickets … the screams of foxes and whines of dogs … the thumping sound of the local train going with blinking lights on the distant rails … the dreams that were weaved in that dark silence—"koto shopno meghe dhekey"; addas in the Coffee House with Ramesh et al. for hours together with Wills, kothaye gelo shei din (where have those days gone?)… aaj ar nei no more are there … … …whenever this song flashes in mind ..... this stream of images had become inevitable... ....

And that is Zindagi ka paheli! With his exceptional vocals and breath talking range of style and versatility Manna Dey could transcend the star-system of Hindi film- world—being the voice of a Hero, such as Mukesh singing for Raj Kapoor, Kishore Kumar singing for Dev Anand, Mohammed Rafi for Dilip Kumar and Shammi Kapoor, etc—and render one brilliant song after another for every hero including even for character artists and comedians. Such was his unique strength! But then isn't it what even Manna Dey and Lata crooned … Zindagi hai ek safar, kaun jaane kal kidhar (Who knows where one will be tomorrow)… true, we all have to fade out by kal …but then Mannada, your voice won't, for sure it will remain enchanting the Indians of kal … tomorrow… and for all tomorrows to come …Bye! Mannada …bidaydeen... ...