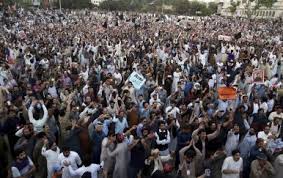 In the name of so-called war against terrorism Waziristan in Pakistan's Federally Administered Tribal Areas (FATA)(now part of Khyber Pakhtunkhwa has been turned into a training ground for various terrorist groups named as al-Qaeda, ISIS, ISIL, IS, SIC and Da'ish. These terrorists invited from different parts of the world are being imparted arms trainings in safe camps in large number by retired and active Pak army officials rigorously. The main training centres located at Bahawalpur, Multan, Rahimyar Khan, Deragzazi Khan and Muzaffargargh have been set up in South of Punjab (Pakistan). Inconspicuously, the trainers are attired in Mujahid dress up having long beard and hair to keep their identity concealed.

Sharing the information in an exclusive telephonic interview with this Journalist, Ali Wazir, Pashtun Tahafuz Movement (PTM) leader and sitting National Assembly Member told "whatever international funding Pakistan gets in the name of anti- terrorist operations is being utilized by Pak agencies to implement their own policies for keeping terrorist originations intact for their own ends with definite motive ." These foreign mercenaries taken safe refuge in tribal areas and operate according to the direction of Pak agencies to execute their dirty task within or outside Pakistan. According to Ali, the main object of Pak agencies in harbouring terrorists is to hit Iran, India, Afghanistan and other Western countries.

"We have been demanding our fundamental rights and no more exploitation of the area for the sake of so-called war against terrorism. We plead Pakistan to give us a chance to live in peace", says Ali.

Pashtun Tahafuz Movement (PTM) since its inception in 2014 gained its prominence in January 2018 when it launched a justice movement against extrajudicial killings in fake encounters and disappearance of youths in thousands and exposed Pakistan's atrocities in the Pakistan's Federally Administered Tribal Areas (FATA, now part of Khyber Pakhtunkhwa) before international community. Earlier, tenacious suppression, brutality and sufferings unleashed by Pakistan's Army and its agencies were never got highlighted at national or international level.

Ali Wazir, the lone Marxist, who won North Waziristan National Assembly seat in 2018 despite losing 16 of his family members to terror has become a threat to Pakistan. Pakistan agencies have already briefed the hired mercenaries to keep the voices like Ali silenced, according to reports. On June 3, 2018, pro-government Taliban attacked Ali Wazir and other supporters in Wanna, South Waziristan. Ali Wazir survived but at least four supporters of PTM were killed and dozens others. The militants backed by Pak army told Ali Wazir to either leave the area or leave PTM. On his refusal to comply with their demand, they attacked at Wanna's Mirzalam Market and destroyed a petrol pump owned by Ali Wazir.

The northwest frontier of Pakistan, bordering both the provinces of Khyber Pakhtunkhwa (KP) and Balochistan in Pakistan, and Afghanistan mostly Pashtun families later became the mujahideen, after assisting the United States in Soviet Union in the 1980s. As the U.S. exited, the region, was ignored by Pakistan and Afghanistan. Describing the current situation of KP, Ali said, "after 9/11, there were dreadful radical changes, thus Taliban flee into FATA and other parts of Pakistan, for their regrouping in the safe havens and with Pakistan's support again becoming a potent force in Afghanistan. Since then FATA witnessed traumatic stresses to its order and way of life and it became a base for militancy and terrorism. Its social fabric frayed completely, its owners were killed in large numbers by the militants who became the new power brokers, and some mullahs became socially and politically powerful." The Taliban were able to take control of the region allowing the Pakistani Taliban a home of their own to thrive into what we today know as the Tehreek-i-Taliban Pakistan (TTP). Unfortunately, the people of this region were persistently ignored support and safeguard from their government. The Government of Pakistan, therefore, following the Frontier Crimes Regulation FCR, the general public was ruled by the Taliban without a say in the matter. According to Ali, Pakhtoon area about 2025 km is divided between boarding state Afghanistan in 35 districts. After 9/11 Pakhtoon population has migrated to other parts of Pakistan due to fear and threat to their lives and property generated by Pakistani agencies and army. People continue to live under fear psychosis of war in the region. The Pashtuns are a largest ethnic group or about 15% (Pakistan's nearly 200 million population is Pashtun) of the population of Pakistan. "We need to remove the sense of fear prevailing in the tribal areas and encourage the people to break their long silence and stand up for their rights." said Ali

PTM a social movement led by Manzoor Ahmad Pashteen, a human rights activist from South Waziristan with his prominent leaders Ali Wazir and Mohsin Dawar claim to be an unarmed and peaceful resistance movement working within lawful boundaries of Constitution of Pakistan. PTM, is based in Khyber Pakhtunkhwa, Balochistan and, Pakistan.

In May 2014 eight students at Gomal University, Dera Ismail Khanas took an initiative for removing landmines from Waziristan and other parts of the former FATA, affected by the war in North-West Pakistan.

PTM demands to set up a judicial inquiry for Pashtuns murdered extra judicially in police encounters. The jirga (tribal council which has legislative and judicial functions/powers) demanded to stop racial profile of the Pashtuns in Pakistan, and to bring the Pashtun missing persons before the court of law, and innocent held be freed. The jirga also demanded Pakistan Army should not abduct or open fire on innocents in the tribal areas and abolition of infamous Frontier Crimes Regulations from tribal areas. Removal of all landmines planted in the tribal areas, which have resulted in many civilian casualties. The protesters said that since 2009, more than 35 people including children had been killed due to landmines in South Waziristan alone.

When asked if the demands of PTM are not met what would be their next action plan, Ali said so far no heed has been given to our demands and find no change in Pakistan policies towards our Pakhtoons. "In case Pakistan fails to address our demands, the time is not far off when Pakhtoon Tribal area will get separated from Pakistan once for all" he said categorically.