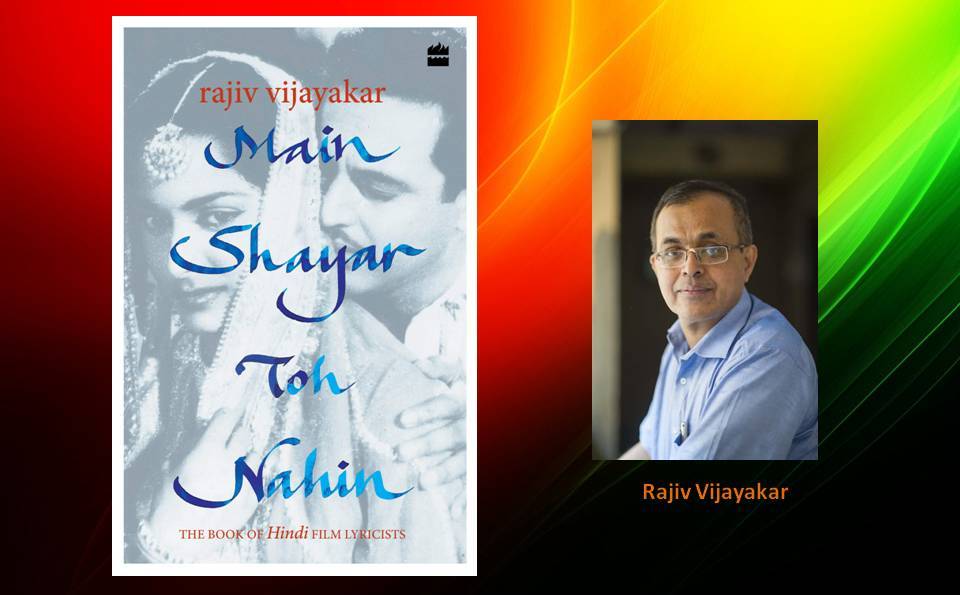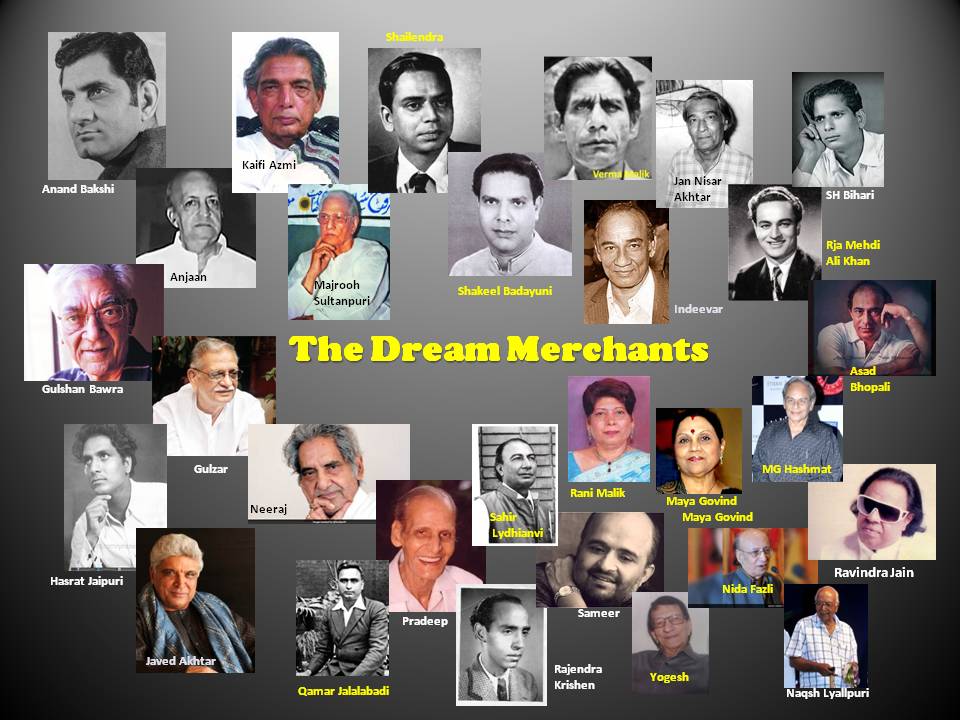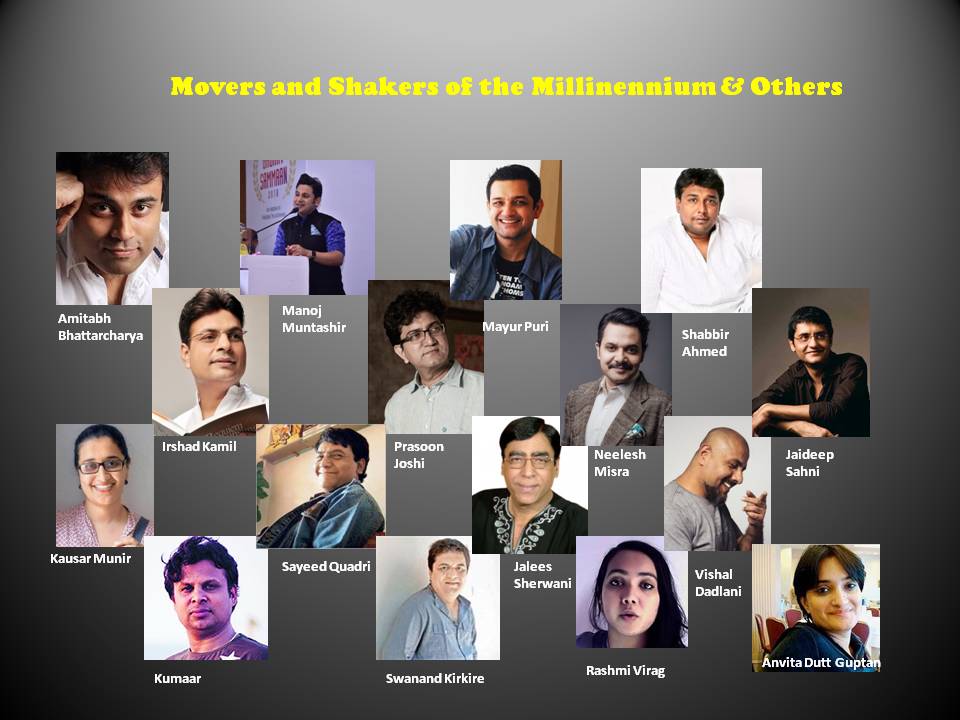 Caveat: This is rather a lengthy post. (Invariably all my posts are!) Suitable probably for Old and New Hindi film song fans only. Others also can read provided they want to get a good insight into movie songs and they too carry dignity, poetry and excellence.

It sounds strange; but true. The way the film heroes, heroines, directors, music directors and music directors are celebrated, the lyricists could enjoy only little space in popularity. But, my experience, as far as Hindi film songs are concerned, it was different. My tryst with Hindi movie songs gained momentum only after 'Aradhana' in 1969. Vivid Bharati was the one which served me innumerable songs and knowledge about the Hindi film music through their meticuluous announcemtns on the geetkar, sangeetkar, gayak and film. The pairs were also somewhat well established. The music directors and lyricists seemed to share perfect bonhomie. Shailendra and Hasrat Jaipuri with Shakar Jaikishen, Anand Bakshi, Majrooh Sultanpuri, Sahir Lydiyanvi and Gulzar with SD, RD, Laxmikant-Pyarelal, Indeevar and Gulshan Bawra with Kalyanji-Anandji, Raja Mehdi Ali Khan with Madan Mohan, SH Bihari with OP Nayyar, Yogesh with Salil Chaudry and later Ravindra Jain doing both etc.

But, more than that I never know anything about the lyricists, their life, when and how they started their career, their success and struggles their ascend and descend were not discussed anywhere.

When I saw the slightly voluminous book 'Main Shayar Toh Nahin' in Higginbothams and browsed it. Wow! The author Rajiv Vijayakar had compiled the book with a complete list of Hindi film music lyricists and their passage of life in great detail. Not just that he had included their popular songs, their journey, the changing scenarios from 1930 to date. Indeed, a wonderful labor. He had divided the book in Five parts including all the poets, his personal interaction or collected information on them. He had left none, I think.

The book is complete in the sense he had included the present gen lyricists like Amitabh Bhattacharya, Irshad Kamil, Kausar Munir, Kumaar, Manoj Muntashir, Prasoon Joshi, Sayeed Quadri, Swanand Kirkire to some little popoular one like Mayur Puri, Shabbir Ahamed and Rashmi Virag.

The lyricist-composer bond, some independenet poets whose songs figured in movies, Appreicating a song and the essence of lyrics and the Psycho Therapeutic power of lyrics and starts who influenced the lyrics also form the content of the book.

To put it precisely a wonderful compendium on film poets, their life and work which also covers the composers and stars and movies also with every minute detail.

It is difficult for me to single out the lyrics of these many lyricists of excellence as I like many of their poetries. The author has described Indeevar's 'Jeevan se bari' from 'Safar', Gulzar's at times confusing metophers, Anand Bakshi's feat by a string of Hindi film's names 'Mere jeevan saathi' from 'Ek Duuje ke Liye', and Shailendra's 'Aaj phir jeene ki tamanna hai' from 'Guide' are referred. These are my favorites too.

The book also carries some rare photographs of lyricists with the composers and singers or directors.

What is amazing to me was the following songs which have been very catchy and appealing to me have come from some who were/are not that popular. They are:

'Didi tera devar' from 'Hum Aapke Hain Koun..!' (Dev Kohli), the title song of 'Dil hai ke manta nahin' (Faaiz Anwar), 'Qurbani' ttile song (Farukh Kaiser), 'Dil ke arman' from 'Nikah' and 'Kisi nazar ko tera' from 'Aitbaar' (Hasan Kamal), 'Ayega aanewala' from 'Mahal' (J Nakshab), 'Mera jeevan kora kagaz' from 'Kora Kagaz' (MG Hashmat), 'Deewani mastani' from 'Bajirao Mastani' (Nasir Faraaz), 'Dola re' from 'Devdas' (Nusrat Badr), 'Salam-e-ishq' from 'Mukqaddar Ka Sikhandar' (Prakash Mehra), 'Le jayenge' from 'Chor Machaye Shor' (Rajkavi Inderjit Singh 'Tulsi'),'Wah wah ramji' from 'HAHK' (Ravindra Rawal), 'Teri galiyon mein' from 'Hawas' (Sawan Kumar), ' Mohabbat hai kya cheez' from 'Prem Rog' (Santosh Anand), 'Dil cheez kya hai' from 'Umrao Jaan' (Shahryar), 'Woh haseen dard' from 'Hum Saya' (Shevan Rizvi), 'Jeena yahan' from 'Mera Naam Joker' (Shaily Shailendra), 'Chal sanyasi' from 'Sanyasi' (Vishweshwar Sharma), and 'Jhoot bole kauva' from 'Bobby' (Vitthalbhai Patel).

The presenet day film songs tenor has definitely changed and it has to be in a way. I should also accept my ignorance about the present day Hindi movie songs except a few. Probably, the recent songs which I hum are 'Yeh dil hai mushkil' and 'First class' both by Amitabh Bhattacharya, 'Diwani mastani' of Nasir Faraaz, 'Tujh mein rab dikhta hai' by Jaideep Sahni to specifically mention.

Blame it on my age.

A must read for the Hindi Film Song connoisseurs and I am happy that I am one.