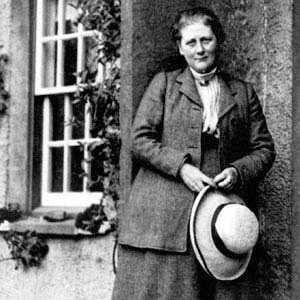 Remember the delightful stories of Peter Rabbit, Squirrel Nutkin, Benjamin Bunny and Tiggy Winkle? Best remembered for her animal stories, Helen Beatrix Potter continues to remain one of the best loved children's authors. Born on July 28, 1866, in South Kesington, London, she was a writer as well as illustrator. She was also a keen botanist and conservationist. She wrote 23 books for children which remain popular even today and have been translated into all major languages. Some have been made into films and ballet. Others retold in animation.

Born in a rich and distinguished family, Beatrix Potter was educated by governesses and was not allowed to mix with other children or make friends. But she had many pets. Some of them were quite uncommon! I am sure it would surprise you to know that they included frogs, newts and even a bat! Then there were two rabbits. One of them was Benjamin whom she described as "an impudent, cheeky little thing". The other was Peter whom she took everywhere with her, even when she went on outings. That is how she came to observe animals so closely.. And she had a real talent for art. She would watch them for hours on end and then get down to sketching them, which became better and better with practice. Indeed, her illustrations are delightfully lifelike.

Her father rented a country house in Scotland or in the Lake District every summer, both places famous for their scenic beauty. Little Beatrix immediately fell in love with the rugged mountains and the vast, dark lakes – something that was to remain with her for the rest of her life and turn her into an ardent nature lover. While in the Lake District she met Rawnsley, the local vicar, who was also a great lover of nature and was worried that the beautiful landscape would be utterly spoilt if industries took the place over. He later founded the National Trust to preserve the countryside. His ideas greatly influenced Beatrix.

Beatrix had to struggle hard to find a publisher for her first book The Tale of Peter Rabbit. It was finally accepted and published by Frederick Warne & Co. The book was an instant success, as were the ones that followed. So much so, that the income she received from the sale of her books made her economically independent. It was quite a remarkable feat for a woman in those days! She fell in love with her publisher, Norman Wane, and got engaged to him. But her parents were dead against the marriage because they considered Norman to be socially her inferior. However she was not destined to wed him because Norman fell ill soon after their engagement and died before long. It was an illness for which there was no treatment in those days.

Beatrix faced the tragedy bravely and tried to concentrate on her writing. Some of her best loved titles include The Tale of Benjamin Bunny, The Tale of Two Bad Mice, The Tale of Mrs. Tiggy Winkle, The Tale of Tom Kitten, The Story of Miss Moppet, among others. She was now able to buy a farm in the Lake District, her favourite abode. She later married William Heelis, a solicitor, but continued to write and illustrate children's books and look after her farm. Her books were published in a small format, easy for a child to hold and read.

Beatrix Potter died in 1943. She left nearly all her money and property to The National Trust so that the beauty of the Lake District could be preserved and not handed over to "developers" who were sure to ruin it! That part of the Lake District is still known as "Beatrix Potter Country" and remains as unspoiled and charming as it must have been during her time.

The Tale of Peter Rabbit sold more than 40 million copies worldwide. It is the delightful story of Peter, the rabbit and his three sisters, Flopsy, Mopsy and Cotton-tail. They lived with their mother under the root of a huge fir tree. One day Peter ventured into the garden of Mr. McGregor who had caught and killed Peter Rabbit's father. Peter wandered round the garden merrily eating the vegetables there. But the gardener spied him nibbling parsley and chased him hard and strong. The story describes how Peter lost his shoes while running away and then got caught in the net covering the gooseberry bush. Mr. McGregor himself joined in the chase and tried to trap him with a sieve. But Peter managed to escape, leaving his jacket behind as he wriggled free and hid in the watering can in the gardening shed. But as ill luck would have it, he was seized with a sneezing fit just then and could not stop himself. A merry-go-round chase followed. But Peter finally managed to escape home and collapsed on the floor. Peter's mother sent him to bed after making him drink a bit of chamomile tea. Mr. McGregor finally made a scarecrow with the clothes left by Peter Rabbit.

The Tales of Beatrix Potter was made into a film, directed by Reginald Mills, in 1971 and was very popular. In 1982 BBC produced The Tale of Beatrix Potter. Many of the stories were set to music and performed by the Royal Ballet. In 1992, the BBC also produced an animated series based on the stories, called The World of Peter Rabbit and Friends. It was telecast regularly between 1993 and 1995. The entire series is now available on DVD.