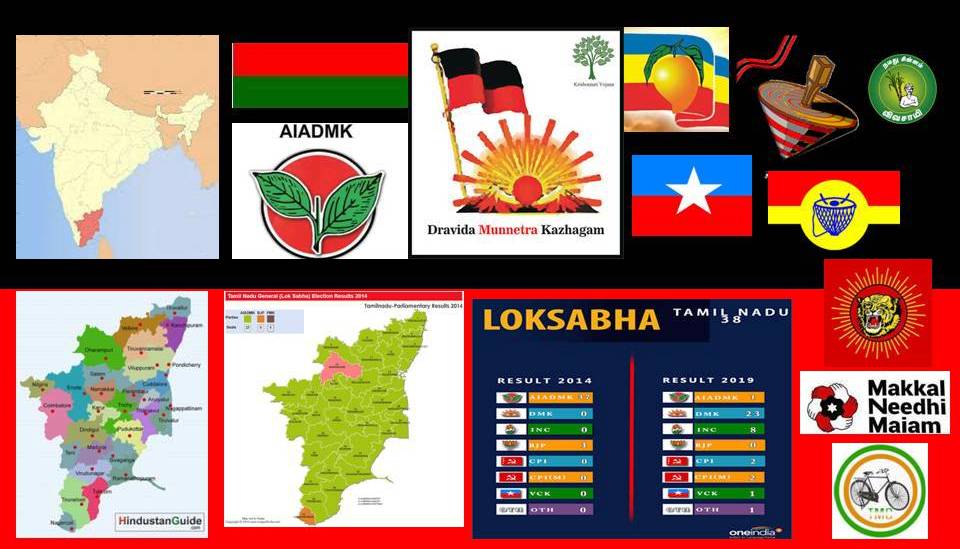 The second time landslide victory of BJP and Narendra Modi in the entire North Region of India and the subsequent actions and reactions made me go in for some throught process. I cannot call it a great political analysis but definitely an unbiased observation of a conscious citizen of this country. My acquaintance from my childhood in this country and particularly in the state of Tamil Nadu, makes me mull over the recent electioneering, many hate postings, derogatrory memes and the final outcome from this particular state Tamil Nadu. I honestly feel there is a need for a complete, non prejudicial and careful analysis by political pundits.

Though DMK and AIADMK are powerful sources of Tamil Nadu vote bank, this time AIADMK could get only one seat for the parliament with the poll alliance of BJP. In fact, the same AIADMK bagged all the 39 seats in 2014 with Jayalalithaa at the helm of the party but independently. This time the tables are just turned towards DMK with Stalin at the helm of DMK even without Mu.Ka. The margins in almost all the constituencies are in several lakh votes. The votes are obviously just against Mr.Modi and BJP in that order.

When I had the opportunity to speak to many Tamil speaking persons educated and uneducated, privileged and underprivileged, Brahmins and caste Hindus, elite and the crude I was in for shocks and surprises. Their grudges are only against Modi. Two things they cannot accept for certain. Tamils are not ready to accept a North Indian party and a Hindi speaking leader. Undoubtedly, three fourth of the population irrespective of their financial or educational background is against Modi governance. Why?

Demonitization, GST and asking every individual to link everything with Aadhar and PAN card are said to be the reasons. But, honestly speaking, I feel the last one, the government tracking of the financial activity of an individual through Aadhar and PAN is the major cause. All Tamilians prefer to deal with cash than through banks and they hate the government browsing into their financial dealings; please remember that they are not billionaires or crorepatis. Yet, they feel to keep the money preferably as cash and spending is their prerogative; the government has no role to interfere.

The deep rooted Hindi hatred, not willing to support a Hindi speaking leader who wants to interfere in their financial dealings, however small it might be changed them to vote for the regional party which keeps crying hoarse in the name of language. The massive victory of TTV Dhinakaran in the byelection at RK Nagar distributing money heavily and his party's total drubbing in the recent polls where in he had drawn blank in more than 500 booths speak volumes of Tamilians' slyness.

The writing on the wall as far as Tamil Nadu is very bold and clear. (I would say this holds good for two other southern states Andhra and Kerala also!) They do not want them to be ruled by a North Indian Party with a Hindutva background and forcing transparency in financial dealings. Hindi language is their anathema.

Na Mo, by any stretch of imagination will not be favored in Tamil Nadu. If necessity comes, I will not be surprised all the parties carrying a 'Dravidian' tag including the AIADMK unite with their parent party DMK to fight their common enemy Modi and ofcourse Hindi apart from whatever reform the centre suggests.

I will not be surprised if National (not exactly!) leader Narendera Modi takes the credit of uniting all the Dravidian parties into one force in Tamil Nadu in the near future but with no benefits to the state!