'The Monk who became Chief Minister' by Shantanu Gupta. Bloomsbury, pp133, Rs.299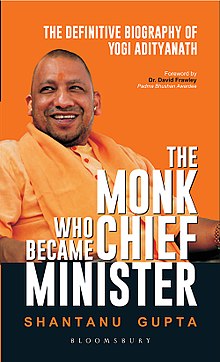 Let me be honest; biographies never interested me much. The reasons are simple; many times they would be lopsided, either by writing only the best side of the person or adding either fictitious or insipid matters on the life of the luminary. And I am not a votary of politics, especially Indian politics.

But, I became curious when I saw book 'The Monk who became Chief Minister', the definitive biography of Yogi Adityanath by Shantanu Gupta. The reasons are obvious.

1. So far in the Indian continent, according to the history no monk or sanyas had ever held the position of a ruler, except Emperor Asoka that too after the deadly Kalinga Battle, though we keep on claiming that India is the most spiritual and philosophical country in the whole world.

2. Yogi Adityanath soon after his assuming office as the CM of UP was crowded with as many controversies as one can generate. Yet, he and the party he is affiliated won the recent elections notwithstanding all those allegations.

3. I was impressed with a brief intro by the author of the book Shantanu Gupta in one of the literary forums about this book.

First of all no Indian media ever wondered about Adityanath becoming CM of the largest state of India at the age of 46. There were never detailed references about his long experience as a parliamentarian from the age of 26 winning every election from Ghorakhpur. I think it is no easy task to achieve in a state like UP, which had been in the news for all wrong reasons.

The book is divided into 4 chapters; Yogi Adityanath, Chief Minister of Uttar Pradesh, Yogi Adityanath, Five Time Member of Parliament from Gorakhpur, Yogi Adityanath, as the Mahant of Gorakhpur Mutt and Yogi Adityanath, as Ajay Bisht of Uttarkhand and also with a Foreword by Dr. David Frawley, Founder of American Institute of Vedic Studies.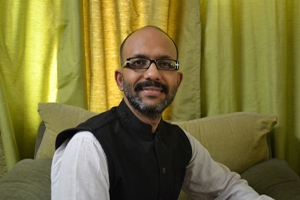 A yogi being proficient in spiritual heritage is no big matter; but Yogi Adityanath's extensive government experience necessary to run a large state as UP, taking an active role in Lok Sabha functions and committees over the years. It is, indeed, surprising to note that in the 16th Lok Sabha, Yogi had participated in 57 debates, against the national average of 50.6, asked 306 questions against a national average of 199 and introduced 3 private member bills against the average of 1.5. He had been in several committees and forums. When I was always of the impression, monks only talk and lead the public on being spiritual and on the path leading to heaven, this strange monk has exhibited his expertise in the important factors of a common man's life like housing, education, infrastructure, equality and developmental activities.

The author has to be appreciated for recording his controversial comments on popular personalities like Sharukh Khan to Mother Teresa. It is no wonder, Yogi's various promotional programs to spread Hinduism or Hindutva are definitely a matter of anathema for the secularists and pseudo secularists. It is no wonder. Attempts to arrest him and a fatal attack on him stand testimonies to his power with the public. The authenticity of the contents is substantiated with several references given throughout.

I am not going to touch on the spiritual aspect of the Mutt or Yogi since I am not a spiritual person myself and have lost faith in religion and spirituality. These aspects, mostly propagated by the religious and spiritual leaders are a sort of passion of a person just like one's interest in music, art, literature or sports. I do not want to sit on any value judgment.

Nevertheless, I am really surprised that a mutt head identified a young man in his late teens and trained and anointed him who turned out to be someone with extraordinary worldly knowledge and political acumen. It seems that nothing is impossible in this world; sometimes.