Poets Renowned and Poets Flourishing by Dr. V V B Rama Rao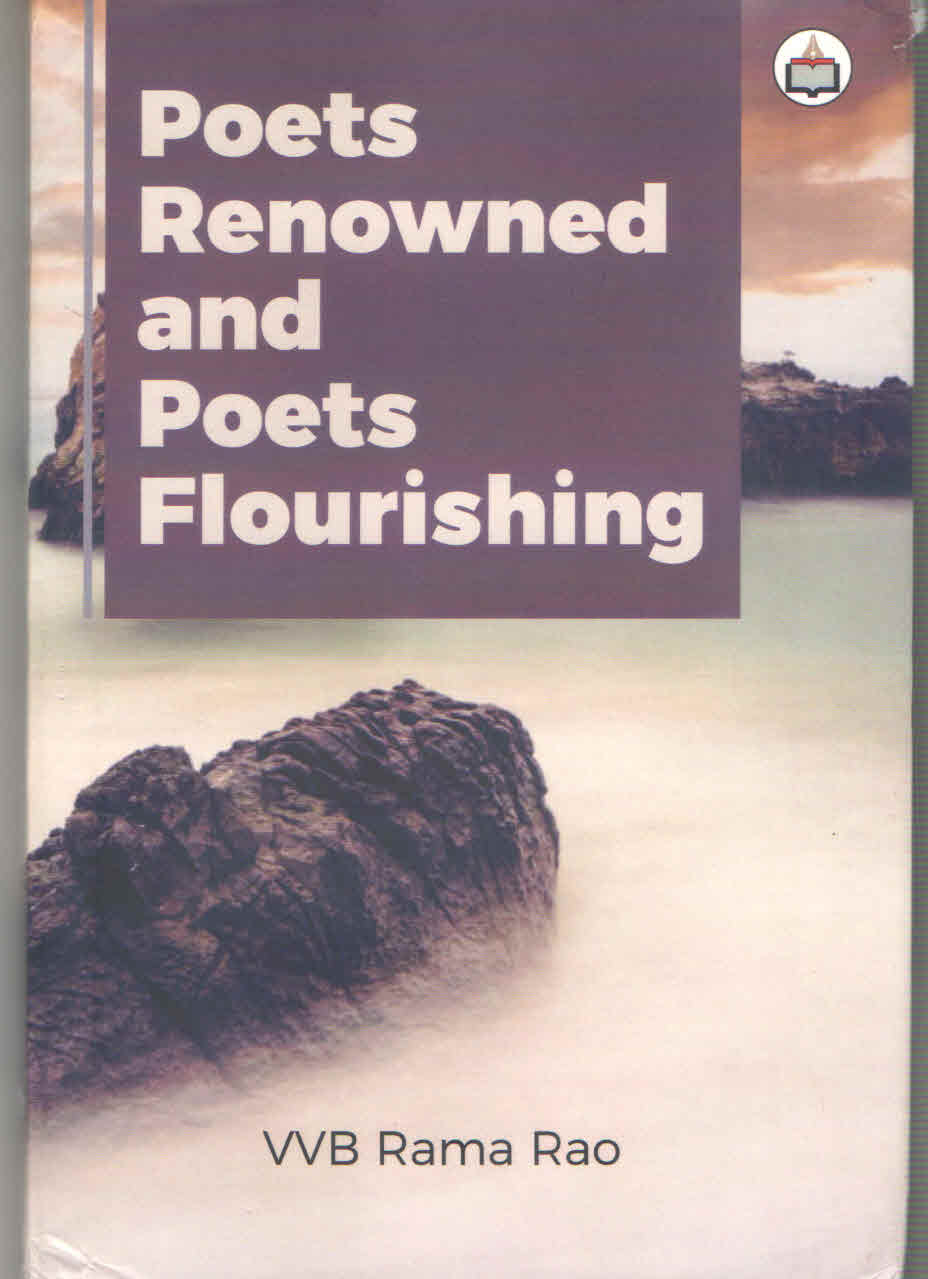 In the book under review 'Poets Renowned and Poets Flourishing' Dr. V V B Rama Rao, the doyen of Indian English Literature, a prolific writer, critic and literary detective with more than 60 books so far to his credit, discusses and dissects the works of 6 poets.

"It is not enough if a writer is focused only on his/her own creative writing; it is also necessary that he/she should continually read the works of others, place them in the overall scheme of things, and broadcast the significance of such works in his/her own way and perspectives", says Dr. Rama Rao in the Author's note.

With this object in view this book is one in the series of Rama Rao after Looking Within and Beyond, Femininity-Poetic Endeavours and Prolegomena and Transformative Articles on Literary Translation, all published by Authorspress during the period from 2015 to 2017. This book contains a Foreword by Udaya Narayana Singh, a preview by Neelam Saxena Chandra and blurbs by Dr IK Sharma and Dr. J Bhagyalakshmi, all giving valuable insights to the author's credentials and of the poets chosen in this book.

Six papers have been presented in this book on the poets PCK Prem, DC Chambial, T Vasudeva Reddy, Anand Kumar, Atreya Sarma and Venugopala Rao, who have already made a niche for themselves in the Indian English arena.

PCK Prem wears many hats such as that of a teacher, a civil servant an administrator, a thinker and an intellectual and in the author's views his poems are tilting more towards circumspection, angst and mockery. His expressions sound powerfully thundering, genuine and electrifying, says the author. This poet believes that long poems are best suited for philosophical thoughts, religious quests and spiritual worries. Prem's famous long poem Monto from his first collection "Among the Shadows" has been discussed in detail in this book. The protagonist's character sketch, his anti-hero image and attributes like high-handedness, selfishness, weakness for the fair sex, which he believes is an all-inclusive right from maid to princess, etc., have been portrayed well. Rama Rao points out here that Prem exposes the pretentious socialist, the haughty communist, and the socialite free sex-lovers in ways which are both amusing and thought provoking. The poet's sardonic humour accentuates the scathing criticism of the politicians and their babus revealing his sensitive understanding and competent expression. Manto is a sequel to the Wasteland of earlier years, which has references to Marx, Pushkin, Keats and Ruskin and also to Hindu Mythology characters Rama, Krishna and Ahalya. The other works discussed in the book are 'Bermuda Triangle', 'Oracles of the Last Decade' and 'Of This Age and Obscurity and Other Poems' quoting from each to substantiate these points. This definitely tickles and makes the readers to explore the originals.

Next to PCK Prem, Rama Rao takes up the pensive poet DC Chambial's works, whom he likens to T S Eliot. Chambial, an academician, is a poet from Himachal Pradesh, who also runs a literary journal for the last two decades single-handedly. Eight collections of his poetry have been analyzed here viz., Broken Images, Cargoes of Bleeding Hearts and Other Poems, Perceptions, Gyrating Hawks & Sinking Roads, Before the Petals Unfold, This Promising Age, Mellow Tones and Words. Chambial expresses angst and hatred for social degeneration, loss of faith and devotion and corruption in his poems, particularly at administrative levels, which are corroding honesty. Chambial's poems are themed around decay of human values, concern for women's plight, the evil in politics, social issues, lack of devotion and obedience and the poet believes that morality and simple living is the key to happiness. Poems are extensively quoted from all the collections, which give the poetry lovers ample reading stuff and a glimpse of the poet's versatility. Chambial pens in metre and uses Triolets, Villanelles and Kyrielle, which add beauty and value to his poems.

The third poet is T Vasudeva Reddy from Thirupathi, who owns eight collections of poems. Bright and evocative imagery, sensibility about the nature of human life, mystic and philosophic attitude in expressions, and anxiety about cultural decadence are all the characteristics of Reddy's poetry. None can overlook the supreme reality in the lines 'Death is the only reality/dust is the only eternity' in When Grief Rains, his first collection of poems. Reddy's poems are impressive with musical cadence in expression with lilts, chimes, twangs and thumps. The author observes that poetry which does not preach anything directly or indirectly would not last long and Reddy's poems essentially have messages to deliver. Rural life with its rhythms and its throbs are captured in many of Reddy's poems. Sorrow and penury of the downtrodden do not escape the poet's attention as is revealed in many of his poems. Sinful, indolent and rapacious politicians and their attitude towards the society have been captured effectively in many of the poems. Rama Rao has done a meaningful analysis of the entire gamut of poems for poetry lovers to pick and read.

In the second section 'Poets Flourishing', Anand Kumar's poems are studied in detail. Anand Kumar, a biologist by profession, is a unique poet of rare eminence. His book of poems 'Opium Den' comes in two parts, viz., Opium Den and Reflection in a Windowpane. Rama Rao observes that the title of the book and its contents make one remember Coleridge. Being a person rooted deep in tradition, this collection contains among others, salutations to saints and seers. The poet also seems to have admiration for Greek tradition, mythology and culture. He also deals with philosophy and mysticism in his poems. Anand's poems also have their own share of satire, which has been highlighted by Dr Rama Rao and believes that his imagination expressed in words sinks deep in the readers' mind. His second collection 'Eerie and Holy', which comes in nine sections has also been discussed in this book.

Atreya Sarma, a post graduate in English Literature and PG Diploma in Mass Communications & Translation Techniques is now the chief editor of Muse India, a literary e-journal. He is a poet par excellence, reviewer and translator and is well known in literary circles who handles a literary column regularly in The Hans India, a Hyderabad based English daily, presenting poems of poets from India and abroad. His maiden collection of poems 'Sunny Rain-n-Snow - An Olio of Poetry for Pleasure' with 63 poems has several blurbs by well known poets and has already received critical acclaim. This book of poems with thematic classification and illustrative photographs is a combination of free verses as well as metrical poetry like limericks, sonnet, ballad, etc. and are classified in twelve sections. In Rama Rao's words, "Sunny Rain-n-Snow is a unique collection, where wisdom is projected as well as heckled and pooh-poohed, humour and comedy reign. Humour is, after all, a powerful anodyne." Humour in poetry is not every poet's cup of tea, says Rama Rao. Sarma's bantering poem 'My Atheist Friend' is recommended for a hearty laugh, which can refresh the readers. Poem 'The Case of a Chronic Rake' is an excellent sampler of a ballade showcasing Sarma's capability to pen metrical poems and Rama Rao is full of praise for Sarma's technical expertise in this area. With unique metaphors, Sarma is able to give the readers a poetic feast in varied fares. It is not out of place to mention here that I had the opportunity to review this book and I fully endorse the views of Rama Rao.

Kaki Venugopala Rao's maiden collection of 53 poems 'Ripples and Reflections' is the subject matter in the sixth chapter of this book. Moralizing is this poet's forte, yet his poems are captivating with the depth of feeling and the skill of word-building. His poems revolve around the themes such as devotion, love, patriotism, ill-treatment of women, corruption, violation of law, to name a few. Rama Rao concludes this essay with the words, "Shades, shadows and darkness which are understood with glowing sympathy all along is mystic joy. Venu's is a good beginning and a lot is sure to follow very soon."

Dr. Rama Rao is a prolific writer of high caliber and through this book of essays, he showcases the stronger points of six of the Indian English poets. He has words of appreciation for each poet and he means what he says. As he has rightly pointed out in the author's note, this book is intended to familiarize the works of contemporary Indian English poets and one who goes through the contents of this can affirm that this work more than fulfills the intended purpose. Dr. Rao's efforts in popularizing Indian English Poetry are highly laudable. He has taken up similar exercises in the past too, in book titled 'Sensitivity and Cultural Multiplexity in Recent Indian English Poetry' in which the works of fourteen poets were discussed in detail and I had the good fortune of reviewing this great work. His book 'Femininity-Poetic Endeavours' is yet another endeavour to showcase the works of eight women poets from India. I wish to add that this book would definitely add another feather to his already crowded cap.