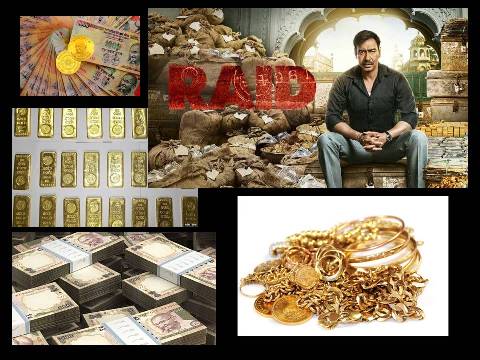 I happened to watch the 2018 movie 'Raid' recently in Hot Star. The story is supposed to be based on the real life incidents that happened in UP in 1980s.

Evasion of Tax and Hoarding money and Gold seem to be a sort of disease among people of this nation. In his particular film, a MP who looks dirty and menacing with a huge family and lives in an old rickety mansion like home is considered to be highly corrupt. On the tip from an unknown source an honest Income tax Commissioner sets out a mission to nab this MP. With much opposition from his own department, he goes ahead with a bunch of officers inside the home of the MP. The MP says he had no unaccounted money and all his dealings are straight forward and challenges the officer. In the initial superficial survey nothing could be detected. But, again on the tip from the unknown source, the officer starts breaking the walls, pillars and ceilings of the house where bundles and bundles of currency and huge amounts of gold ornaments as well as gold biscuits are stored.

The MP goes up to the then Prime Minister (shown as Indira Gandhi) but to no avail as the matter has gone out of hands. The MP incites his goons, the village people to attack the officers which also doesn't work as the reserved police from the central arrives and controls them. The MP is shown languishing in the prison wondering who the 'black sheep' was tipped the official.

The movie as such is not racy or anything with the dour faced Ajay Devgan as the IT official. The closing cards of the movie claim such cases were plenty in UP in the 80s and some of the IT officials were even thrown alive into the furnaces and of cement kilns.

What is shocking to me is even today the hoarding of currency and gold continues without any qualms. I read about the gold and money hauls and the everyday news item on the smuggling of gold in huge quantities in the airports are testimonies of Indian's craze and avarice for money and gold. Yet, we make tall claims about our country as the most philosophical country in the whole world.

I just don't understand why such population with exceptions of a few doesn't even live in luxury also just hoarding the wealth. Currency and gold without use or exchange serve what purpose? Of course, India will also refer that gold and wealth as goddess Lakshmi. So are there provisions in our ethos to smuggle or hoard the Goddess in cemented walls or pillars and closed attics?

I miserably fail to understand the Indian psyche and their values in life.