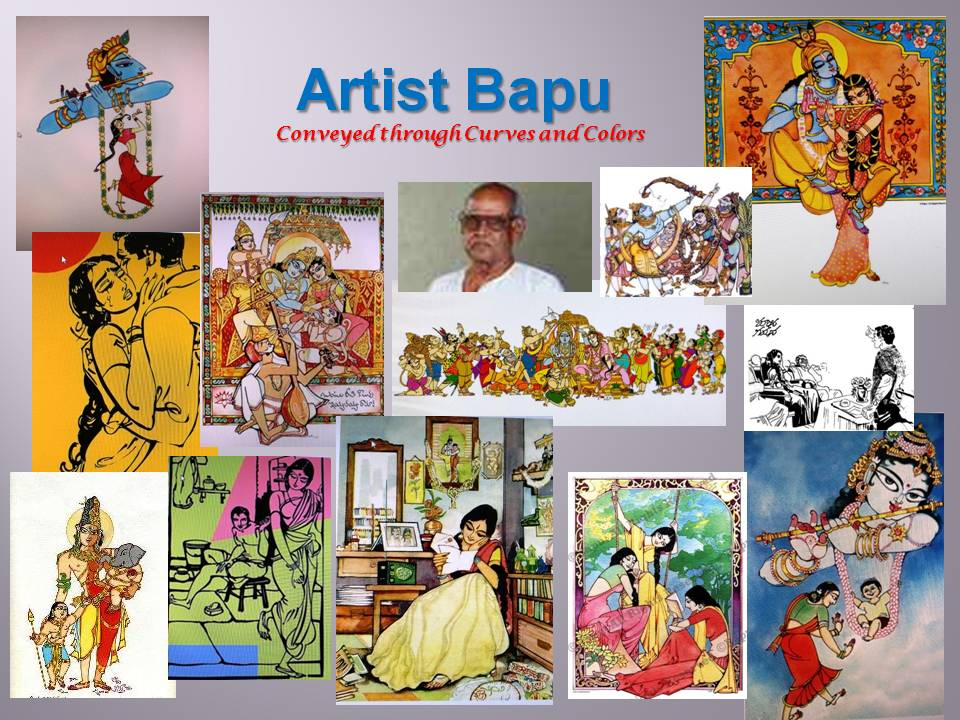 Can just line drawings be effective? Can the character, expressions, scenarios, dress and ornaments create the same impact of a wash or of an exotic traditonal painting? Yes. Cartoonists do it; but that is more for fun or to covey some message satirically. But, is it possible in creating an action scene, god and goddesses, love and despair, celebrations and dancing, some episodes of epic or stories?

To the best of my knowledge in the Southern part of India artists Gopulu, S Rajam and Bapu achieved this. Their artworks are mostly line drawings but colorful and conveyed the scene, action, art or celebration with equal poise and power of a painting. Each one had a signature style. It could be easily identified from their art. While artist Gopulu restricted himself to realism to a great extent, both S Rajam and Bapu characterized their creations by their unique faces, postures and actions. In the carnatic music world , it is still S Rajam's illustrations of the Musical Trinity occupy the center stage. Apart from being an artist S Rajam was a musician, musicologist where as Bapu was a film maker and director.

My admiration for Bapu's art started when he made the illustrations for a Tamizh serial 'Vetrilai Churul' in Kalaimagal, several decades back. The novel is a family drama where many characters and scenes of happiness, distress and anger were brought out. I was amazed by the way a few lines and curves brought out the scene alive in front of the readers' eyes through artist Bapu's sketches. I went in search of the the specialities of Bapu, the artist and his inimitable work.

After my writing about the artists of yesteryears where I have made a mention about Bapu, his son Venkatramana contacted me to thank. I wanted to know more about the artist and his work. I was in for a wealth of amazing details about the great artist/illustrator/ caricaturist/ cartoonist/ painter /graphics artist and above all a film maker and director. Bapu is a rare phenomena in the Indian art scene. He seemed to have ruled the Telugu magazines, books and business firms like a collosus for nearly 7 decades of his illustrious career. Probably, he is the only Indian artist who had been honored by TANA (Telugu Association of North America) Patrika in the year 1995 which celebrated the Golden Jubilee Anniveresary of the publication with his artwork.

Sattiraju Lakshminarayana born on Dec15,1933 was a graduate in law from University of Madras. But, his passion was for drawing and his first illustrations found place in 1945 at the age of 12 in Telugu, Tamil and English periodicals. His brilliance in bringing out the essence of any literary piece with a few, simple yet strong strokes catapulted him to work on many literary works and poems in Telugu. Especially his female forms earned a sobriquet 'Bapu Bomma' as it describled precisely the beautiful women of Telugu.This achievement led him to attain greater heights in his artwork and popularity. Tirumala Tirupati Devasthanam appointed him as a Asthana Chitrakar in 1979 to many of the works of Annamacharya. This was followed by the temples of Bhadrachalam and Kotappagonda. Subsequently, hundreds of his one man show had been conducted in USA, UK and other countries organized through the Indian Telugu diaspora. His close friend Mullapudi Venkataramana, a writer was his major support in all his endeavors.

Parallelly, Bapu entered his film career also; but this article does not include that part of his achievemnts and will be more centered on his art work only.

On the request of the then Chief Minister of Andhra Pradesh NT Rama Rao both Bapu and Ramana ventured on bringing out Indian classics Ramayana and Mahabharata as illustrated books for the benefit of the school children which became an instant hit. Bapu's pen and ink sketches of famous personalities were popular coupled with humorous doggerels about them. His illustrations were catchy, colourful with fluid dynamic style of lettering different from the formal rounded Telugu fonts.

In 1970s his style changed further for better; they were simplified yet stylized. His background items were minimized to important props and not too many. During 80s his curves changed to more rounded forms yet retaining their speciality and charm. At one point he was able to convey the message and scene just with a very few strokes. The Telugu writers in the magazine clamored for Bapu's art for their writings. Book publishers besieged him for their cover designs.

It is not an overstatement that he had made thousands of illustrations in 50 years and also several commissioned paintings. Not just that he made logos also for several companies. The logo he made for the TANA Conference in the year 1985 was a memorable one with a Telugu girl and Donald Duck has become very famous and special. On special contributions, his art work for Amukta Maalyada, Janaardanaashtakam and Annamacharya keertanas are exemplary. Another one is Amaraavati Kathalu which were not just modern but delicately crafted.

His mastery in illustrations could be understood on two occasions. Dasarathi, a Telugu poet translated Mirza Ghalib's Urudu ghazals into Telugu in 1960s. Bapu made his illustrations in Persian style for this to suit the content of each ghazal. When Dasarathi took this book in Telugu and showed it to his Urudu poets they identified each one of the Ghalib's ghazals just by seeing Bapu's illustrations. This clearly testified how the artist cleverly conveyed the essence of the poetry quite eloquently. Similarly, Bapu's pictures for Andal's Thiruppavai is another feather in his cap.

The famous artist in his own handwriting had written down his favorite artists across the world and his role models. The important one is our famous artist Gopulu who was not only his friend but also a great inspiration to him. His son Venkatarama feels proud about his father's dedication to art and the films he made. This versatile genius artwork could be seen in the internet and some of the beautiful paitings are available. His son takes care of the business as Bapu's artwork is still supreme, popular and in demand.

Bapu was honored with many awards and titles. Some of the notable honors are Asthana Chitrakar from Tirumala Tirupathi Devasthanam, Sisishta Puraskaram by Potti Sriramulu Telugu University, TANA award at Chicago by North American Telugu Association, Indian Institute of Cartoonists, Telugu Velugulu (Lights of Telugu) by the Government of Andhra Pradesh and above all the Padmashri Award in the year 2013.

Bapu passed away on 31 August 2014. Artists only pass away; but not the imprints left by them. Many of his significant artwork can be seen and puchased through the website www.bapuartcollection.com.