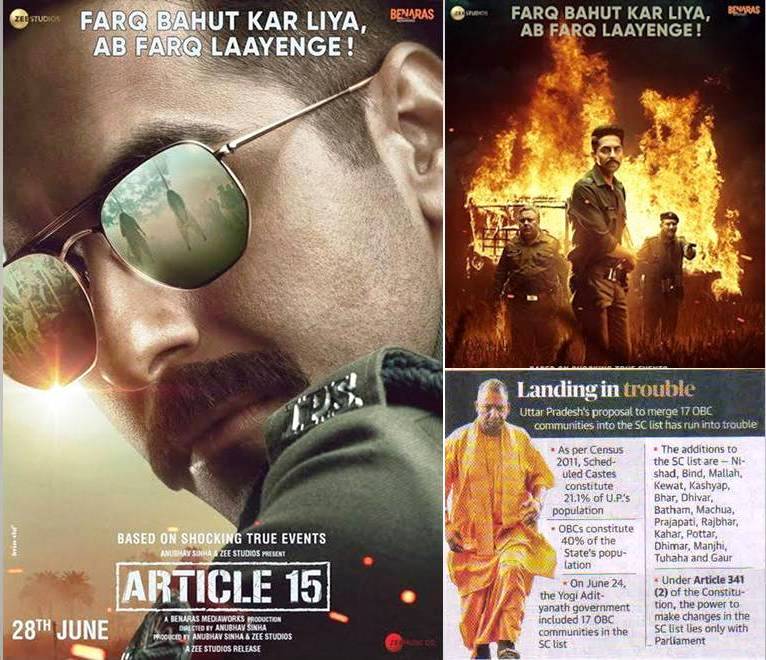 If you are a newspaper addict and have great interest in reading articles written on socio-political analysis, 'Article 15' may be interesting to you. For those who come for simple, harmless, time pass the movie would either put them to sleep (because it is not loud!) or make them restless.

Nevertheless, writer-director Anubhav Sinha (of 'Mulk' fame!) had ventured into a crime thriller based on two real life events like 2014 Badaun Gang Rape and 2016 Una Flogging in UP and Gujarat respectively. Writers Gaurav Solanki and Anubhav Sinha created the screenplay as a crime thriller with casteism dominating the grotesque incidents.

A brand new young IPS Officer Ayan Ranjan from UK takes charge in remote suburb of UP who on his ride to his posting place enjoys the beauty of the picturesque ambiance and sends message to his lady love 'India's hinterlands are beautiful'. But, soon he gets the shock that the beauty of nature is terribly compensated by the ugly activities of the population who had been divided viciously by the caste system. Three young girls of lower caste go missing and two of the bodies of the girls are found hanging in the trees. Ayan's efforts to unravel the mystery only lead him to more distress. His colleagues are two timing, mischievous, nudge him to close the file as the parents of the two girls accept that it was 'honor killing'. But, Ayan finds something else; the girls are gang raped and killed. All his efforts to find the third missing girl on the constant demand from the sister of the missing girl are invariably thwarted and unexpected murders, religious outbursts and riots take place. Even the CBI officer who comes for investigation seems to be biased. What happened to the third girl and Ayan?

Article 15 of the Indian Constitution seems to be a farce even in 2019. Nature itself discriminates living beings. But, Indian politics and population revel in uncouth discrimination of themselves through religion, caste, community and in many more incredible ways.

Fortunately, the film is not verbose except during Ayan's interaction with the CBI Officer. Again the scorching dialogues strewn with mild hilarity form the backbone of this crime drama.

I have no idea about other artistes except Ayushmann Khurrana who plays the role of the protagonist. Khurrana seems to be lucky to get such meaty roles with purpose where he also does full justice to the character. However, all the supporting cast plays their parts with conviction.

The photography by Ewan Mulligan mostly monochromatic and dull but suits the mood of the movie.

Ayan asks the CBI officer 'Should we follow what had been done 2000 years ago in 2019 also?'

My answer to his profound question is 'It will not be surprising if it is followed even after another 2000 years in India.'

Some more fodder for thought; a clip from today's newspaper.