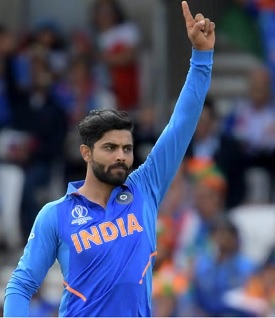 The "bits and pieces" player was the top scorer with 77 runs to his credit in the Indian innings of the World Cup semi final, the match India lost. While the top order consisting of more glorified batsmen miserably failed reducing India to 5 runs for three wickets it was the rearguard effort saw India cross the 200 mark.

Though Sanjay Manjrekar, has since apologized for describing Ravindra Jadeja a "bits and pieces" player who, according to him, should not have found a place in the national team. He preferred either a pure bowler or a pure batsman rather than a player who was supposedly an all rounder.. But one wonders whether a team would be complete with only bowlers and batsmen without any all rounder.

All-rounders are what we have been lacking in the team for a long time. Ravichandran Ashwin, the former off spinner, had a hidden knack of using the willow rather well. As he started doing well with the bat he was quickly promoted in the batting order and reckoned as an all rounder. And he didn't do too badly. He even scored four test centuries and was reputed being a "bowling all rounder".

Likewise Bhuwanesh Kumar, one of the current quartet of Indian speedsters, also showed sone inclination to bat and he too was promoted in batting order. He has 3 fifties to his credit and bats at No. 7 or 8 in tests, according to the needs of the situation in a match.

None of these two are as genuine an all rounder as Ravinder Jadeja is. His bowling is superb as he can fox the batsmen and keep them in check. His economy rate is first rate. He has been edged out of the team because of the arrival of Yazuvendra Chahal and Kuldip Yadav, the two wrist spinners. But none of these two have the batting or fielding prowess that Jadeja has. He is a remarkably athletic fieldsman who can stop balls or take catches while suspended in the air. His catch close to the the boundary line in the Semi Final of 2019 World Cup that India lost was phenomenal in so far as anticipation and athleticism was concerned. Then, of course, he is a very good batsman who can wield the willow very well. Who can forget him swinging his bat like a Rajput's sword while acknowledging the crowd's appreciation after scoring a fifty in some of the test matches he played in.

Therefore to call Ravindra Jadeja a "bits and pieces player" was an anathema, an abomination – an abhorrent use of a phrase of the English language. Ravindra Jadeja is a complete cricketer who has picked up the "bits and pieces" of cricket only to combine them and glue them together in his astute self. He has put out on full display his cricketing ability many a times. An Indian commentator running down a bright star of Indian Cricket while commentating abroad is nothing but highly reprehensible.