Thousands of years ago a very righteous and truthful king, Dasaratha, was ruling an Indian Kingdom Ayodhya. He had three wives; Kaushalaya, Sumitra and Kakai. Kakai was very brave; once when she had accompanied Dasaratha in a war, she had saved his chariot in the war field. Overwhelmed by her courage Dasaratha promised her to give her two boons 'as and when' she asked for them. Dasaratha had four sons. The eldest was Rama the son of Kaushalaya. The next was Bharat was from Kakai. Sumitra had two sons Laxman and Shatrughan. Rama loved all his mothers and brothers equally.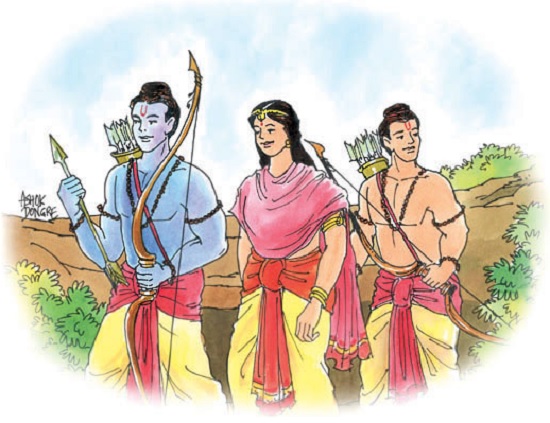 All the four brothers went to Guru Vashita's Ashram. They became well versed in all the scriptures and learnt the art of war craft. After they came back to Ayodhya, Guru Vishwamitra took Rama and Laxman to his Ashram. He was being disturbed by demons. Rama killed the demons and protected Vishwamitra. Vishwamitra gave many special weapons to Rama and Laxman.

Rama and Laxman went to Janakpur along with Vishwamitra. The king Janak had organized a competition. He had a mighty Bow. He had announced that whoever would break the bow would marry Sita, the princess of Janakpur. Rama broke the bow and married Sita. Sita's sisters were married to Bharat, Laxman and Satrughan. They all came back to Ayodhya.

Dasaratha decided to make Rama the heir prince. Kakai was misled by her maid servant Manthra who tempted her to ask Dasaratha to make Bharat the king of Ayodhya and not Rama. Kakai reminded Dasaratha about his promise of two boons. She asked that Bharat should be made the heir prince and Rama should go to jungle for fourteen years. Dasaratha was in a dilemma. He did not want to send Rama to the jungle. When Rama heard this, he volunteered to go to the jungle. He did not want that his father's promise to Kakai should be proved to be false. Sita and Laxman also volunteered to go to jungle with Rama, even though they were not supposed to go. Dasaratha was shocked to death.

All this while, Bharat and Satrughan were out of Ayodhya. They were called back but Bharat refused to become the king . He went to the jungle, to persuade Rama to return back to Ayodhya and become the king. Rama forced Bharat to rule Ayodhya and fulfill the promise of his father, Dasaratha. Bharat brought Rama a wooden sandle and enthroned it at Ayodhya , Bharat preferred to live like a sage at the outskirts of Ayodhya. In fact Satrughan executed the administration following the instruction of Bharat. Such righteous detachment to power is quite a contrast to the present day power politics.

During first thirteen years in jungle Rama got blessings of many sages. He killed many demons. The demon king Ravana of Lanka wanted to take revenge. Playing tricks one day when both Rama and Laxman were away in jungle, he disguised as a sage and forcefully carried away Sita to Lanka. After coming back Rama and Laxman were shocked. However, Rama showed exemplary courage, bravery and excellent team management. He got the help ofa monkey king Sugreev, the monkey warrior Hanuman and bear king Jamwant. With the help of their army Rama made a bridge over the sea. Rama's army crossed the sea and attacked Ravan's Lanka. Ravan was killed along with his whole army. However, Ravan's younger brother Vibhishan was righteous. He was made the king of Lanka. Sita was brought back to Rama.

By this time, Rama had already spent fourteen years in jungle. They all came back to Ayodhya and Rama was formally made the king of Ayodhya.

Rama was an idyllic king, he was very benevolent and was loved and respected by his subjects. He was such an ideal ruler that "Ramrajya" was Mahatma Gandhi's vision for India.