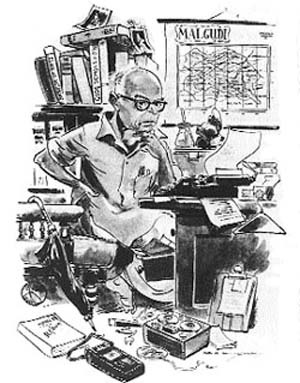 Born on October 10, 1906 in Madras, now known as Chennai, R. K. Narayan (Rasipuram Krishnaswami Ayyar Narayanaswami) is considered to be one of the greatest among Indo-English writers. His father, Venkatarama Krishnaswami Iyer, was a provincial headmaster. R. K. Narayan was his third son. He was brought up by his grandmother and an uncle because his mother was very ill after he was born. His grandmother inspired in young Narayan a passion for language and for people. He attended the Christian Mission School in Madras, among others. He graduated from Maharaja's College in Mysore in 1930.

Narayan began his literary career with short stories which appeared in The Hindu. His first published work was the review of a book titled Development of Maritime Laws of 17th-Century England.

He started his writing career with Swami and Friends.

It was not easy for an unknown writer to break into the world of publication and he faced a number of rejections until it reached Graham Greene. Greene liked it so much that he arranged for its publication immediately. Greene was to remain a close friend and admirer of Narayan all his life. In fact, it was at his suggestion that Rasipuram Krishnaswami Ayyar Narayanaswami shortened his name to "R.K. Narayan". After Swami there was no looking back and he published a stream of novels, all set in Malgudi, In fact, Malgudi is the setting of nearly all of Narayan's work, novels as well as stories. It is described as being "somewhere in southern India." Many of his critics feel that Malgudi has some elements of Hardy's Wessex and perhaps something of Wodehouse's "Blandings". It has also been compared to William Faulkner's Yoknapatawpha County.

Narayan's second novel was Bachelor of Arts, published in 1939. By then Narayan was already known in the UK. Actually it was Graham Greene again who was mainly responsible for getting it published. Greene referred to Narayan as, "the novelist I most admire in the English language." His next novel, The English Teacher, published in 1945, was partly autobiographical. Narayan himself said, "More than any other book, The English Teacher is autobiographical in content, very little part of it being fiction." Michigan State University published the book under the title Grateful to Life and Death (Narayan's own words), in 1953 along with his novel The Financial Expert. They were his first novels to be published in the United States. He went to the United States in 1956 himself at the invitation of the Rockefeller Foundation.

His subsequent novels, Mr. Sampath, Waiting for the Mahatma, a story told against the backdrop of the final years of India's freedom struggle, The Guide, The Man-eater of Malgudi, and The Vendor of Sweets, established Narayan's reputation in the West. Many critics consider The Guide (1958) to be Narayan's masterpiece. The novel won India's highest literary honor. Both Mr. Sampath (1949) and The Guide (1958), were made into successful films. Reviewing Narayan's 1976 novel The Painter of Signs, Anthony Thwaite of the New York Times said that Narayan created "a world as richly human and volatile as that of Dickens." His next novel, A Tiger for Malgudi (1983), is narrated by a tiger whose holy master is trying to lead him to enlightenment. Then came Talkative Man (1987).

What makes Narayan's novels so endearing to his readers is his simplicity of style and his humor. He rarely touched upon political issues or high philosophy. His stories are about simple folks belonging to a cross-section of Indian society trying to live their simple lives in a changing world. His characters, taken from all classes, belong to our everyday world.

Narayan once remarked, "Novels may bore me, but never people." His Grandmother's Tale and Other Stories was published in 1994. Publishers Weekly described it as "an exemplary collection from one of India's most distinguished men of letters." Donna Seaman of Booklist hailed the collection (that spanned over 50 years of Narayan's writing) as "an excellent sample of short fiction from one of the world's finest storytellers."

Narayan received many awards and honors for his work. Among them is the Padma Bhushan, for distinguished service to literature in 1964; the Sahitya Akademi Award for The Guide in 1968; the AC Benson Medal by the Royal Society of Literature in 1980 and the Padma Vibhushan in 2000. He was short listed for the Nobel Prize in Literature several times although he did not make it finally. His works have been translated into every European language as well as Hebrew, and of course in all Indian languages.

R. K. Narayan passed away on May 13, 2001.
Cartoon of RK Narayan by RK Laxman - Courtesy Times of India