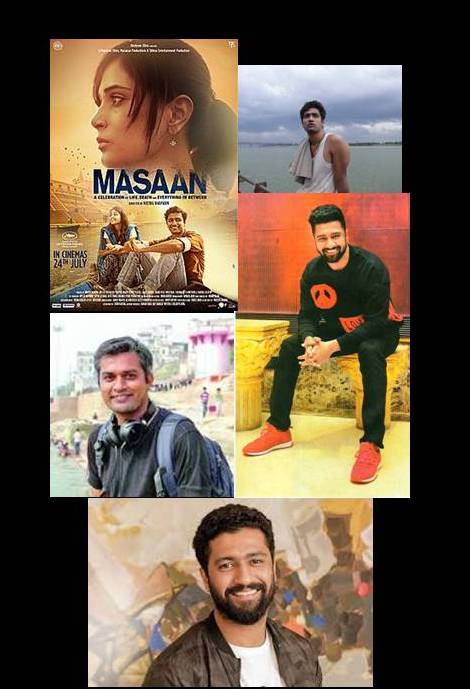 I know there always exists a great chasm of difference and gap at you when you watch a serious (read 'art') cinema and a commercial movie. I didn't watch the debut film (2015) of the present day heart throb Vicky Kaushal 'Masaan' (Crematorium) when it got released.

I watched it now out of sheer curiosity; well, normally the critics delight will be a commoner's sorrow and imagine a 'serious' cinema set in the present day milieu titled ominously as 'Masaan' and also dealing with the dead bodies and their cremation in the possible crudest manner at the holy Ganga Ghats.

You name every evil in the Indian society; it is there in the movie; squalor, sex, death, dirt, class divide, exploits, drinks, blackmails, and the great connecting source of all these; money.

If the present India's holy pilgrim center Banaras has so much of dirt and despicable lives within it I don't know how to describe India or her ever talking developments and the acclaimed culture. The film directly points that eduation and earning alone will not elevate any group from being oppressed, outdated and shocking.

The undercurrent of human emotions are to a great extent underscored in the screenplay, direction and acting. The prime players are Vicky Kaushal (who looks a distant image of what he is now!), Richa Chadda, Sanjay Misra, Sheweta Tripathi and a child artiste Nikhil Sahni.

It is amazing that Vicky had got a big leap while all his costars must be still languishing in the background. Well, the movie had brought director Neeraj Ghaywan some awards and honors; and brought debonair Vicky Kaushal to main stream cinema.

Director Neeraj Ghaywan and writer Varun Grover had brought out the seamy, sickening and hopeless side of India and its culture notwithstanding all the characters carry cell phones, use Face book and computers. Adding the despondency there were two untimely deaths which add more tragedy to the film.

How others felt I don't know and I can't tell. But, I felt sick and sorry for the duplicity of India and its culture and those sects of population's lead their life in the crematorium at the Ghats of celebrated Banaras still for a miserable livelihood and recognition.

'Masaan' is as scorching and gloomy as a crematorium for me.