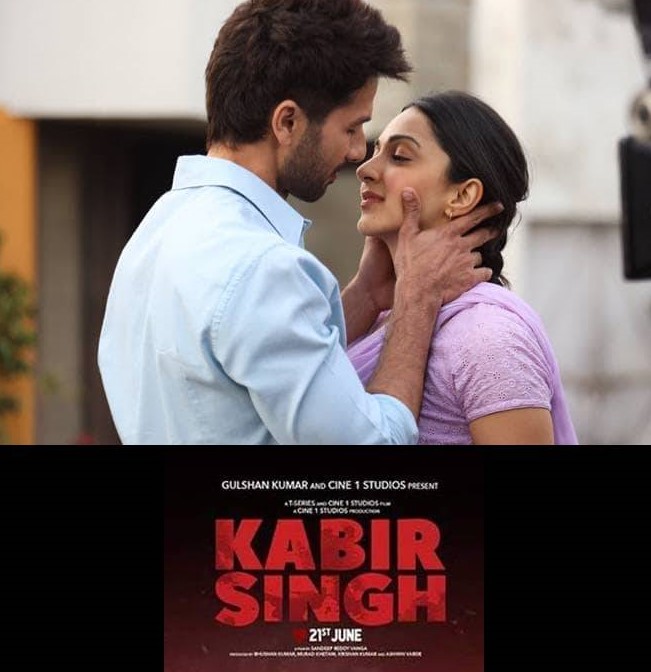 I always keep a watch of movies in multiplexes. After the initial several shows per day, it moves to evening and night shows as days progress and the crowd starts waning. A recent one which moved to the night slot suddenly shifted to the afternoon slot meant that footfalls are increasing. I became intrigued. The net also declared the movie has turned out to be a hit almost crossing the 3 crore mark.
But, critics especially women critics as well as men called the movie misogynic and toxic. Anyways, critics and public thought many times in opposite directions as my personal adage that goes as 'Critics' delight is Common man's sorrow.'
My curiosity pushed me to the theatre. The movie is 'Kabir Singh'.
What a shock I had to face? I was totally cheesed off. This 3 hour long movie is nothing but horror and toxic. When in many humans' lifetime even in 5 years not many changes happen, in this in 8 months duration itself millions of things happen. A highly cantankerous and short tempered young, brilliant medical student falls in love with a junior at the first sight, kisses and makes love second day and takes her to his hostel room on the third day.
But, when the brilliant doctor goes for the hand of his lady love for marriage, her family thinks otherwise. There were fisticuffs and the ill tempered hero gives 6 hours time for his lover to come out. She doesn't. So the rebellious doctor hero turns into a drug addict, alcoholic, nonstop smoker, sleeps with women and turns into a bully but, hold your breath, continues to be an excellent surgeon!. He performs the surgeries perfectly even when he is fully intoxicated. Kabir Singh has a true friend who does everything to make him happy. After a point, I felt tired of the antics of the seditious Kabir Singh. Anyway, he meets the very pregnant lady love in a park and the union takes place. How? She left her husband immediately after marriage and carries Kabir Singh's child since they have made love 550 times before. Kiara Advani looks pretty and keeps kissing Shahid 500 times and tries to act in the last but one scene.
I haven't come across a more repugnant story or movie like this. Every scene and action is crude, loud and galling. Shahid Kapoor with his frail frame screams most of the time in very high decibels and looks awful with his disproportionate crown of disheveled hair and beard masking his face completely to give a macho image.
Indian movie goers are the most complex lot; they appreciate 'Bhadai Ho.', 'Andhadhun', and 'Uri,' but also favor 'Simmba', 'Gully Boy' and 'Kabir Singh' also with equal vigor. The critics sit in ivory towers and write something using terms like 'misogynic', 'sexism' and what not which are absolutely irrelevant to the common man, who cares a damn and favors what they want to 'enjoy' irrespective of what the critics say.
The lesson I learnt; I should hereafter, believe neither the public nor the critics.