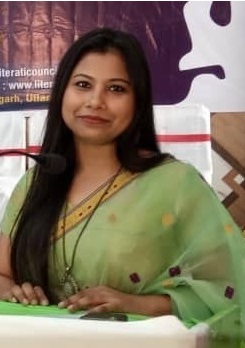 It is a wonderful meeting with Mousumi Sachdeva (nee Kalita) a woman born in Assam and now an author of four novels and as researcher who is now a national icon of dynamism. She is engaged in literary activities and multifarious Social welfare activities. I interviewed her to highlight some of her achievements.

Dr. RB: Mousumiji you are a wonderful writer, thinker, social activist, and deeply engaged in NGO for the poorest of the poor. You were expected to continue with science stream. But I am really amazed by your literary feats. But will you focus on your motivation for literature? What are the real reasons behind?

MS: The urge to express myself without restraining my views, thoughts and emotions motivated me to embrace Literature as my life. I was expected to be a student of Science, but my devotion to Literature kept me firm. My first poem was published when I was in the third standard and I still remember it was the kind of best self-motivation to pick Literature as my first love.

Dr. RB: You are an Assamese girl. But how you have been settled in Delhi and connected to all activities outside Assam? I cannot resist a question how you passed your childhood?

MS: My childhood has experienced a roller coaster ride with many challenges and a very strict environment. I am born in Assam and pursued most my educational qualifications from Assam.

Dr. RB: Will be happy if you elaborately tell about your academic accomplishments and career?

MS: I have done Masters in English, PG in Mass Communication & Journalism, B.Ed, IT, and few courses like CISELT from British Council. I am planning to do Masters in Psychology next. At present I am undergoing NLP courses. I am an author and a poet first. I am the Chief Editor of Damick Publication, Delhi, Traditional Publishing Head of Turquoise Publication, Delhi. I also take freelance projects. I am a Skill Development Trainer training the young students to enhance multi skills and stand fit for the competitive world. I am the Co-founder and Managing Director of LAABH, a non-profit organization.

Dr. RB: Will you tell about your literary career? I know it is simply amazing.

MS: I am not so outstanding as you are telling but feel honoured to get this appreciation from you. Well, my first book is a novel 'Love Remains Undefined' based on a true story. The book has been written with the post-modern concept keeping the end unpredictable. The story narrates how intellectual conversations build a bond undefined. The identities of the protagonists remain untold till the end, allowing the readers to work on multiple endings.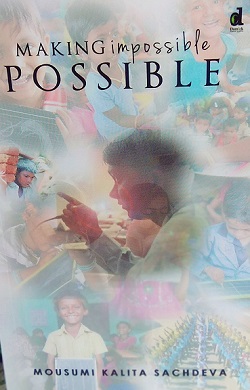 My second book is a motivational book 'Making Impossible Possible' bringing out the dreams of the slum children which is again a true story of a slum child who with his dreams and determination succeeded to reach his goals. The book brings a motivational force to encourage every individual who desires to achieve success amidst hardships and obstacles. My third book 'The Blend of the Real and Imagination' is a collection of poetry carrying varied emotions flowing from the heart of a poet experiencing different stages in life in real and in her imagination. It carries the emotions of every human in the form of love, passion, boldness defeating the stigmas of the society, pain, motivation, humour and poetry as life. This book is an attempt to project the beauty of micro poems with different forms of poetry like Haiku and Senryu which are the popular styles of Japanese poetry.

Dr. RB: You are an icon of dynamism and your versatility is really amazing. Kindly tell about your other achievements

MS: (smiling) Yes I am a little versatile and jack of all trades. (interrupted by me, then she continues) I have edited and contributed to more than 12 National and International Anthologies like Zindagi Rewind, That Friend of Mine, The 13 Alphabet E Magazine (Bangladesh), Spilling Essences, Voyage, I am a Woman (USA), Flames (USA), Shadows of Placid Sanguine, The First Anthology of World Gogyoshi (Japan/Tokyo), World of Women, Holistic Healings of Widows.

Dr. RB: What is your latest work? Must be something unconventional as you love adventuring

MS: My latest work is 'The Agony and Ecstacy of Caregivers' co-edited my Nilakanta Siva who is a cancer survivor working now to promote cancer awareness campaigns. He is a retired nuclear scientist and has authored many books. Besides editing the book, the book carries the epilogue written by me.

Dr. RB: You are also a columnist for two newspapers in Jammu and Kashmir. Will you elaborate?

MS: I have been writing for two very popular newspapers of Jammu and Kashmir – Daily Excelsior and Early Times and this made my journey smooth and more determined.

Dr. RB: Your penchant for social welfare activities has got national acclaim. Will you tell me for our readers?

MS: O yes, I am the co-founder of LAABH in Pune which aims to give legal aid to the deprived. Besides legal aid, we work for Advocating Equal Power to Woman, Safeguarding Men's Right, and assisting senior citizens, eradicating child labour and child abuse, to build a greener earth, Skill Development Trainings and Career Counselling and Guidance. I am an expert guide to them and also involved in training the interns associated with us.

Dr. RB: A woman is above all a homemaker. Here too you must have a role to play. Please tell

MS: I love to read and write. Listening to music is my favourite food which can hinder hunger to trouble me. I am a very foodie person of course and anything cooked with love becomes my favourite. Besides reading and writing, I love gardening. Gardening gives me the ultimate pleasure while collecting varied colours of flowers. I occasionally paint too.

Dr. RB: Having such an illustrious career you must have many memorable moments. Please throw light on some of them.

MS: I will be too happy to tell some of my many memorable moments; however the best moment was the launch of my first book which determined my journey as a writer. There are many school time memories too which still gives goose bumps when recalled. I still laugh out laugh at the incident in our school when we were in the tenth standard. We all were waiting for the assembly bell to ring when suddenly there were screams in our classroom (credit to the girls). The reason was a mouse that happily jumped out of one of my friend's bag after a good night's sleep. The boys started teasing the girls holding the mouse by its tail and when the bell rang, the injured mouse was accidentally thrown which fell on our class teacher's table above the class register. The anger of sister (our class teacher) was doubled due to a previous sad incident in our school and the entire class was sent downstairs to stand under the sun for three long periods as we all stood together with a firm decision not to open our mouths and bear the consequences together whether we were guilty or not. That incident taught us to stand in unity with friends no matter what the consequences could be.

Dr. RB: One thing is so interesting to me. You are a voracious reader. How did you develop love for reading?

MS: Very honestly speaking, my love for reading began with Mills and Boons. And I graduated after reading hundreds of Mills and Boons love stories. I love to read Salman Rushdie as I find his post-modern literature very interesting. I also love to read Jane Austen because women triumphed in Austen's books. One can find the taste of love, prejudice, and humour with practical pictures.

Dr. RB: What are your next plans? Will you highlight?

MS: Yes my pleasure. Plans are more and future is yet to see me. I am writing my next book which is again very unique and although we hear many such stories, we hesitate to bring it up to talks in the society. The book is about a gay who had to suffer regular child abuse and his parents had no idea that a boy can also be harassed by a man. It is a true story of an intelligent person who was lost in the world of ignorance and sadly became a HIV patient. The story narrates his struggle to build his identity and finding his self.

Dr. RB: You are a wonderful talker. I have seen you delivering lectures in International seminars and events. What are these about?

MS: My lectures are basically on Language and Literature, Creative Writing and most importantly on skill enhancement techniques. I am invited to conduct various workshops on Skill Development at various organizations and institutions to train the young minds to carry a personality fit for this highly competitive world where academic marks carry less importance but skills prove the real capabilities and personality.

I take care of the students who cannot afford to pay the university forms or fee. My focus is also on the slum children and I am working on the plans to show an enlightening path to the street children. Through LAABH, we are aiming to establish free libraries in the interior areas where books are rare to reach.

Dr. RB: You have taken great responsibilities for social welfare activities. It is a great role a woman is playing in India especially coming from Assam

MS: Responsibilities never end; but strong determination helps me to balance my career with my responsibilities towards my family. Self-Motivation is the strongest support one can have in their life towards the path of success.

Dr. RB: Thanks a lot for your brilliant career and wonderful cooperation in giving us a brilliant interview for the Heritage of Hills Times. Waiting for your more and more achievements.