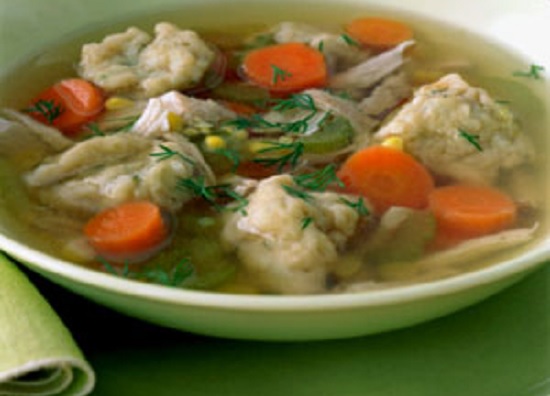 "Soup of the evening, beautiful, beautiful soup" – thus serenaded the Turtle in Alice in Wonderland. Its words are echoed by thousands of people all over the world who love to dip into the soup tureen and enjoy a bowl of the invigorating broth. From the light transparent consommés to thick, hearty broths; from the Oriental extravaganzas to elegant French concoctions, soups cover a wide range of textures, tastes and aromas, soups today form an important part of the menu. Whether it is a family meal, a party or a special occasion, soups introduce the food that is to follow. A bowl of steaming, fragrant soup rightly flavored, is definitely welcome any day, any time.

Though soup is often attributed to Chinese or Continental cuisine, it has been a part of Indian fare since time immemorial, albeit under different names. Ancient Aryan texts describe "shupa" – a broth, probably made of lentils, which was widely drunk. The Muslim settlers brought with them recipes for 'shorwa' – thick meat broths often enriched with yoghurt that could be mopped up with rotis or naans. They also introduced Paya or trotter soup – a nourishing, protein rich concoction meant to provide maximum nutrition and warmth.

The mouth-watering, spicy 'Rasam' of South India is also a kind of soup – an infusion of spices, heavily laced with tamarind. Rasam, of course, is an integral part of all South Indian meals and is a favorite in other parts of India as well.

It is generally believed that with the advent of the British in India, the concept of soup as a separate course came into existence in India. Indian cooks anglicized the Rasam and gave birth to Mulligatawny (literally pepper water) to please their white masters. At its simplest Mulligatawny consists of broth, curry powder and meat and is served with rice. Today it has many variations.

Making a soup bursting with flavors is pretty simple and does not entail an elaborate cooking technique. Soup recipes are very flexible as there is a large selection of ingredients that can be incorporated into them. Besides, it is easy to substitute most ingredients with others in case something is not available at hand. It is also a great way to utilize left-overs such as cooked meat, poultry and vegetables. The secret of a good soup lies in the stock used, and although there are ready-made stock cubes available in the market these days, only homemade stock can add that distinctive flavor to a soup.

Stocks can be of different types and can be made largely using whatever is at hand. A white or chicken based stock is ideal for light-colored soups and sauces, while a brown base is good for consommés, dark soups, sauces and gravy. Making one's own stock is not only more satisfying and economical, but turns out tastier as well. Moreover it can be stored for long periods in the deep freeze.

A really concentrated bone stock sets as a firm jelly (gelatin) when cold, and slow and lengthy cooking is the only way to concentrate the flavors. Stock should be clear, so avoid using starchy food like rice and potatoes, or thickened liquids, which will turn it cloudy. Also, avoid using strongly flavored vegetables like turnip, radish or cabbage, as well as mutton bones, which may give it a bitter taste.

You can make a large quantity of stock at a time, and if not using it at once, cool and store in the frig for a couple of days. This is a boon in winter and you can serve steaming bowls of soup to family members and guests at any time of the day. Fish stock, however, cannot be stored, and should be used the same day.

During the winter months, soups are a sure winner. They have a warming effect on the body and help raise spirits. Soups had with fresh bread rolls or slices of whole meal or brown bread make for a meal in itself. Other hot favorite accompaniments for soups are garlic bread and Parmesan croutons.

Soups – vegetarian as well as non-vegetarian – can be made in a number of ways, using a wide variety of ingredients. If you are an imaginative cook, you can turn out a number of interesting concoctions that are sure to appeal to the taste buds. Today one has a wide range of choice of soups – from instant soup mixes to freshly prepared consommés, from fragrant roadside broths to gourmet preparations served at glitzy five-star hotels, the humble soup has indeed come a long way.

Soups are a part of an ideal first course and are an all-time favorite with the young and old alike as they are nourishing as well as wholesome. Although soups can sometimes be heavy, they are generally light, easily digestible and non-fattening. They also make for great diet food. A bowl of reducing soup is an integral part of the Oriental diet and is to be consumed every time hunger pangs hit you.

Doctors often recommend soups for patients, as they are light and nutritious. Chicken soup is well known as a remedy for fever, colds, influenza etc. Elderly patients are often fed soups while recouping from an illness.

An ideal soup should be nourishing as well as tasty. Though soups are generally used as appetizers or starters, some soups are sufficiently filling and nutritious to be served as a meal by themselves. 'Soup kitchens' run in the West by charitable organizations often feed hundreds of hungry persons with a bowl of the nutritious broth and a couple of pieces of bread.

Soup is a staple feature of Chinese cuisine. However, contrary to popular belief, soup is not necessarily the first course in a Chinese meal. The main cooking equipment for Chinese dishes, including soups, is a 'wok', which is a bowl shaped large iron vessel, as wide as the Indian 'karahi'. Rice and noodles are often part of Chinese soups. Soyabean sauce, garlic and vinegar are used in small quantities for extra flavor.

Perhaps the most delicious product of the Chinese tureen is the Chimney Soup or Gyako, which is a basic clear broth into which a variety of meat, vegetables and seafood are slowly cooked so that the soup takes on the flavor of all the items. The origin of this soup dates back to the Chinese tradition of sitting around a central bowl of simmering broth and dipping raw pieces of meat, fish and vegetables (held with chopsticks) into the stock till they are cooked. The cooked meat is then dipped into a choice of sauces and eaten. When the meat is finished, the stock, by now flavored with all the items dipped into it, is served into individual bowls and drunk.

Soups are very versatile. They can be made from the simplest of ingredients. Besides being served as a starter, they can also be had during the meal or as a snack. Soups should be pleasing in taste and attractive in appearance and texture. Moreover, their flavor should be strong and aromatic enough to awaken the appetite of the most fastidious eater. Soups are of different varieties – thin, clear, creamy, thick and so on. A thin, light soup can be served with a large, hearty dinner, while a thick, nutritious soup can precede a simple, light meal. Soups should be served piping hot, as lukewarm soup is not only unappetizing but also loses its charm and taste.

Soups can be served with a number of accompaniments. Apart from bread, toast or croutons, you can serve dinner rolls, bread sticks or garlic bread. Different sauces, salt and pepper should be kept ready at hand, to be added according to individual tastes. The flavor, fragrance and variety of soups is indeed mind-boggling.

Soups can be garnished aesthetically to make them visually appealing and can be served in attractive soup bowls or deep soup plates. You can sprinkle grated cheese or freshly crushed/chopped herbs and a slice of lemon, float croutons, add a swirl of cream or desiccated coconut or thinly beaten fresh curd for a touch of sophistication.

Though soups are generally served hot, cold soups are a good option. During the unbearably hot summer days, a cold soup makes for an ideal appetizer, as it helps the body cool down. Cold soups are pretty versatile and can be made from fruits as well. For instance, a chilled peach and yoghurt soup can be served both as an appetizer and as dessert, while a tropical fruit soup is a great way to kick start a Sunday brunch. Gazpacho and Vichyssoise are two of the better known vegetarian cold soups that are enjoyed the world over.

An important element that governs how well your cold soup will go down is the chill factor. If your soup is not chilled enough, the subtle flavors will not develop, leaving you with a rather wishy-washy concoction. So do allow enough time for it to chill before serving it.

The advent of soup cubes and readymade powder/stock has made soup making quicker and easier. Though they are definitely a boon for the busy woman and a great time saver, they are often highly seasoned and very salty. So one should be careful while adding seasonings. However they may be added to home made stock to enrich its flavor.

Thus soups - delicious, nutritious and appetizing - are almost a universal favorite. Lending themselves to a variety of tastes to suit every palate and to a spectrum of textures, they can be prepared and served in a number of imaginative ways. Few indeed can ignore the appeal of a steaming bowl of soup.
Image (c) Gettyimages.com