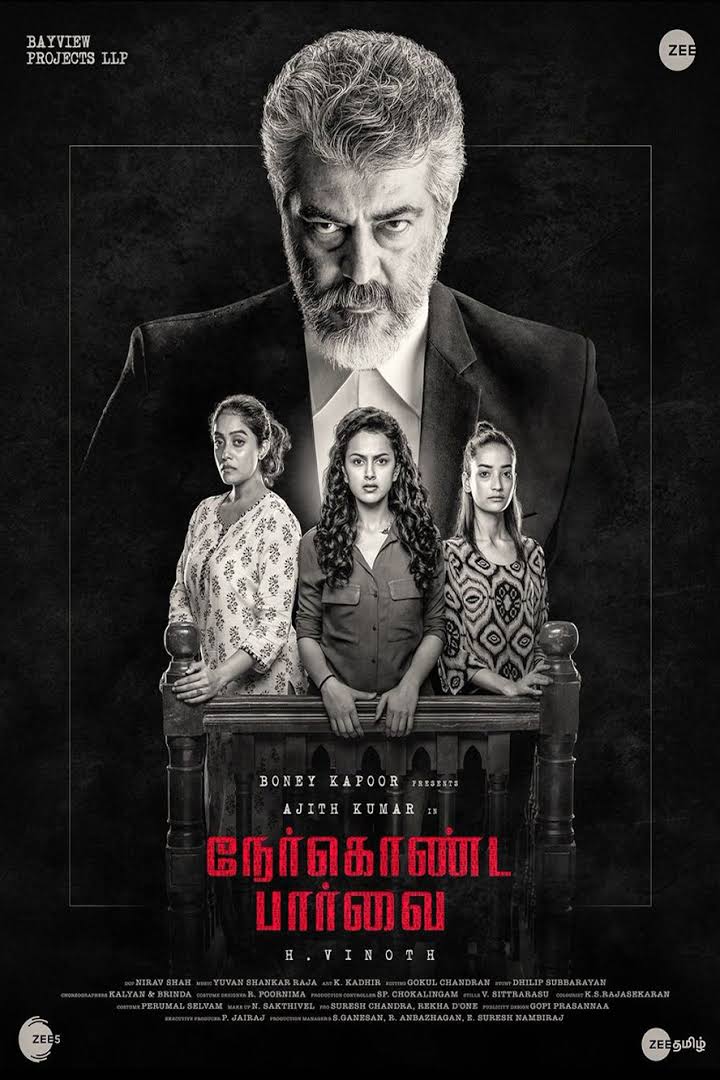 'Image' of a 'Star' has its own limits and traps.

Today Ajith Kumar cannot act in a movie which will not satisfy his whistle and howl hungry fans; the movie should somehow show him as a superman of action.

What one could see in his latest release 'Naer Konda Paarvai' is a faithful remake of Hindi block buster 'Pink' which strongly advocated the rights of a woman to say 'No' for those unabashed sexual overtures to a man irrespective of circumstances. But, 'Naer Konda Paarvai' is strongly garnished with 'masala' to give chances to hoot and whistle and shed a few tears for the emotional love laden scenes. With the result before we reach the important court scenes, the script gets diluted with extra 22 minutes.

Comparisons are always odious; Ajith tries to do his best with his serious or bland facial expressions but unfortunately they are no match to Amitabh's. Had Amitabh to do 'Pink' when he was an 'Angry Young Man' that would have been probably like this!

The spiced masala comprises of some extended ferocious fight scenes and a supposedly lyrical love turned pathos sequence. Nevertheless, the superman acts of an aimless sojourn in a dusty jeep at the start, later a long drawn fight scene in the park and absolutely tepid romance with a matronly looking Vidya Balan draw little water for someone who comes for watching a 'really' serious movie. Why some additional unnecessary seizures also come for the lawyer? Well, it is 'Thala' film; such questions are sure to sound blasphemous.

Finally, I am not quite sure whether the movie will gel with the Tamizh audience. The girls and the story suited the life of the sophisticated cosmopolitan North Indian society. Most of the present day Tamizh Star films fully bank on their persona and super human characters or on absolutely rural topics.

'Tumhari Sulu' clicked to some extent as 'Katrin Mozhi'. But, that was a heroine oriented, light subject; but, this one? The hero of 'Pink' is the verbose court room drama bolstered by an absolutely outstanding performance by Amitabh in every frame! The three girls also matched him in all the court scenes especially Taapsee Pannu and Kriti Kulhari.

Debutante Political Analyst turned actor Rangaraj Pandey looks comical. Is it intentional or accidental?

The box office results lie with the 'thala' fans; let us keep the fingers crossed.

Post Script: Read somewhere if this movie clicks there are plans to remake 'Badla', 'Andhadhun', and 'Article 15' in Tamizh! By the way, why not 'Badhaai Ho' included in the list?

True; once upon a time, many Tamizh films were remade in Hindi and vice versa. Those times, stories, heroes and genre were different. Even then not all remakes were hits. But, today the scenarios have completely changed. One needs to wait and watch.