"I think that I shall never see A poem lovely as a tree" said a well-known poet.

A tree is indeed a marvelous creation of God. It is one of the most beautiful, significant and important parts of nature. Let me start with a common tree, the Tamarind.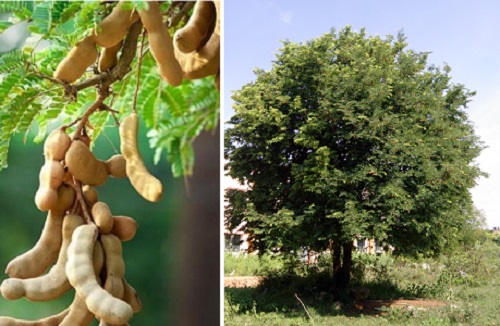 Many of you are familiar with the massive tamarind tree with its strong and solid branches and its bright green feathery leaves that fold up at night.

The Tamarind or Tammarindus indica is a tropical evergreen tree that belongs to the Leguminosae or pulse family. The fruit is believed to have originated in tropical Africa, growing wild in Sudan, especially. But since it arrived in India long ago there are many who believe that it actually originated here.

The Persians and Arabs called it tamar hindi or Indian date. That is where the English word 'tamarind' came from. It might interest you to know that many of its other names are actually variations of the English one. It is called Tamarindo in Spanish and Portuguese; Tamarin or Tamarindier in French; Tammarinde in German and Dutch and Tamarandizio in Italian.

The tamarind leaves are made up of 10-18 leaflets.

There is an interesting story in the Ramayana about how the Tamarind leaves got serrated. During Rama's exile, Laxmana built the hut they were to live in. He made the roof and the walls with Tamarind leaves that were large and thick. In fact, they were so big and tough that not even a drop of rain or a streak of sunlight could come in.
Sita was delighted with the hut but Rama looked unhappy. Finally he asked Laxmana to remove the tamarind leaves.

"But why?" asked Laxman in surprise, "They are perfect for protecting the hut".

"That is precisely why," answered Rama. "Living in the forest means facing the elements and not sheltering from them. That is what vanavaas (exile in forests) really means. We are too secure, too comfortably protected."

Laxmana laughed. "There is no need to remove the leaves." He shot at the leaves with his arrows until all of them were shredded and the sunlight streaked in. Since then the tamarind leaves have remained feathery and serrated, so goes the legend.

The Tamarind fruit is a brown pod that has a sour and juicy pulp within and little hard stone-like seeds. I am sure you already know that this pulp is used extensively for making chutneys, curries, sambar, pickles and many other savory dishes. Did you know that it is an ingredient for Worcestershire sauce as well?

People have been using Tamarind as an item of trade right from the medieval times. You see it in various forms in the market – as concentrated pulp with or without seeds, as canned paste, as whole pods dried into bricks, as powder or as plain Tamarind syrup.

Another fact to remember about the Tamarind tree is that its pulp, bark and leaves also have varied uses. For example, in the Philippines the leaves have been used for a long time to make herbal tea for the treatment of malaria. It is also used in Ayurvedic medicine for the treatment of digestive problems. Tamarind hardwood is used for making furniture and wood flooring.

Can YOU think of any other uses? If so share them with us.