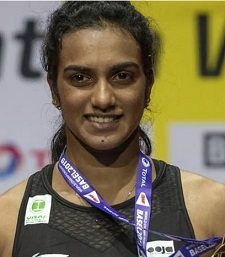 Yes, it took the third outing for her to do it. PV Sindhu made it to the finals of the World Badminton Federation championships twice before but lost it virtually at the last moment. This time at Basle in Switzerland, however, it was different. She just sailed through against Nozomi Okuhara, a former nemesis of her, beating her in straight sets 21-7, 21-7. It is Nozomi who had disrupted her dream of being the World Champion in 2017. But this time Sindhu came well prepared, garnered enough confidence from her win against TT Ying, the former World No.1, in the quarter finals

On the court Sindhu appeared relaxed and whenever the occasion demanded she made a placement or just smashed her way through. She did not entertain any long rallies as in 2017 when against Nozomi there was 73-shot rally. This time it was more simple keeping her opponent on the lines and use the smashes when she got the shuttle lobbed on to her. The longest rally this time was of around only 22 shots. While her stamina has improved the changed strategy to concentrate on the lines and the corners paid off. The strategy to shun long tiring rallies also brought home the dividends.

Sindhu has been making it to the finals of several tournaments but somehow was unable to convert them into wins. Probably the reasons were either not quite appropriate strategy or lack of stamina. She had been groomed and coached for quite a few years by Pulella Gopichand, a player of distinction who had won years ago the coveted All England Badminton Championship. But one thought Sindhu needed to change tacks and move on. Defeats in the finals of several tournaments must have been heart-breaking and must have acted as confidence busters. What was needed a strategy to win and quite appropriately the authorities brought in one Miss Kim, an East Asian. That seems to have made the difference.

The difference was palpable It was the same Nozomi, if a little more experienced, though of the same age as Sindhu. She is well known as a singles specialist and is known for her speed, agility and endurance. None of that was visible on Sunday at Basle. She many a times could not decipher Sindhu's deceptive returns (probably a new weapon in her armoury) and several times Nozomi was floored literally by Sindhu's returns. She seemed to have somehow lost her agility. In fact, Sindhu was more agile and played to her plan leaving Nozomi in distress on several occasions. The score line indicates complete superiority over her adversary. Probably all this and much more was because of the induction of her new coach who apparently advised Sindhu to shun long rallies, instilling in her a killer instinct. In this final Sindhu used far more smashes than perhaps in any earlier tournaments.

Tall by Indian standards and athletically built, Sindhu can reign over World Badminton for many years if properly handled. That, of course, is for Badminton Association of India to work out. Sindhu is a precious asset for the country; she needs to be conserved and intelligently taken care of.