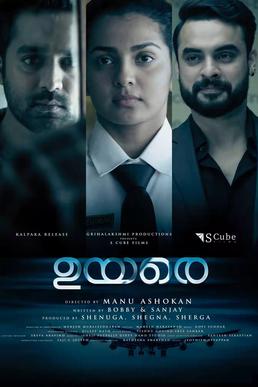 Most of the times, I find films show something fancy that make us either pleasantly happy or positively stupid. When I surf the movies in many languages from English, Hindi, Tamil to Malayalam I come across mostly either crime thrillers or ghost stories. So within half an hour I feel either tired or disgusted.

Today I struck on a Malayalam movie 'Uyare' (High or Above) which deals with the dream of Pallavi Raveendran, a simple girl from Kerala who wants to become a pilot and always to be on the air. But, her personal preferences and adamance stand in her way both positively and negatively. She feels indebted to a wastrel and a vicious guy on whom she reposes lot of faith and love. Her dream of becoming a pilot doesn't go with him. He tries his best to dissuade her which finally ends in his throwing acid on her face when she disowns him at one stage.

Pallavi now with a disfigured, dreadful face has a bleak future. But, another rich and enterprising guy Vishal comes in her life to give her a moral boost.

Is she able to fulfill her dream of securing a flying job or be a pilot?

The movie gives the answer. Definitely an unusual movie in the milieu of what I have mentioned at the outset. The concept of romance has been completely eliminated after a point. It is, indeed, terrible to see the heroine with a part of her face grotesque. (Remember Zeenat Aman of 'Satyam Shivam Sundaram'?) There Zeenat's skin show compensated her macabre disposition. But, here in 'Uyare' no such benefits are offered. So when we watch her it positively troubles us. Parvathy Thiruvothu had done a good job in an author backed central role.

From my perception, I understood one thing; girls who are educated and ambitious should necessarily have the wisdom of selecting a partner and understanding him fully.