And The Jhelum Flows....
And The Jhelum Flows .... by Ramendra Kumar
Author's Ink Publications Pages : 167 Price: Rs. 195/-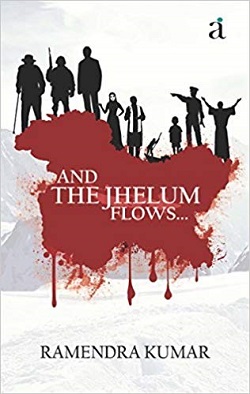 The protagonist here is Kashmir… The difference is in the portrayal of the issues facing the people. Each narrative is exhaustive, clear and followed to its logical conclusion. The players are as many as there are people in that state and some more. The betrayers are also equally big in number. From the respective governments to the militants to the people to the victims to irresponsible ideologies to the reprehensible aspirations of the countries involved.

The author Ramendra Kumar has made an effort to present a sample of the issues facing the people. He has not provided any answers. He cannot. He has not taken sides. He cannot. To understand this you just have to read the life events that he has chosen to highlight. He has not even preached about the right way to handle this situation. He cannot. There is no single way.

He has however done the second best thing. He has put on record the true events that shaped the destiny of the people involved in Kashmir's difficult legacy. The stories of ordinary people, the ones on the street, the most common COMMON MAN. Believe me, the common man's narrative drew from the bottom of my heart such gut wrenching screams of silent pain. Silent because any vocal mentions will invite immediate and oppressive suppression.

Somewhere in the narrative I also drew parallels to the present unrest in universities across India. I saw the truth of what is happening in one paradise being recognizable in what is happening in other paradises. I refer to the situation in universities, truncated states, rebellion in the forces, extremist attitudes, religious intolerance and much more. Through it all the Corporates grow. The foreign hands wave, the sycophants wave back and the common man is further ground inexorably into the earth.

The language is good enough for even an eighth standard student to understand. The style is racy...quite un-putdownable. The government cannot absolve its responsibility nor can the populace. Its time to sit and rethink our strategies, our needs and our common destiny. Meanwhile life goes on And The Jhelum Flows...quietly...pregnant with the frustrations of a vast betrayed multitude.
31-Aug-2019
More by : Usha Chandrasekharan
---