Let me start today with some interesting tree records.

But before that I'll ask you a simple question – have you heard the name of General Sherman?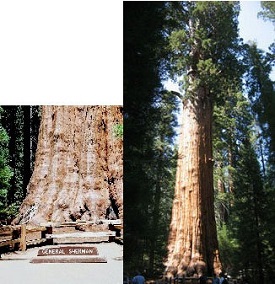 Some of you would know that it is the name of the world's largest tree, both by volume and weight, and is considered the most massive living organism today. According to Morris Arboretum, Botanical University of Pennsylvania, "This tree is 274.9 ft. tall (83.8 meters), has a diameter of 36.5 ft. at the base (11.1 meters), and is estimated to have a volume of 52,500 cubic ft. (1,486.6 cubic meters). It is approximately 2,200 years old, and is apparently still growing vigorously."

General Sherman is a giant sequoia which stands in the Sequoia National Monument, in the western Sierra Nevada Mountains in California. People also call it the redwood tree or simply 'the Big Tree'. Its scientific name is Sequoiadendron giganteu. The redwood tree was introduced in Europe in the 19th century where it is known as "Wellingtonia".

But although General Sherman is the largest tree on Earth, it is not the tallest. The tallest tree in the world is the Mendocino Redwood, which is a coast redwood (Sequoia sempervirens). It is 367.5 feet tall (112 meters), and it stands at the Montgomery Woods State Reserve near Ukiah in California. . It is estimated to be over 1000 years old. This tree has also been authenticated the tallest tree by the Guinness Book of World Records.

The coast redwoods usually grow to heights of over 300 feet - taller than the giant sequoia. But they are more slender and not as massive. If you look up the history of tall trees you will find that an Australian Eucalyptus (Eucalyptus regnans) at Watts River, Victoria, was originally 492 ft. (150 meters) tall and is the tallest tree ever measured. Another at Mt. Baw Baw, also in Victoria, is said to have measured 470 ft. in 1885.

To quote Morris Arboretum once again, "The oldest tree in the world is the called the Methuselah Tree and it is a Great Basin bristlecone pine. Its scientific name is Pinus aristata, also known as Pinus longaeva. This wind-blasted, gnarled tree is 4,767 years old, and is located in California's White Mountains." There are many other trees in this area which are almost as old.

And now for some more interesting facts from UNEP (United Nations Environment Program).

A Wild Fig tree at Echo Caves, near Ohrigstad, Mpumalanga, South Africa has roots reaching 400 feet - the deepest a tree's roots have penetrated.

The fastest growing tree is an Albizzia falcata in Sabah, Malaysia, which has grown 35 feet and 3 inches in 13 months, approximately 1.1 inches a day. This was noted in 1974.

A White Cedar located in the Great Lakes area of Canada, has grown less than 4 inches tall during its 155 years – the slowest growing tree recorded so far.

Did you know that the fortune tellers of olden times used trees to predict fortunes? In medieval Europe dreaming of a green oak tree meant a long life. Dreaming of the cypress was said to cause problems in business. Dreaming of a palm tree meant good luck and pine trees were supposed to bring misfortune. Many families would plant a tree when a baby was born so that it might influence his/her future. You may have heard the expression "knock on wood". It owes its origin to an old custom when people tapped on the wood to thank the spirit of the tree.
Images courtesy: lovelady.org and de.wikipedia.org