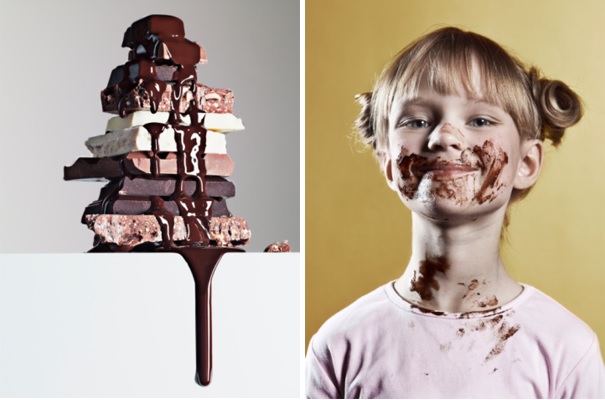 Chocolate, the mouth watering confection, which is a favorite among the young and old alike, is referred to as "food of the Gods". Today chocolate is available in a mind boggling variety of flavors, in all shapes and sizes to tempt the customers.

Chocolate has a long and colorful history. Researchers have got the earliest evidence of chocolate consumption in the cocoa residues in 2600 year old ceramic vessels. The pots are believed to have been used to generate chocolate froth from cocoa mixture in the Mayan civilization.

Chocolate is a food made from the seeds of a tropical tree called "cacao". The word cacao apparently comes from two Maya Indian words meaning 'bitter juice'. The word chocolate comes from two Maya words meaning 'sour water'.
The ancient Mayan and Aztec civilizations of Central America and Southern North America discovered the delights of cocoa as long ago as 600 AD. They prized the beverage 'chocolate' which was made from roasted cocoa beans, water and spices such as Chile pepper. Cocoa beans also served as currency for the early Mayans. Four beans could buy a pumpkin, 100, a slave.

In the 16th century the Spanish conqueror Cortez brought the secret of the cocoa bean to Spain and for over 100 years the Spanish managed to keep the secret of chocolate making to themselves. The Spaniards improved the original bitter and pungent flavor by adding sugar.

Chocolate remained a beverage until early Victorian times, when an English company perfected a technique for making 'eating chocolate'. The product was an instant success and a number of businesses soon formed to make the coveted dessert. Enterprising confectioners soon progressed from bar chocolate to bite sized chocolates filled with cream, fruit or nuts.

Switzerland is famous all over the world for its mouth watering chocolates. The chocolate industry was pioneered in Switzerland by Francois Louis Cailler and Phillipe Suchard. The first Swiss chocolate factory was opened near Vevey by Cailler where it stands even today. Phillipe Suchard built his own chocolate factory in 1816 at Serrieres. By now interest in chocolate had developed considerably not only as a drink but also in the form of crude bars.

To meet the world's demand for chocolate the cultivation of cacao trees quickly became a global endeavor. However cacao trees thrive only in regions that are within 10 degrees of the equator. Today four African countries, Cameroon, Cote d'Invoire, Ghana and Nigeria dominate cacao bean production in the world. Other producers include Brazil, Columbia, Dominican Republic, Ecuador, Grenada, Guatemala, Indonesia, Jamaica, Madagascar, Malaysia, Mexico, Nicaragua, Samoa, Sri Lanka, Trinidad and Venezuela. Varying soils and climates produce beans with distinctive qualities.

To make chocolate cocoa beans are dried, roasted, ground and then mixed with sugar and vanilla. There are two main types of chocolate; dark or bitter sweet and milk chocolate. Contrary to its name white chocolate is not a true chocolate. It is made from cocoa butter, a byproduct of chocolate making.

Cadbury, the name synonymous with world class chocolates, is named after John Cadbury a young Quaker who opened a shop in Birmingham in 1824 mainly to sell tea and coffee. However he ventured into selling 'cocoa nibs' which was to have far reaching effects. From a one man business, the firm of Cadbury Schweppes has become one of the leading food, confectionery and beverage manufacturers in the UK.

Chocolate serves as both a confection and as a food. It possesses a pleasing and widely popular flavor and also ranks high in food value. Chocolate contains carbohydrates, fats, protein and several vitamins and minerals. Many people whose work requires physical endurance including soldiers, explorers and athletes eat chocolate as a source of quick energy for carrying out their tasks.

Switzerland is famous all over the world for its mouth watering chocolates. The per capita consumption of chocolate in Switzerland is 22.4 pounds which tops the world. Close behind are Germany, Belgium, Denmark and UK.

Every chocolate company has its unique recipe and the special touch for a particular flavor, a special consistency or smoothness. A huge variety of chocolates are available today ranging from plain/milk/bitter/orange/marzipan chocolates. Chocolates with dry fruits and nuts are a favorite with many. Chocolate moulds filled with liquor are also very popular. Chocolate eggs at Easter, Yule logs and holly leaves at Christmas add a special festive touch to the celebrations.

Manufacturers also come out with a large variety of shapes and designs of chocolates; sea shells, fruits, flowers, Swiss chalets, pianos, musical instruments, animal forms etc – the options are endless. These are virtually pieces of art and require intricate designing, deft fingers and careful handling. Swiss confectioners are past masters in intricate chocolate designs.

Thus, chocolate is popular throughout the world and chocolate eating is a sinful indulgence very few can resist. No wonder Carl Von Linn has called it "Food of the Gods".
Images (c) gettyimages.com