The Rabbit and the Elephant
A herd of elephants in the forests of India was paying the price for man"s greed. Trees provide shelter to elephants and ensure that lands get enough water. Man was however thoughtlessly cutting down trees to get some short lived gains. The elephants were suffering because they needed a large water hole to live. Trees retain moisture in the atmosphere and half the rain that falls in the forest is because of them. With the trees vanishing, the lake where the elephant herd had been drinking water from for hundreds of years had dried. Having no option but to leave their ancestral home the elephants moved to the interior of the forest where there found a lake that still had water. Happily they decided to make it their home.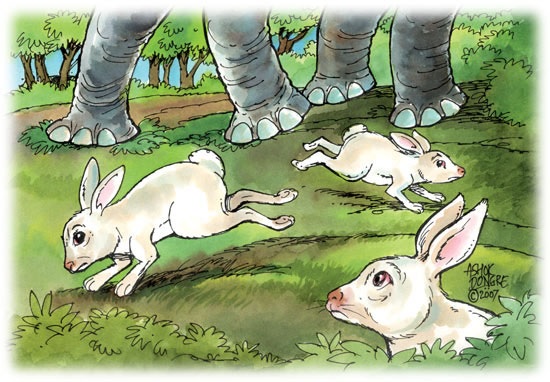 That lake was the residence of a bunch of rabbits. The coming of the elephants had not been good for them. The large elephants had trampled on the rabbit homes and many rabbits had got injured and some had died.

In the middle of the night they called a meeting to discuss the current crisis:

"The elephants are not evil
But their presence spells doom for us - the feeble
So we must drive them out of here"
Said a wise rabbit called LongEar

"But how can we convince the mighty to leave?" asked another

"With strategy not strength.

I will talk to the elephants and convince them", answered LongEar

The next night Longear went to the elephants and demanded to see their king. The king of elephants was amazed that such as tiny creature had asked for him and called for LongEar.

Long Ears introduced himself thus:

"Oh king I am the messenger of the king of the rabbits.

My king " The Moon wishes you to take your tribe to another lake for he does not like any other creatures in his kingdom"

The king of the elephants wanted to see the king of rabbits.

Long Ears said " My king is in the lake, you can see him but don"t disturb him" .

Long Ears pointed to the Moon's reflection in the clear night waters.

The king of elephants felt he could not disobey such as magnificent ruler and left the next morning with the herd. LongEars went back to the rabbits and said:

"Using names of those with fame can achieve a lot".
28-Sep-2019
More by : Swetha Raghunathan
---