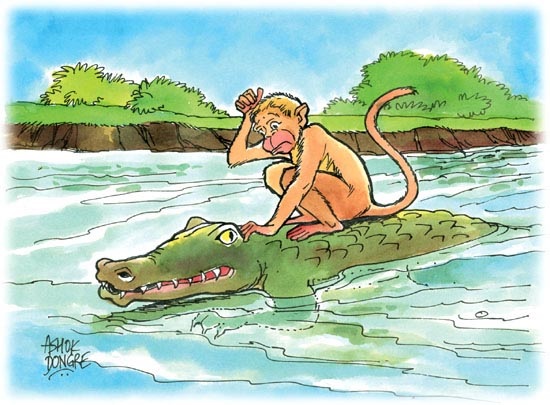 A monkey and a crocodile befriended each other. The monkey lived on a coconut tree above and beside the water. The croc used to take the monkey on his back for a ride around the river and in return the monkey fed coconut to the croc.

One day the croc's wife became very sick and was going to die. Someone told her that her life could be saved if she ate a monkey's liver. The wife told her husband to get his monkey friend so that she would eat his liver.

The croc reluctantly went to his monkey friend and made up a story that his wife had invited him for dinner. The monkey was very pleased and hopped on the croc's back and off they went.

Half way down the journey the croc related the true reason for the monkey's visit. The monkey quickly thought of an excuse. He said, "dear friend, monkey's hang their livers on the tree." "Let's go back and get it."

The croc turned around and they returned to the tree. The monkey jumped off and climbed up the tree as high as he could. The croc waited and waited and finally yelled out, "friend, where are you". The monkey picked a coconut and threw it at the croc saying "Go, away, I don't ever want to see you again". You are not a true friend and monkeys DON'T hang their livers on trees, we have them inside us."