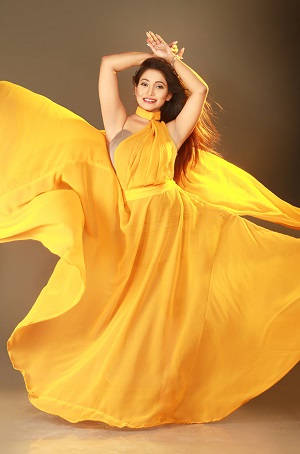 Mindblowing Debut of Jerina Boruah in Zubeen's Kanchanjangha Musical Masestro Zubeen Garg meant it to be a Musical film based on Multi-layered Social Issues with the tragic story of Jonki Borthakur in focus. But Jerina Boruah's powerful dance and acting performance as Antara sister to Anirban (Zubeen) transcends the Personal. After Rima Das's Village Rockstars, Jerina the Assamese village girl from Gharmara rocked Jollywood.

Jerina Boruah in Zubeen's Kanchanjangha rocked Jollywood after Rima Das's Village Rockstars. Jerina caputured the mind of the film lovers all over India and overnight skyrocketed to fame. She looked talented, devoted and spontaneous in her performanc. 'Jerina was the sister of Zubeen Garg in Kanchanjangha' - this is the final impression the audience in Kolkata gathered from the film above every other theme else in the film. In fact , Jerina's powerful affectionate sensitive acting feat may be responsible for this in the Assamese Mega Music Master Blaster based on multi-layered social issues. Prag News focused on the theme of Brother's love for a sister in analysing the polyphonic themes of Kanchanjangha. That is chiefly because of the brilliant acting feat of Jerina Boruah who played the sister Antara's (Zubeen's sister Jonki Borthakur in real life) role.

Zubeen Garg's efforts to record harsh reality in his musical performances have not been without controversy. But this time the sister-brother love theme melodises the harsher issues. In the 21st century, movie musicals were reborn with darker musicals, musical biopics, epic drama musicals and comedy-drama musicals.

Assamese cinema also known as Jollywood developed a slow-paced sensitive style especially with the movies of Bhabendranath Saikia and Jahnu Barua. The beginning of the 21st century has seen Bollywood style Assamese movies hitting the screen. Still it has not been able to compete in the market significantly overshadowed by the larger industries as Bollywood. From 1935- 2018, the golden journey of Assamese cinema has taken a new turn with recent releases. The young director Rima Das's 'Village Rockstars' gives soul to the flow of Assamese cinema.. After Bharat Ratna Bhupen Hazarika now Zubeen Garg the modern music maestro is surely going to be the most important cultural ambassador of Assamese music especially after the release of this Assamese mega musical masterblaster as he takes Jollywood to an incredible height after Bhupen had stirred whole India after his music direction and singing in Rudaali. It is now going housefull in all the mega cities - Mumbai, Kolkata, Hyderabad, Bangalore outside Assam.

The shooting of the movie was taken in Tezpur town as well as the villages. The muhurat of the movie was done in Barpeta in March 2018. 18th november on his birthday the Kanchanjangha posters were released in Guwahati North East Book Fair.The music of the movie was in 2019 in Shradhanjali Kanon on the birthday of Kalaguru Diboxh Viewers are giving huge response to the film after its release. Usually musical film has less action. But Kanchanjangha which is directed by Zubeen who also plays the role of the protagonist and is produced by himself along with Syamanta Gautam under the banner of "I Creation Productions". The film is based on socio-political issues faced by this generation although the central focus is on Brother -sister love. Fans are comparing this film as Mon Jaai Part-2. As Zubeen Garg previously mentioned in an interview, the main theme of both Mon Jaai and Kanchanjangha is the same, but Kanchanjangha's storyline is different. Originally a village girl from Gharmara a student of North Lakhimpur College now studying Law; basically a renowned Satriya dancer as a graduate in Fine Arts and Masters in Assamese from Assam University, the female protagonist Jerina Boruah mesmerised the film lovers with her dance and acting expertise.She made acting lively and her debutant role is really incredibly heart-touching.

As a Celluloid sister of Zubeen she made the film more engaging by adding to the film human values with subtler shades of feelings as a sister. For the first time a film with social message turns to be a film of brother -sister love. In this debut Jerina who once anchored a number of grand cultural events and did stage performances now carved out a safe niche for her by playing the role of Jubeen's sister Jonki Borthakur who was lost in a mishap and Zubeen presented that in this celulloid version. Jerina is an artist par excellence.

Born in Gharmara village of Lakhimpur in 1993 she graduated in Assamese and now engaged in the study of law. She got her expertise in Sattriya dance and at the same time showed her curiosity about Assamese culture and heritage. Her book 'Dr. Bhupen Hazarikar Geetot Sanskritic Chetonar Xandhan' is published. She carved her niche as a dance artist in her first acting performance in Sourav Jyoti Baruah's 'Topal' album which may be calld her first cultural debut. She also performed in short films 'Xondhiyar Xur', 'Popiya Tora ''xondhikhkhon' and 'Miracle'. In the Jonak Channel she is regularly performing as a serial artist in 'Monor Nijanot Jonak' Besides Assamese she performed in the Hindi serial of Guwahati Doordarshan 'Mon ki Uran'. She participated successfully in the Sattriya programmes of Sangeet Natak Academy. Recognition came at this young age for Jerina Boruah In 2016 she got the Best Performer of the Year in Classical Dance and in 2017 she got the Best Actress Award. Her many book of poetry and novels are in pipeline. As to her source of her inspiration she mentioned her parents especially her mother who used to sing in humming Bongeet, Bihugeet, Lokgeet, Ainam, Biyanam. The drama team of the village also inspired her to participate in many programmes from her childhood days. Her maju mama persuaded her to sing with orchestra and that probably inspired her to dream high. Jerina's powerful acting in this musical film adds to the film a totally new dimension.An inborn talent Jerina mesmerised the audience no less by her dancing feat. A sudden mishap caused the vacuum in Jubin's life and the immature death of Jonki remains a deep wound in his mind and heart.

This vacuum for an ever talented sister's love is made immortal now in Kanchanjangha and the film can be said 'a Stupendous celluloid recreation of brother-sister love' reminding distantly of Yaadon ki Barat and Jerina did her part well as Antara on the celluloid who could be Jonki Borthakur in real. But the film transcends the personal to reach a social height in its multi-layered story-line. Anirban (Zubeen himself), an ambitious, studious guy, becomes rebellious to fight against the injustice happening in the system and the society. It also ropes in APSC scam which is allegedly happening in Assam for many years and strict action was taken against the accused in 2017.The story goes as the boy, facing the injustice of the socio-political situation, sacrifices the value under which he has been raised and tries to overcome the problems of the society. It is significant that Kanchanjangha being a musical film never for a moment ignores the hard core social reality and there is constant focus on the contemporary social problems while the rural scenic beauty of Assam captivates the mind of the audience. Unemployment of even highly educated youth, plight of the poverty stricken upper caste and the storyline veers around 'Mati Mafia' promoter gundas. Human values like love and affection are lost in the crazy avarice.

As in Galsworthy's The Silver Box there is one law for the rich one for the poor in Zubin's film too we see the same evil nexus between the wealthy section with the lawgivers. The father of the hero in this film needs 25 lakhs of rupees for his son's job although his son is a brilliant meritorious one and did excellent results.His old father finally agrees to sell his land property for his son's job but the mafias forcefully and illegally occupied his land. What is worse they killed his father. Here is the real beginning of the story when the hero appears and fights against all evils of the society. Songs and dances are integral to Assamese culture and heritage and here lies the challenge for Jerina the new comer in film and she with her devoted efforts excelled. At least six super-hit songs are presented with all idyllic graphics representing Assamese rural life and cultural heritage. The second time Assam nay India is listening to the Sound of Music and credit goes to the musical maestro Zubeen Garg and no less to Jerina Boruah who made them graphical and lively by her choreographic expertise.